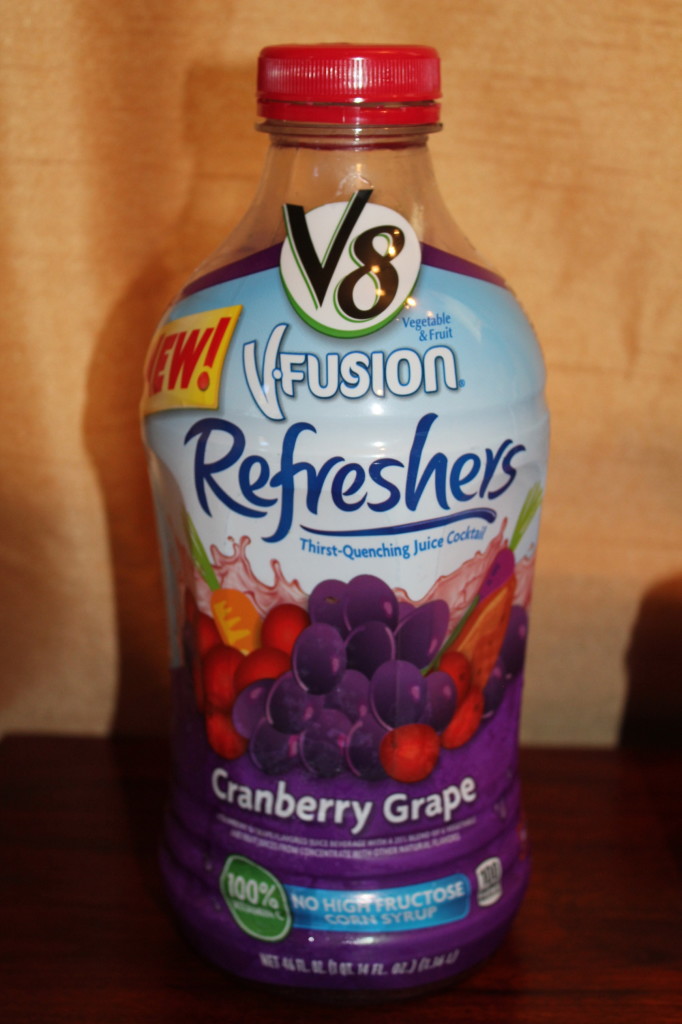 Disclosure:  I received 2 bottles of V8 V-Fusion® Refreshers in exchange for this review.  All thoughts and opinions are my own.
V8 V-Fusion Refreshers is a new drink from V8.  It includes a 20-25% blend of both fruits and vegetables.  V8 V-Fusion® Refreshers are naturally sweetened, contain no artificial colors, flavors or preservatives and are a great source of vitamin C.  There are four flavors of V8 V-Fusion® Refreshers to choose from including Black Cherry Berry, Cranberry Grape, Tangerine Passionfruit, and Peach Strawberry.
I received two bottles of Cranberry Grape for my family and I to try.  I'm not a huge juice drinker because I haven't really found a juice I loved.  Most juices I try are just too sweet for my liking and I end up having to add water to it.  My girls will drink juice if we have it on hand, usually just plain apple juice, otherwise they drink milk or water.  I was excited to give the V8 V-Fusion® Refreshers a try in hopes that I'd find a drink we would all like.  I loved the fact that it's made with both fruit and vegetables. It's definitely a drink I wouldn't mind my girls drinking.
Both my girls really liked it and after their first serving asked for a little more.  We still have some apple juice in the refrigerator, but when they want a drink, they ask for the V8 V-Fusion® Refreshers.  I tried the juice drink and I thought it was good as well.  I really liked the Cranberry Grape flavor we got, and would love to try the others.  The flavor combinations are unique and unlike other juice drinks I've seen around.
I decided to use The Cranberry Grape V8 V-Fusion® Refreshers in a smoothie since I figured it would be perfect on this hot sunny day.  I added some of the juice along with frozen mango, papaya, banana and some ice.  It was tart and refreshing and oh so delicious!  It was just my 3 year old and I home today, and she enjoyed her smoothie as well, drinking it all up in no time at all.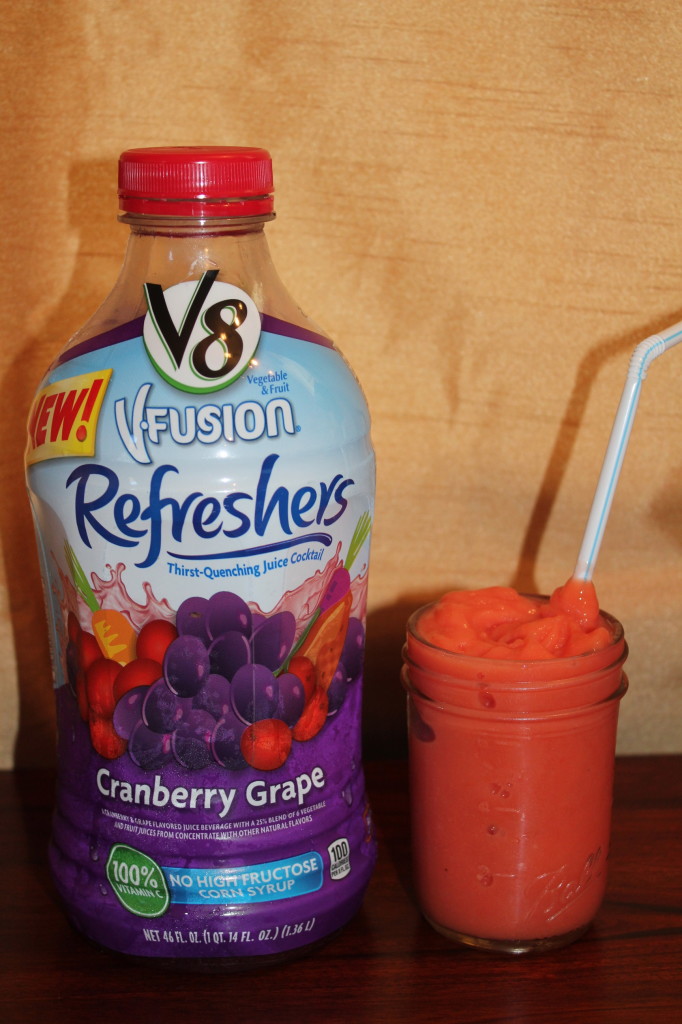 An 8 ounce serving of this drink contains just 100 calories.  There's 25 grams of sugars, 90 mg of Potassium, no fat and no cholesterol.  You'll also get 100% of your daily value of Vitamin C and 4% of Vitamin A.  The suggested retail price for a 46 ounce bottle is just $3.49.
This is definitely a drink I will purchase again in the future.