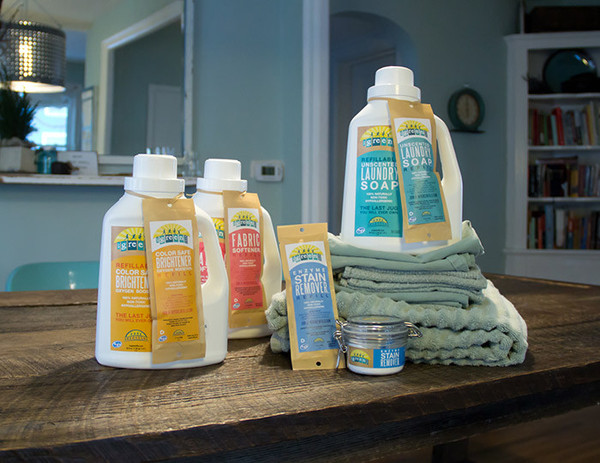 Disclosure:  I received these items for review purposes.  All thoughts and opinions are my own.
It's important to educate ourselves about the different chemicals and harmful ingredients that can be found in the products we use every day.  From bath soaps, to lotions and laundry detergents, there are chemicals in some of these products that are actually doing more harm than good.
While some people have made it a point to only purchase 100% natural and safe products for themselves and their families, there are many people out there who haven't yet made the switch.  It probably isn't because they don't want to, it's because they just don't know!
MyGreenFills products are smart for the planet and smart for your wallet.  Best of all, they're safe for you!
My youngest daughter has sensitive skin.  A while ago, she decided to use a pile of freshly washed bath towels as a pillow as she lay and watch tv.  As she lay with her cheek against the towels, I thought nothing of it.  Later, when she got up I noticed a slight reddish rash on her cheek.  Immediately, I realized it must be from the laundry detergent I had used to launder the towels.  There are so many unnatural ingredients in the majority of laundry detergents.  One of those ingredients likely caused the rash on my daughters cheek.  I knew right away, I needed to find a better, safer option for my family.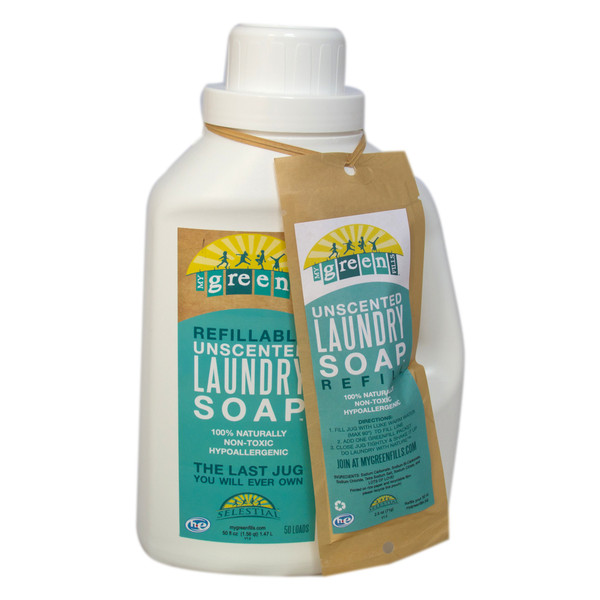 MyGreenFills products are nontoxic, hypoallergenic, and 100% natural.  They are free of dyes and perfumes.  I must admit, using these products do take some getting used to as they are not like the other laundry products I had been using for years.  Your laundry won't come out smelling like "fresh spring rain", or any other artificial scent, but you can rest assured, they are clean!
I have tried the Unscented Laundry Soap, Fabric Softener, Color Safe Brightener, and Enzyme Stain Remover and I'm completely satisfied with all products.
The first time you order, you'll get a jug.  The jug is reusable, so you'll never have to buy another jug again!  All you'll have to buy are the refills.  The refills come in powder form.  To use, just fill the jug with room temperature water to fill line, mix in refill, and shake!  That's it.  So easy.
The laundry soap is designed for both standard and HE machines.  It cleans great and offers 3X concentrated power.  You should be able to get 50 loads out of each refill of laundry soap and fabric softener and 25 loads out of the color safe brightener.
Why choose MyGreenFills?
– Refillable (use the same jug over & over again)
– 100% Naturally Non-Toxic
– Affordable (Less than $0.12/load)
– Delivered to you door
– Works in Hot or Cold Water
– Cruelty Free & Vegan
I'm sure you're wondering how much this all costs, right?  Your first jug + refill combo pack costs just $12.00.  After that, refills are $9.00 each.  You can also sign up for delivery every 1, 2, or 3 months.  With delivery, 1-2 refills cost $8.00 each, 2-3 refills cost $6.00 each, and 5 or more refills cost just $5.00 each.  With MyGreenFills, you'll be saving money while using a product that is so much better for your family.  Try it out today!  If you do, I'd love to hear how much you liked it.