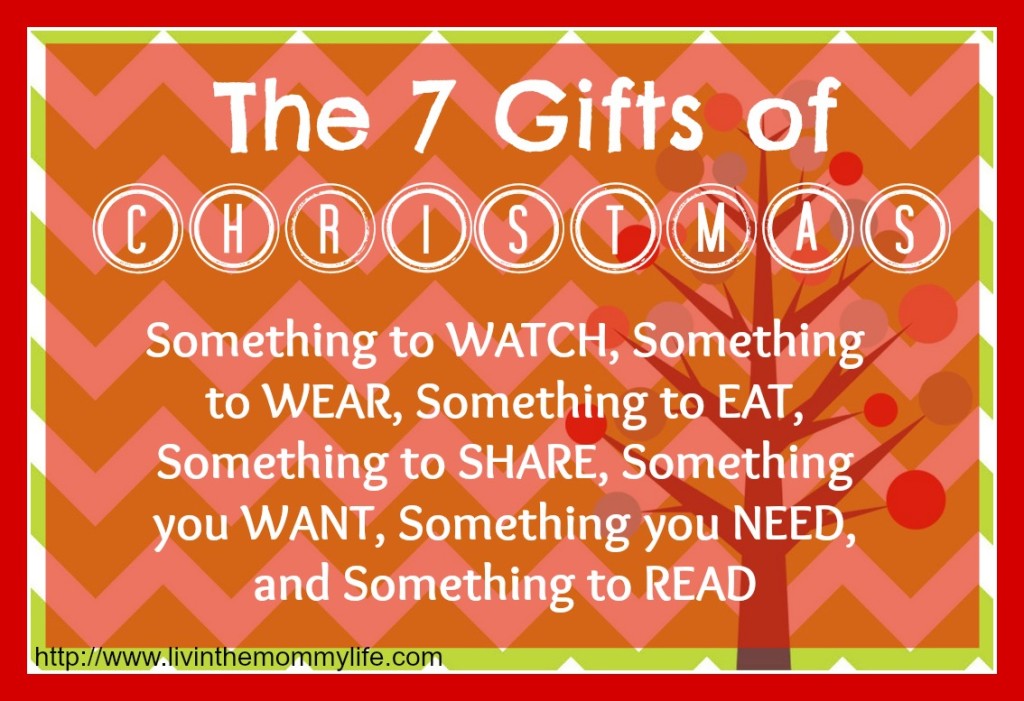 You may have heard of the 4 gifts of Christmas.  I think it's a great idea to give kids one item from each category, it makes gift giving simple, and it's nice to know they'll be getting gifts that they need and will really use.  This is a perfect list for those who have a hard time coming up with gift ideas.  And it's also a great way to prevent yourself from going overboard and buying too many gifts during the Holidays.  For some, 7 gifts may seem like a lot, but if you don't have a lot to spend, these 7 items can be purchased with a small budget too.  I've listed some ideas below.
1. Something They Want
2. Something They Need
3. Something To Wear
4. Something to Read
Want to add a few more?  Here are some other ideas:
Something to Watch
Something to Eat
Something to Share
Something to WATCH
-Netflix Subscription
-DVD
-iTunes Gift Card
Something to WEAR
New clothes – Jacket, sweater, t-shirt, dress, etc.
Pajamas
Shoes
Scarf
Headphones
jewelry
helmet
gloves
Something to EAT
Snacks
Restaurant or Fast Food Gift Card
Starbucks Gift Card
Something to SHARE
Board Game
Card Game (go fish, old maid, etc.)
Deck of cards
Video Game
Video Game Console
Swingset
Trampoline
Basketball Hoop
Foosball Table
Something you WANT
Any item on their wish list or something they've been asking for
Something you NEED
Socks
Underwear
Toothbrush
blanket
Something to READ
Magazine Subscription
Book
Kindle or other e-book reader
What do you think of this gift giving idea?  Is this something you do?