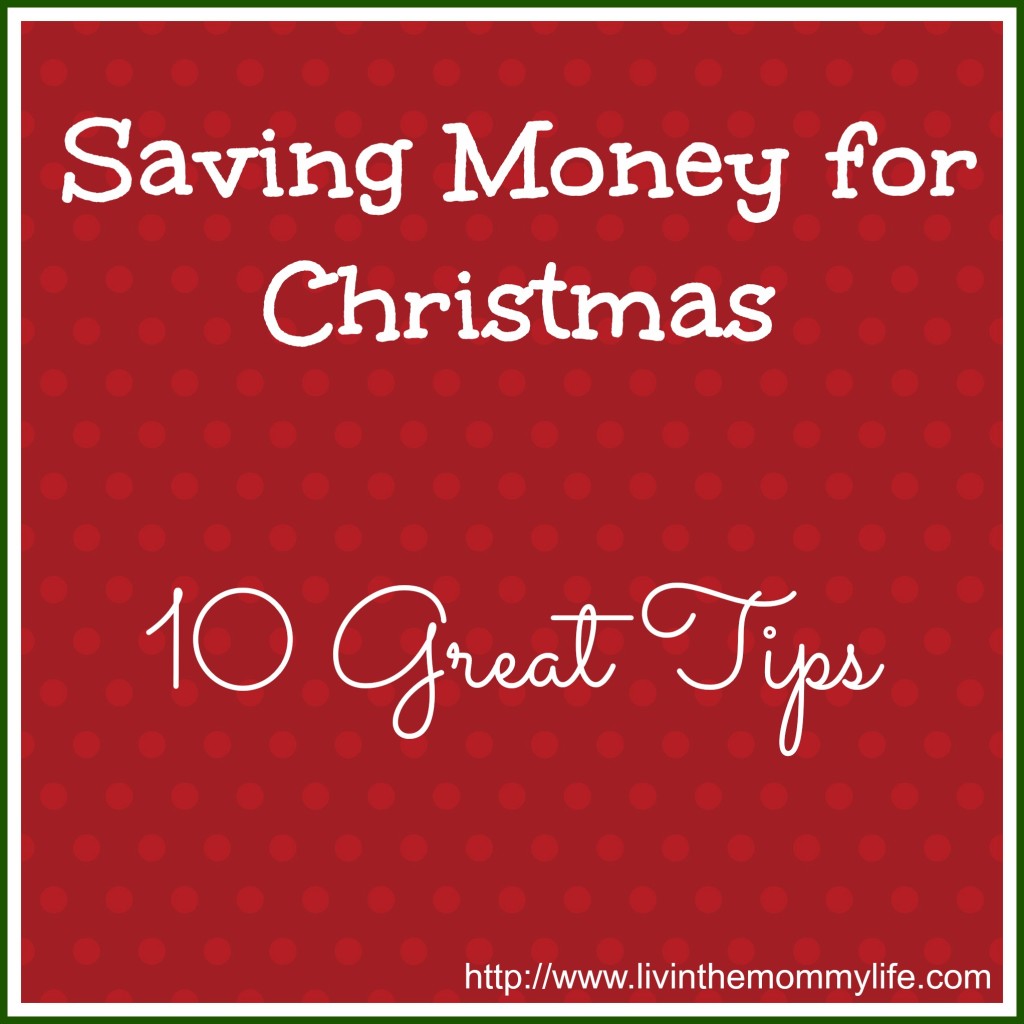 Christmas is the one time of the year when a lot of families tend to spend the most money.  From gifts, to wrapping paper, parties, and more, all the money we spend really adds up!  There's no reason any of us should be going into debt this Holiday season!  What can you do to save money this Christmas?
1)  Start Shopping Now!  Yes, you heard me right.  Shop now.  If you see something on clearance that would make a great gift for someone you know, buy it.  Put it away and save it for Christmas.  Next year, shop all year round.  After Christmas Sales are great for getting good deals on Christmas wrap and ribbon.  By shopping year round you'll get the best deals on the items and you don't have to come up with the money all at once.
I know a few people have "Gift Closets".  A Gift Closet doesn't necessarily have to be a whole closet just for gifts.  You can store these things in bins or in a small section of your closet.  Shop clearance and sales throughout the year and put the items you purchase in your gift closet.  Target has great deals on toys a couple times a year when toys get marked down to 70% off!  I believe those sales are in January and July each year.  I also like shopping clearance racks for clothes and other items that make great gifts.  Target, Kmart and Macy's are my favorite stores for clearance shopping!
2) Save a set amount each week.  As of right now, we only have 13 weeks left till Christmas.  If you start putting some money aside right now, you'll still be able to have a good amount in your holiday fund.  If you save just $10 a week starting now, you'll have $130 by the time Christmas comes along which should be enough for a nice Christmas meal, last minute stocking stuffers, or other holiday expenses.  Next year start saving in January.  If you save just $10 a week until the end of November, you'll have $440!  That's enough to have a really nice Christmas, and you may even have some left over.
3) Remember, Christmas is NOT all about Gifts.  Yes, gifts are nice, and we like to spoil our kids and get them all that they ask for, but really, gifts should not be a priority.  I do believe every child does deserve a gift, but they don't need an overwhelming amount.  I must admit,  I am guilty of over doing it for Christmas!  Especially when my oldest, who's now 6 was younger and the only child.  Between my husband and I and family and friends, she'd end up with a ridiculous amount of gifts, so much that she could barely finish opening them all.  I look back at that, and now I realize, it was just too much!
I recently came across a post through Pinterest with the following gift giving philosophy:  Something You Want, Something you Need, Something to Wear, Something to Read.  Each child gets four gifts, one from each category.  I think it's a great idea, and have been debating whether or not I should try it this year.
Another great idea is to buy a joint gift for all the kids.  Buy something they all can enjoy together like a Board game, Video Game Console, Trampoline, Easel, or Doll House.  Yes, some of these things might be expensive, but if you wait for good sales, use gift cards you've earned or buy them on clearance, you might not need to spend so much after all.  You can also find great deals on Craigslist for items that are still in excellent condition, and I'm sure the kids won't even know the difference.  If you have a big family a joint gift will probably save you money.  Buy one big gift for all the kids to share, and look for free DIY ideas for the rest.
4) Secret Santa – If you have a big family, doing a Secret Santa Swap might be a good idea.  Put everyones names into a basket and each person chooses one name.  Buy a gift for the person who's name you pull.  You can have a set minimum amount that everyone must spend towards the gift.  My cousins, sisters, and I used to do a Secret Santa Swap with each other back before we had kids of our own.  It was always lot of fun and turned out to be one of the most exciting gifts to open.  You can do separate Secret Santas for adults and children.
5) DIY Gifts – There are so many great DIY projects out there that are cheap or even free if you have the items laying around your house.  Many of these things would make great gift ideas.  My favorite site for finding DIY gift ideas is Pinterest, check it out!
6) BAKE!  I don't know about you, but I love baked goods and I love getting them as gifts.  Bake a big batch of cookies and give them away as gifts.  You'll save a little money, and everyone will get to enjoy some homemade baking.  You can find one of my favorite chocolate chip cookie recipe's Here.
7) Cut out Unnecessary Expenses – There's probably something you pay for, that you don't really use or need.  Whether it's your daily Starbucks fix or a monthly subscription.  These are things we want, but don't really need, and we can live without these things.  Ok, I know some of you need your daily caffeine fix, but does it have to be from Starbucks?  Make your own at home!  For me, my extra expense was my monthly Shakeology order.  It was costing me almost $100 a month, and although it's a good product and I do drink it, I don't drink it every day.  I had a stockpile of 3 unopened bags!  I decided to stop my monthly order, and that's a big savings for me.
8) Write a list and stick to it!  Writing a list is a great way to keep on track.  This way you won't end up buying extras that really aren't necessary.
9)  Shop Online for the best deals, and when you do, be sure to use Sites Like Ebates and Top Cash Back to get CASH BACK on all your purchases!  Ebates is my favorite site to use when doing my online shopping.  I have earned hundreds of dollars in cash back with Ebates!  I'm new to Top Cash Back, but I've seen some great deals with them too.  Sign up for both, and before making a purchase check both sites for the best deals.  Also, be sure to do a google search for COUPON CODES for the store you're shopping at before making any online purchase.
10) Earn Gift Cards and Cash Online throughout the year with sites such as Swagbucks & MyPoints.  With Swagbucks, you earn points just by searching online!  I have earned a lot of $5 Amazon gift Codes with Swagbucks.  I usually get at least $5 worth, sometimes more, a month and I save these up for Christmas.  With MyPoints, you get points for reading e-mails, the points add up and you can redeem them for gift cards.  I save up all my points throughout the year and redeem them for a gift card in September or the beginning of October as it does take some time to process and receive your gift card.  You can also earn points when you shop online through them.
What do you think of these Money Saving ideas?  Is there anything you'd add to my list?  If you have more tips, please share them in the comments!