On our recent trip to Las Vegas, my husband and I were lucky enough to see 5 awesome shows! We were given tickets to Tournament of Kings, but all other shows were purchased on our own. Though shows can be expensive, in my opinion, they are well worth it.  If you can, try to go to at least 1 show!  Then you can check out these FREE THINGS to do in Las Vegas.
Disclosure: This post contains affiliate links.
Le Reve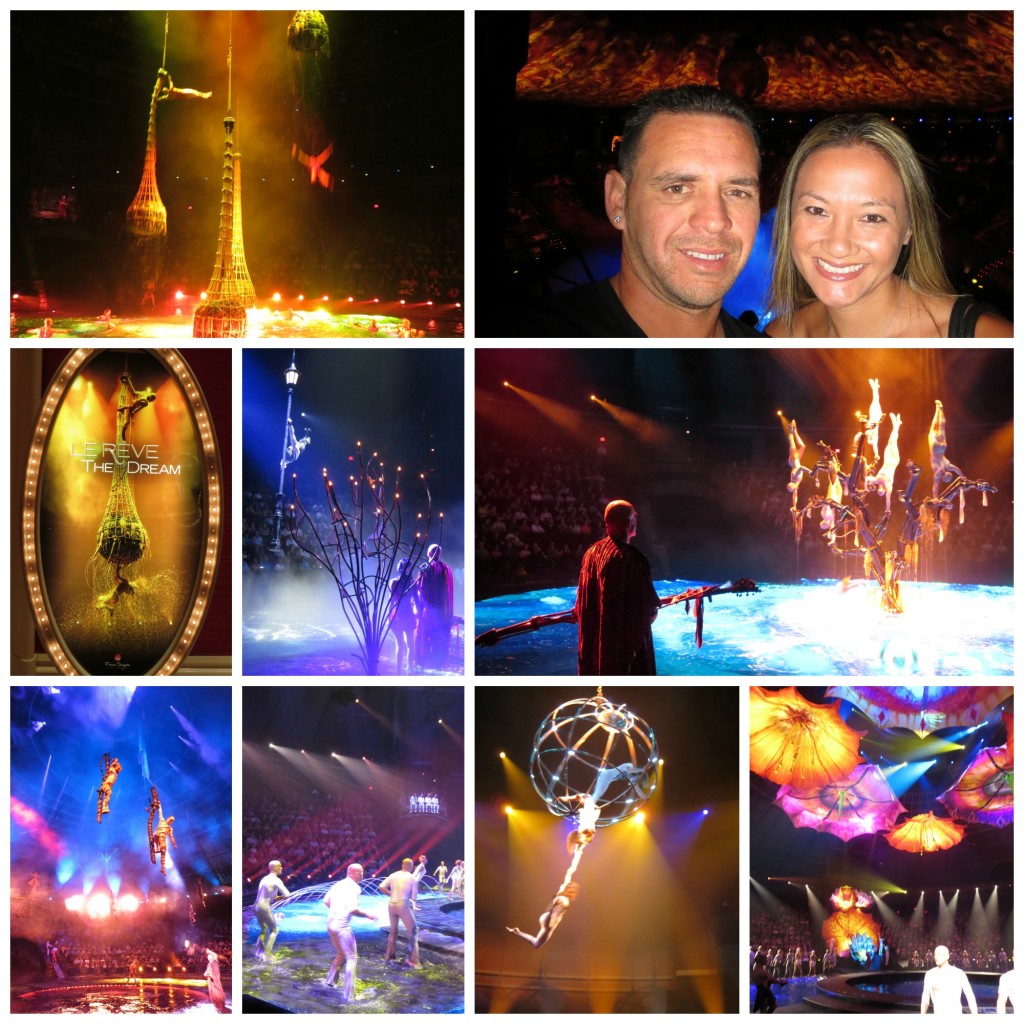 Let your senses take flight as you discover an extraordinary world where dreams swim in the air and dance on water.
Of all the shows we watched on our Vegas vacation, I'd have to say Le Reve – The Dream was my favorite!  Le Reve is held in an Aqua Theatre, which is amazing.  The theatre is round giving you great views no matter where you sit.  We sat in the "splash zone" which is the first two rows.  They are the cheapest seats, and highly recommended.  You get awesome views and are up close to the action.  We got some light sprays of water here and there, but you don't get too wet.   The acts were incredible, stunning, just plain awesome!  You just have to see it for yourself.   I also loved the little bits of magic thrown in.  We didn't get to see a magic show, so it was nice to see a little bit of magic in Le Reve.  I really enjoyed the entire show, and would love to see it again! Save Big on Le Reve Tickets!
Tournament Of Kings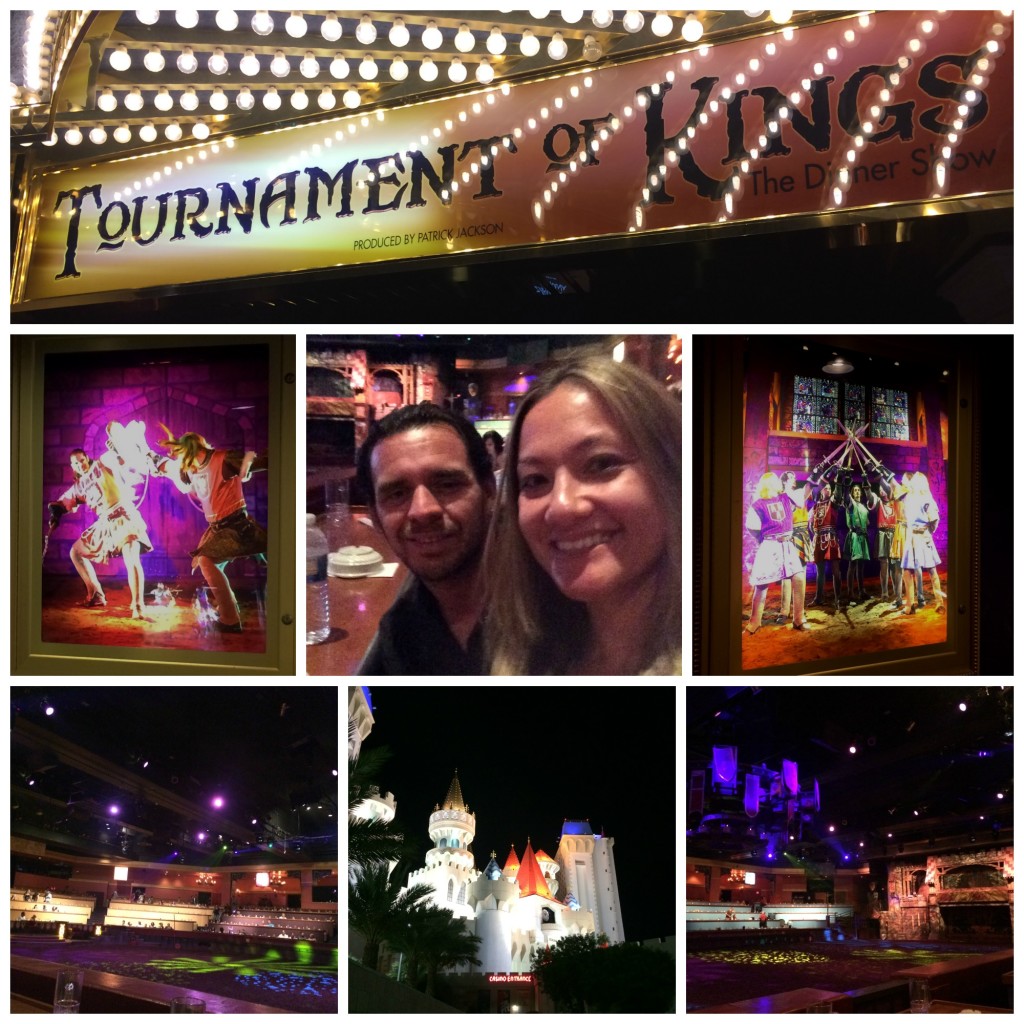 Tournament of Kings is a dinner show held at the Excalibur Hotel.  It was a very fun and entertaining experience that my husband and I both enjoyed.  The theatre is an arena where everyone is separated in sections by countries such as Spain, Hungary, Russia, etc.  Each country has a Knight who you cheer for as they compete in various games against each other.  We were seated in the front row which was awesome!  However, I believe there are only about 5 or 6 rows, so I'd assume, the views are great no matter where you sit.
I don't want to give out too much info on the show because I really think you all should see it if you ever get the chance, but I will say that it included horses, sword fights, dancing maidens, fireworks, and even an attack by the enemy.  It's a fun show the whole family will enjoy, although I think younger kids might get scared during certain scenes.
Dinner is served without utensils.  You have to eat everything with your hands which just adds to the whole medieval experience.  Our meal consisted of a tomato soup that was very tasty along with a whole cornish game hen, broccoli, two red potatoes and a biscuit.  Dessert was an apple pastry.  Everything was tasty and I really enjoyed the entire experience.  
Zarkana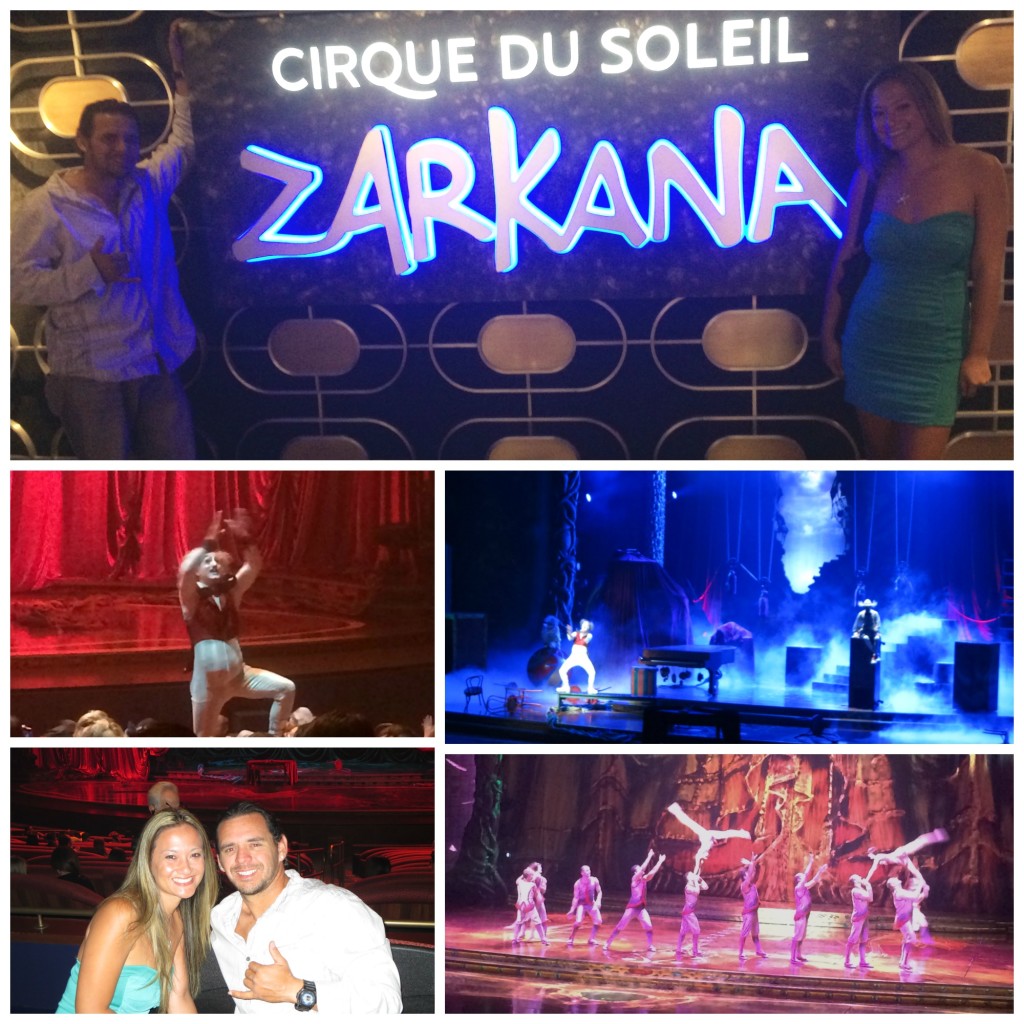 Zarkana was the first show we watched.  It's held at the Aria Hotel.  Zarkana definitely met our expectations as far as what we expected from a Cirque du Soleil show.   It  was very fun and entertaining and featured a variety of Circus acts including aerialists, high wire and trapeze artists, jugglers and more!  If I were to ever visit Las Vegas with my kids (which is highly unlikely as it's not the best place for kids), I'd bring them to see Zarkana.  
Ka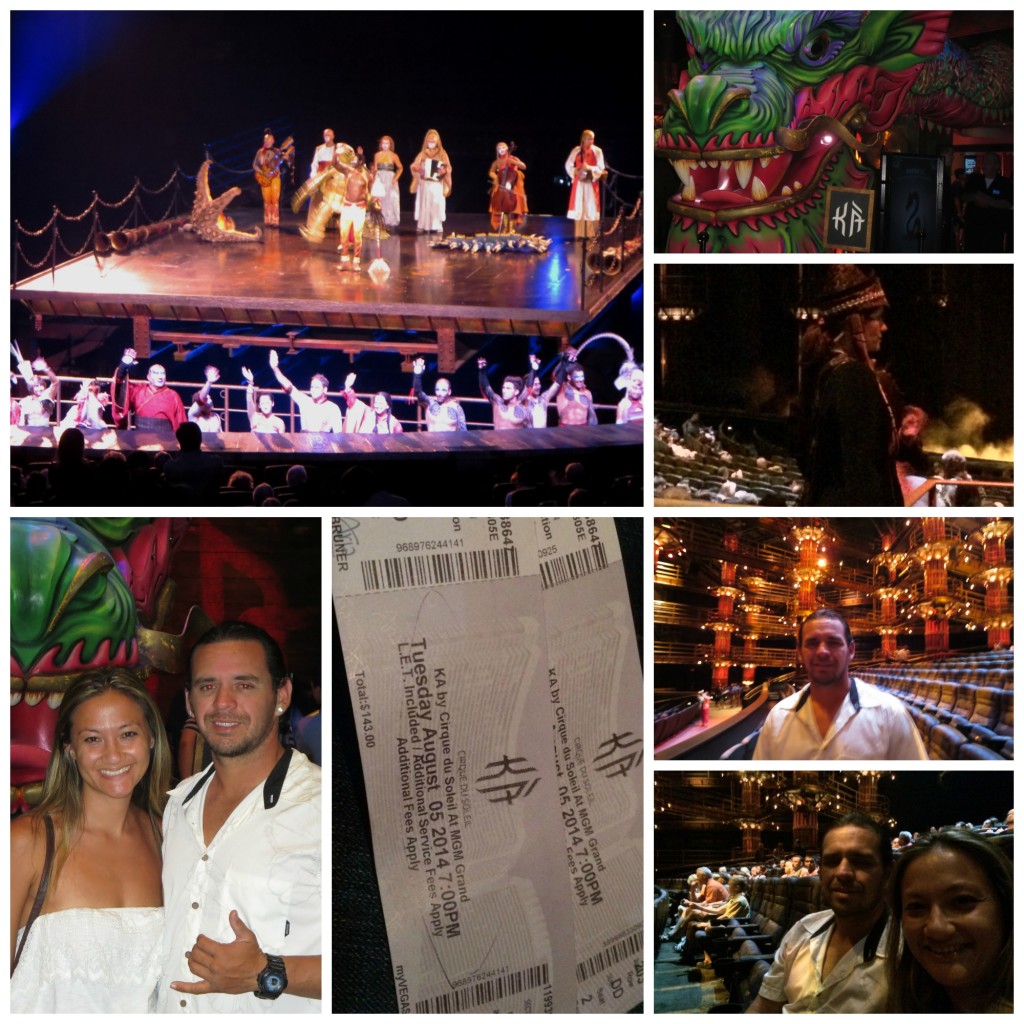 KÀ by Cirque du Soleil tells a heroic tale of twins who embark on an adventurous journey to fulfill their destinies.
I was amazed when I walked into the Ka theatre.  Of all the theaters, this was the most outstanding.  No matter your seat, you feel like you're in the center of it all!  In the beginning some of the actors will come from the sides and behind you.  I feel like the best seats are those a little further back.  If you sit too close, you'll miss all the action going on behind you!  This show features a moving stage, which is really neat.  Ka was an awesome show that my husband and I both enjoyed.  I think the darkness and some of the characters, might be a little scary for some younger children.
Zumanity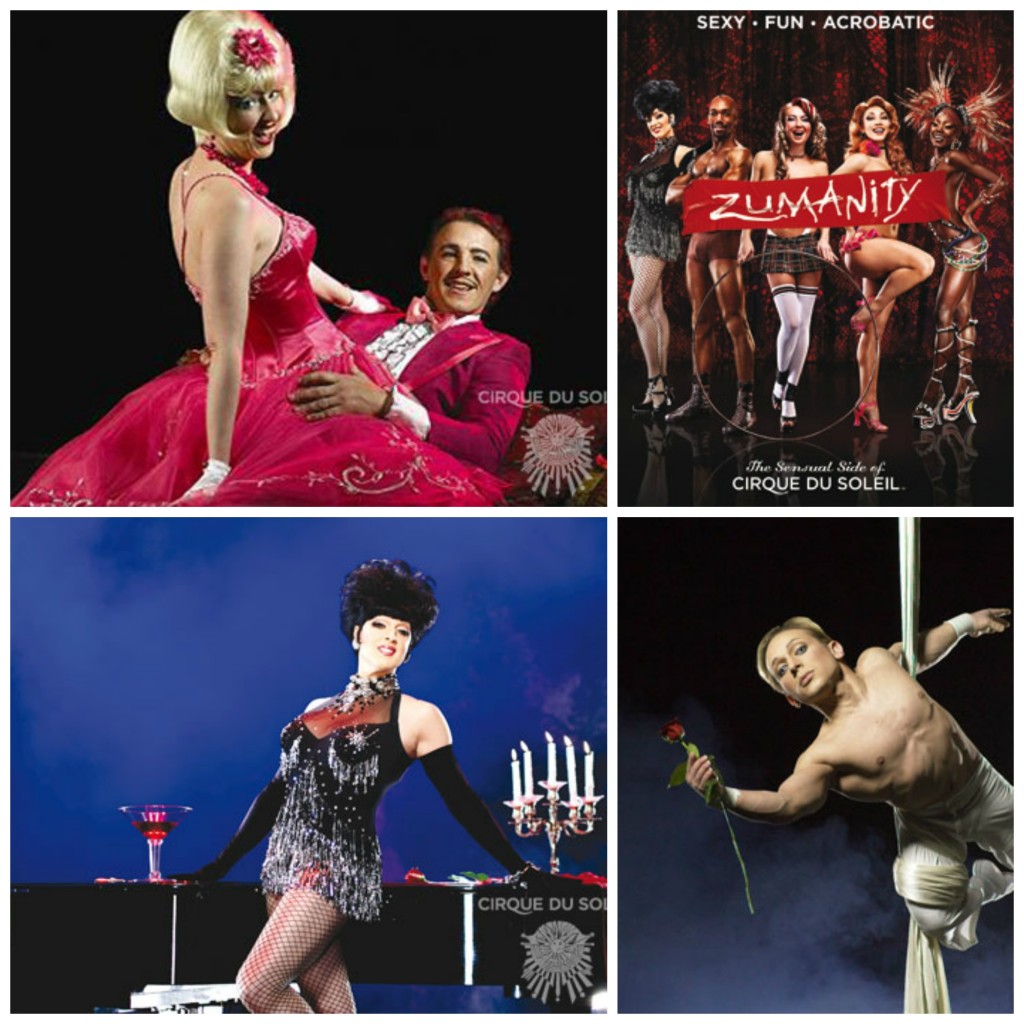 Zumanity, the Sensual Side of Cirque du Soleil is a seductive twist on reality, making the provocative playful and the forbidden electrifying! Leave all inhibitions at the door and let loose as this adult-themed production takes you on a sexy thrill ride full of sensational acrobatics and naughty fun..
We didn't plan on going to Zumanity, but I'm glad we did!  We were walking through the New York New York Hotel and noticed a bunch of people lining up, it turns out we were just in time for the show.  Tickets were 30% off due to it being the night of the show, so we really couldn't pass up the great deal.  Zumanity was created especially for those aged 18 and over.  A lot of the acts feature topless dancers.  Also, if you see the show be prepared for audience interaction!  I'm glad I wasn't picked as I'd be so embarrassed!  It's all in good fun though.  My hubby says he was ready to get up on stage if they had chosen him.
I noticed with all shows, there is always something to see before the actual show starts, so I highly recommend you get there when the doors open which is usually about a half hour before showtime. You really don't want to miss out on anything!