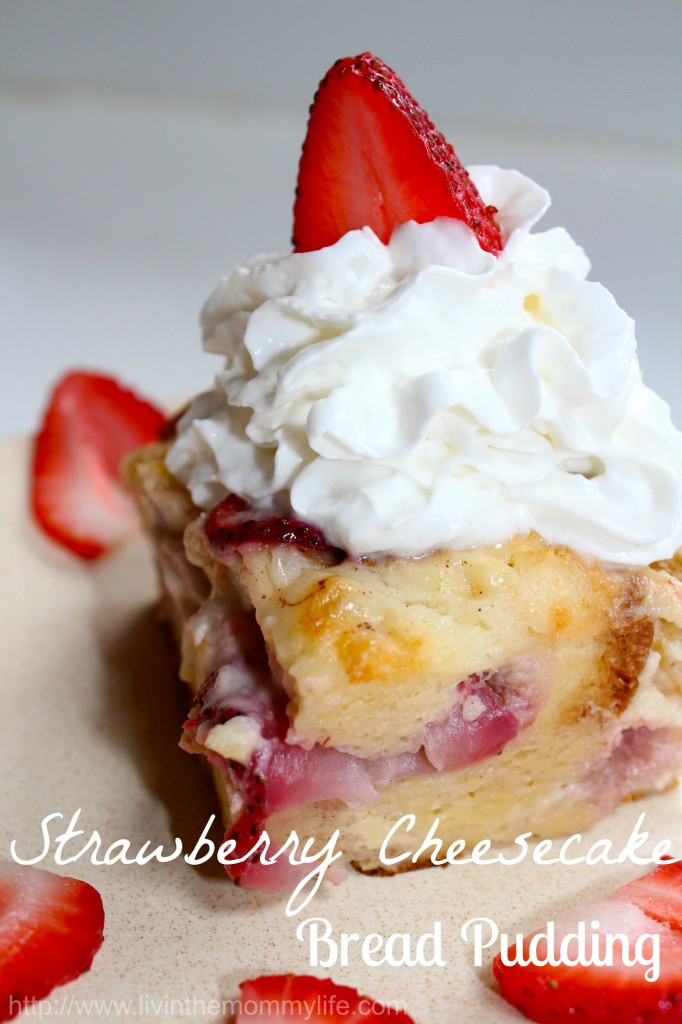 I log on to Pinterest, and what do I see?  A mouthwatering Strawberry Casserole looking at me!
I must say, It's hard to stick with healthy eating if you like browsing through Pinterest.  I constantly pin the tastiest looking foods, the ones I'm trying to stay away from.  When I saw the Strawberry Cheesecake French Toast Casserole, I immediate pinned it to my "brunch" board.  Lucky for me, my sister was browsing through Pinterest and saw it too.  A few days later we were planning our Easter brunch when I mentioned the casserole.  Yes, it was still on my mind, and I was looking forward to Easter which would be my "cheat day"!  We talked about how good it looked, and my sister agreed to make it for our Easter Brunch.  I couldn't wait!
Although my sister changed up the recipe a little, it's very similar to the casserole featured on Mom On Timeout.  We both agree it's a lot like a bread pudding, so we chose to call her version…
Strawberry Cheesecake Bread Pudding
Ingredients
12-14 slices of Hawaiian Sweetbread (We used Punalu'u Sweetbread)
12 oz light cream cheese
2/3 cup Organic Cane Sugar
11 eggs
3/4 cup milk
3/4 cup half-and-half
1/3 cup honey
2 tsp vanilla extract
1 tsp cinnamon
2 cups sliced strawberries
Directions
1. Lightly grease a 9 x 13 baking dish.
2. Beat cream cheese until light and fluffy.
3. add sugar until fully combined.
4. Beat in 1 egg. Set aside.
5. Whisk together remaining eggs, milk, half-and-half, honey, vanilla extract and cinnamon. Set aside.
6. layer bread with cream cheese mixture. Add sliced strawberries onto cream cheese mixture. Place another slice of bread on top to create a sandwich. Do the same for all slices of bread.
7. Cut into cubes and place two-thirds of the sandwich cubes into baking dish.
8. Top with remaining strawberries and drizzle remaining cream cheese mixture over the top.
9. Place remaining sandwich cubes on top.
10. Finally, pour egg mixture over the top.
11. Press down lightly and cover with plastic wrap.
12. Refrigerate over night.
13. Remove from refrigerator and let it sit while you preheat the oven to 350 degrees.
14. Cover with foil and bake for 30 minutes.
15. Remove foil and bake for another 25-35 minutes or until the surface is golden and the center is set.
We served each piece with whipped cream and fresh strawberries.  It was enjoyed by everyone, and I'm sure it'll be requested again.