My home was over flowing with STUFF!  All kinds of stuff, too much stuff, it was so overwhelming.  I knew it was time to do something about it. Time to de-clutter and get organized!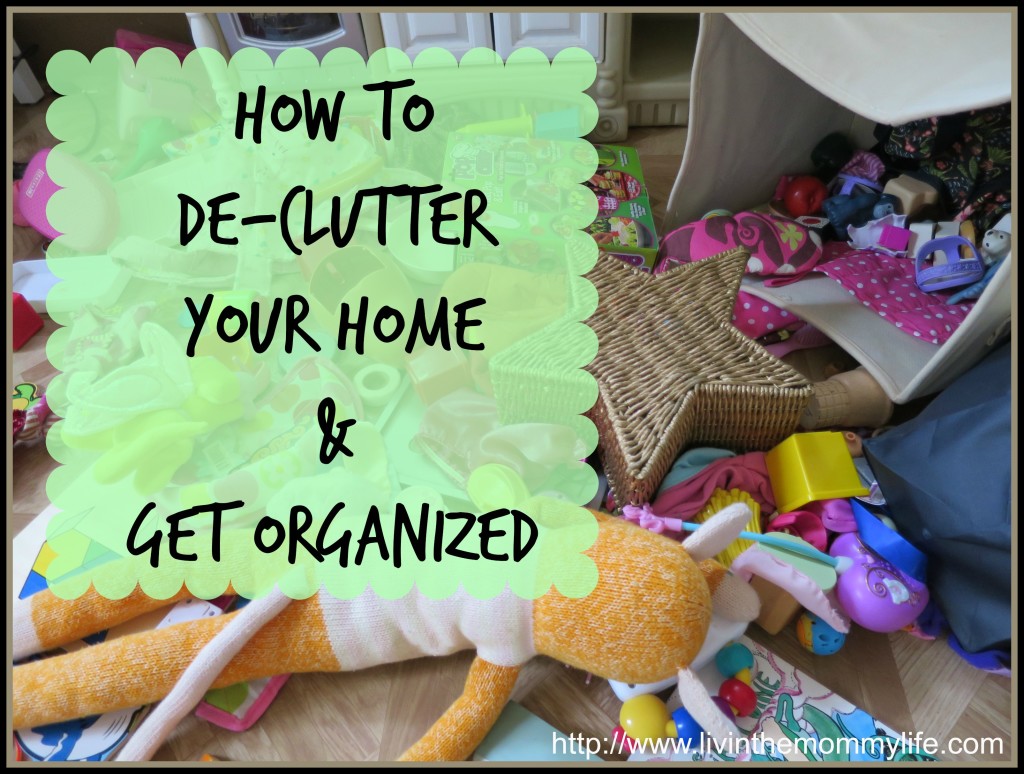 How did I do it?
Separate STUFF into 4 piles.  For each area I cleaned, I separated the clutter into different piles.  My problem areas were my kitchen  counter, my dresser, my desk, my closet, the bathroom closet and the kids bedroom and toy room.  So yeah, basically my whole house!
I have my dresser right by my bedroom door.  It became the prime spot for placing things as soon as I walked into my room.  Within time, my dresser was filled with clutter!  One of the perks of cleaning is finding things you totally forgot about, like the $40 in cash I found in an envelope on my dresser.  I had completely forgotten about it.  I checked the envelope before tossing it and was happily surprised.  I added the extra cash into my "Savings for Disneyland" jar.
Toss – These items go directly into the garbage bag.  I filled two garbage bags with items to throw out!  If you want to de-clutter, you must throw some things out.  I threw out old receipts, mail and magazines.  I also threw out broken toys, or little "happy meal" type toys that the kids never play with, but they sure do like to take them out and leave them on the floor.  If I didn't think someone would want it, and I no longer had a use for it, I threw it out.  I know a lot of people tend to hoard things and it can be hard to throw things out, but if you haven't used it in a  year, it's likely that you never will.  If your mission is to get your house cleaned out and organized, you MUST throw some things out.
Giveaway to someone you know– I had a bunch of great things I no longer had use for, yet I knew someone who'd appreciate and use it.  I know someone having a baby girl, so I was able to clear out all of my baby things which was great.  I like being able to help others out.  I had some clothes that were still in great condition, but they either no longer fit, or I just hadn't used it in a while.  If I knew someone who would want it, I gave it to them.
Sell or Donate – If I have things I think will sell, I like to keep them for a yard sale.  It's a great way to get rid of items and make a little extra cash.  Since we're planning a family vacation for October, I need all the extra cash I can get.  So I decided to keep some thing for the yard sale.  I still haven't decided on a date, so for now my closet isn't completely cleared out.  It is however, more organized.  If selling's not your thing, it's always a great idea to donate your items.  I've donated to the Salvation Army in the past.  I plan on donating everything that doesn't sell at my yard sale.
Keep- This will normally be your biggest pile.  Things to keep!  When making a decision to keep an item be sure it's something you really need, want or use.  Once you decide to keep something, make sure it has it's own place.  This is what I need to remember!  Because I spend so much time at my desk, it ends up getting cluttered with things that don't really belong there.  You must remember at the end of the day, or when you're done with an item, to put it back in it's place.
You don't need to de-clutter the entire house in one day.  It takes time.  If you don't have a full day to work on your house, choose one or two areas a day, and work on those.  In time, you'll have a nicely de-cluttered home. The feeling I had once I was able to see the outcome of my hard work was one of accomplishment.  I felt happy and proud to have done what I did.
Hope these tips help you.  I am by no means an expert on organization.  Until very recently my house was a mess.  A big thanks to my three year old who seems to think messes are great.  I finally had enough of it and spent two full days getting my house cleaned, de-cluttered, and organized.  It really feels so nice to walk into a clean room.  I hope I'm able to keep it as it is.