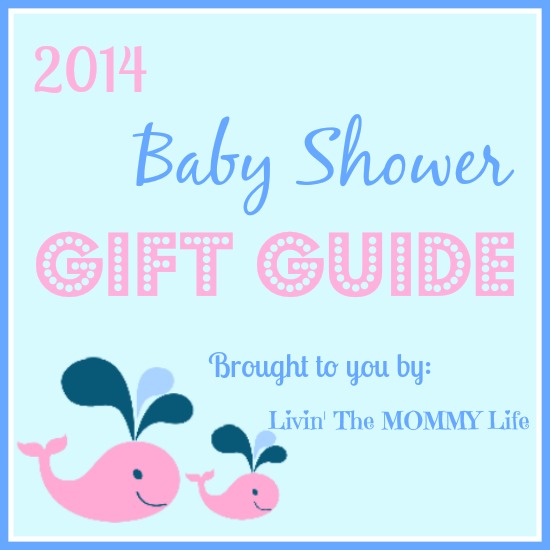 Disclosure:  The following companies provided  product or payment for inclusion in this Gift Guide.  All thoughts and opinions are my own.
Are you having a baby?  Do you know someone who is?  Well….you've come to the right place!  This gift guide is filled with awesome products that would make great gifts for expectant parents or those with a newborn.  If you'd like even more gift ideas, check out Livin' The MOMMY Life's 2013 Baby Shower Gift Guide.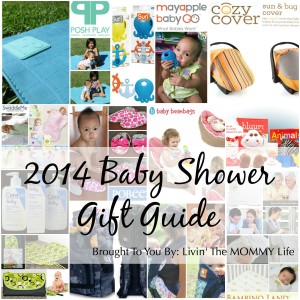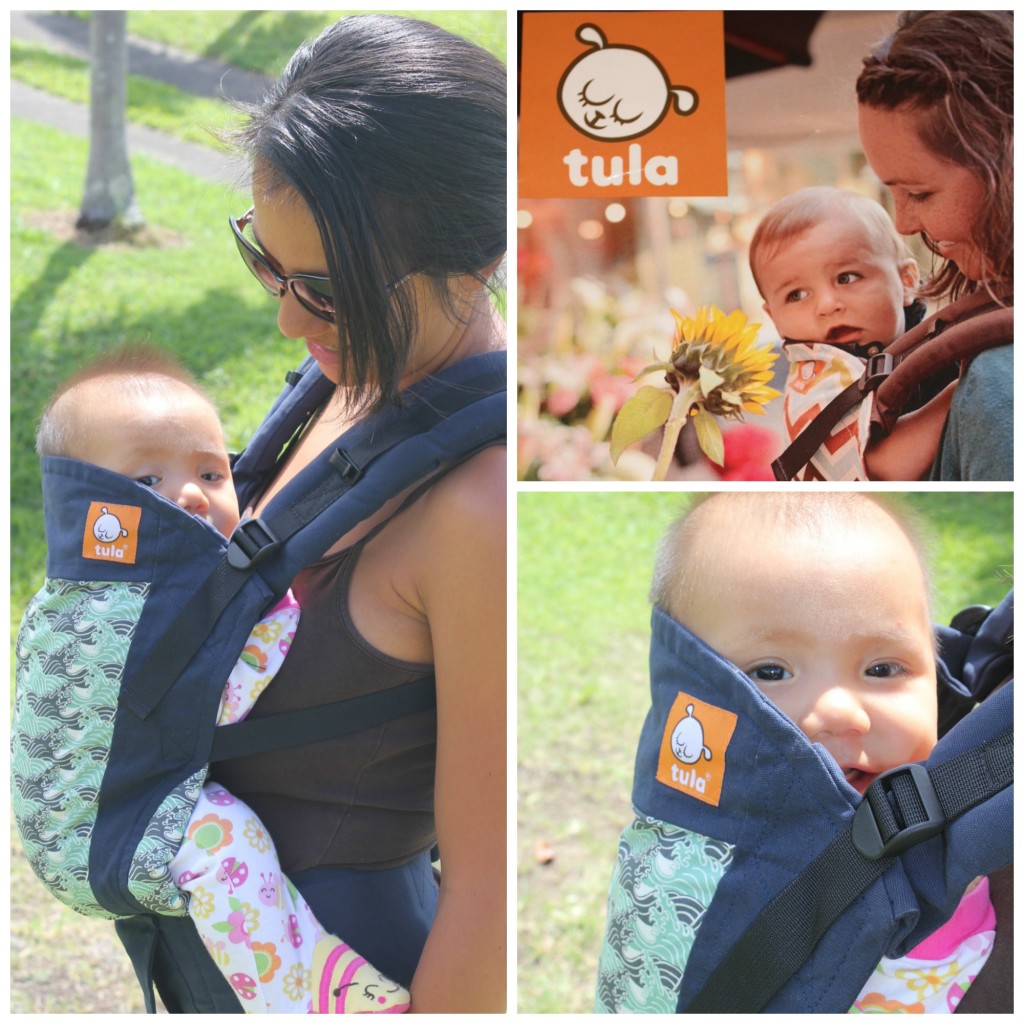 I had my sister try out the Tula Baby Carrier with her 7 month old daughter and she loved it!  She says it's the most comfortable carrier she's used.  She loved that it was very comfortable on her shoulders unlike other carriers she's tried.  The should straps offer a lot of padding making it very comfortable.  The Tula baby carrier can be used as both a  front and back carrier.  It can be used for babies from 15 – 45 pounds.  It can also be used for newborns if you use the optional infant insert which is sold separately.  The Tula carrier is a high quality carrier made of 100% cotton withe Duraflex buckles.   It features a pocket on the hip belt for additional storage.  With this carrier, you won't have to worry about legs dangling.  It's designed to provide a wide seat and to support a natural M position of baby's leg and hips.  The carrier comes in a nice selection of colors and designs.  Prices start at $149.00.
Angelcare AC1200 Video Movement & Sound Monitor for Smartphone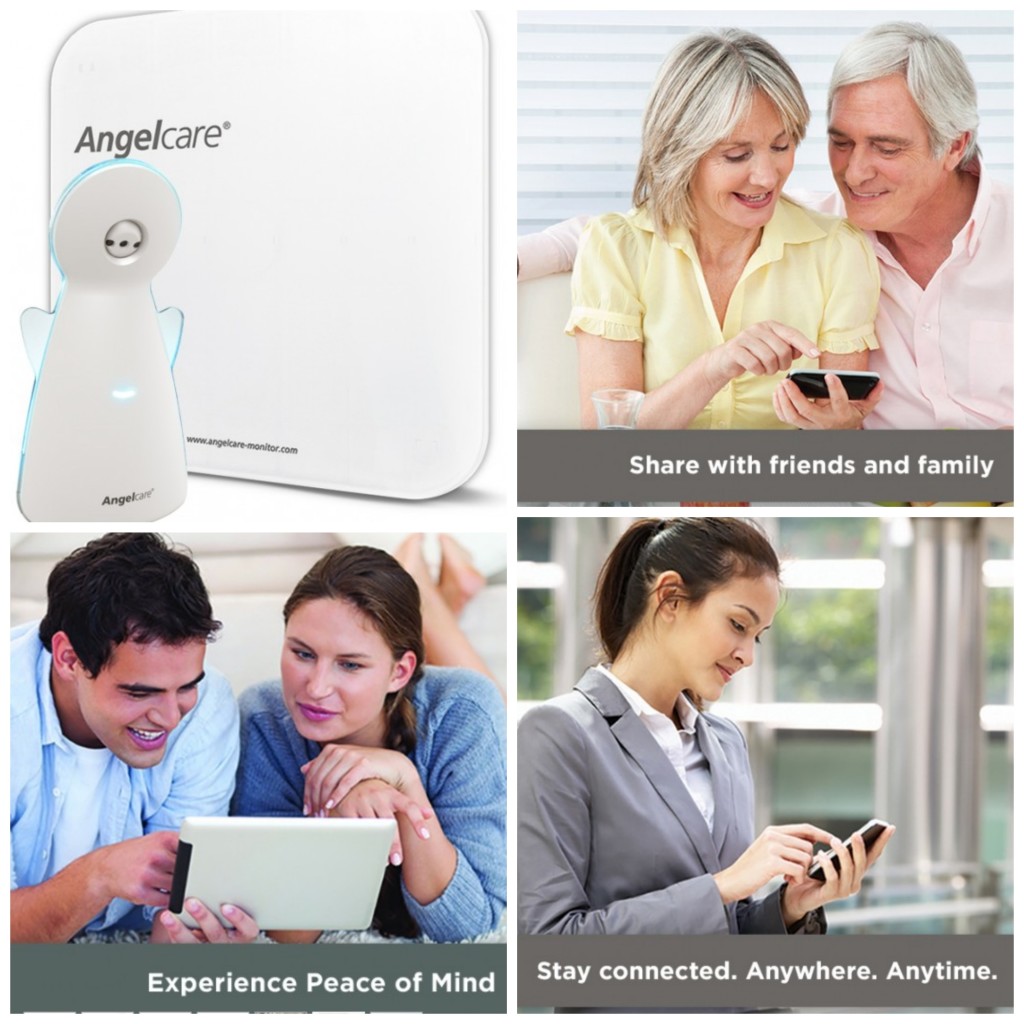 The Angelcare AC1200 Monitor is the greatest monitor yet!  It does everything you'd expect and more.  One of the amazing features is the ability to use a smartphone or tablet to check in on your baby from anywhere in the world!  Whether you're in the next room, or at work, you can easily see how your little done is doing.  This monitor also features an adjustable HD infrared camera that works both day and night so you can check in on baby even in the dark.   It also works like a walkie-talkie so baby can be soothed by the sound of your voice and you can play lullabies through the camera with your smartphone.  To give you peace of mind, the monitor also comes with an under the mattress movement sensor pad.  If your little one stops moving for more than 20 seconds, the alarm will sound.  As you can see this monitor is very well equipped.  There are still a few more features, I haven't listed.  The Angelcare AC1200 Video Movement & Sound Monitor is a wonderful, useful gift for new parents.
Sea Creatures Muslin Swaddling Blanket and Organic Muslin Crib Sheet from Bambino Land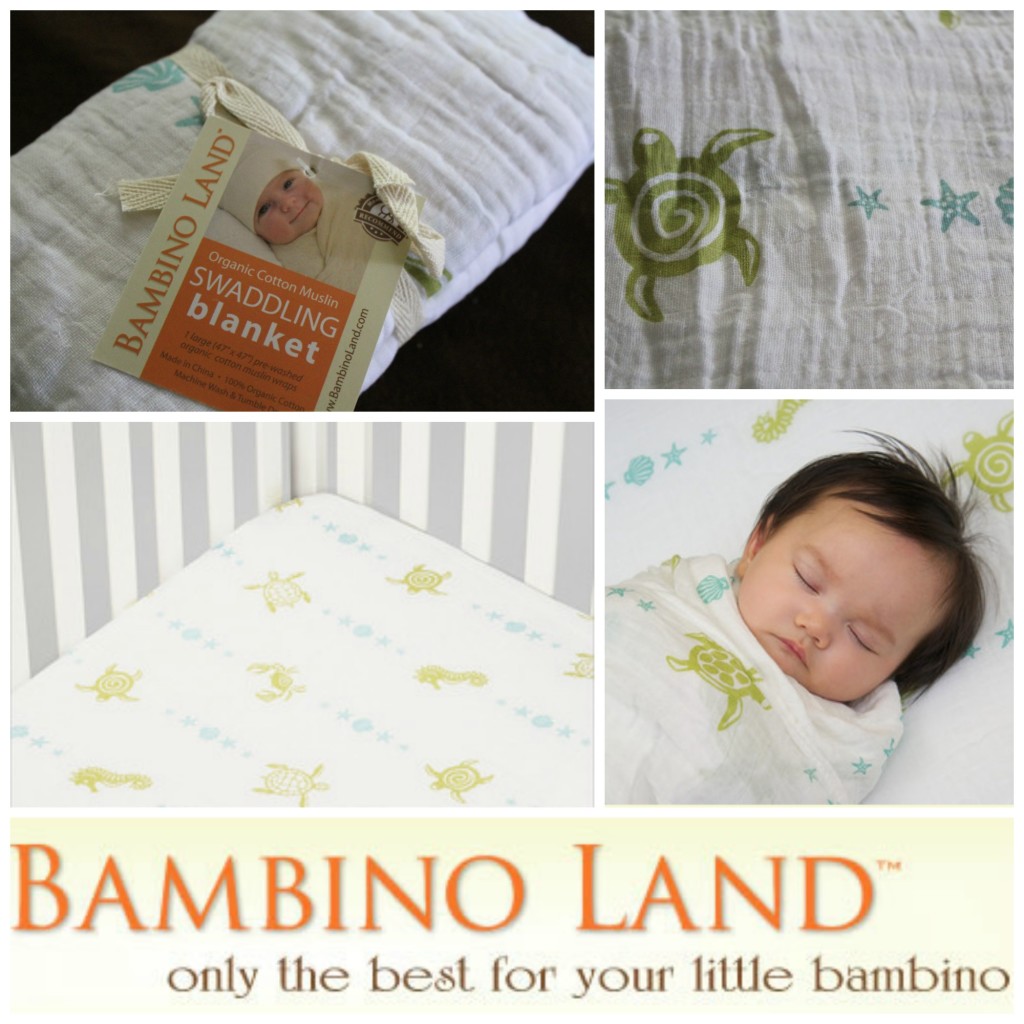 Your little ones deserve the very best! The Sea Creatures Muslin Swaddling Blanket and crib sheet were both designed exclusively for Bambino Land, they were finely woven  from 100% certified organic cotton making them soft and gently for baby.  Babies always find comfort  when wrapped up nice and snug, and you can do just that with the luxurious swaddling blanket.  The blanket is generously sized at 47″x47″.  The crib sheet adds a nice touch of simplicity and style to babies nursery.  The super soft muslin is lightweight yet durable and will get softer with each wash.  Both the crib sheet and swaddling blanket come in various prints.  The crib sheet retails for $39.95 and the Swaddling blanket is $29.00.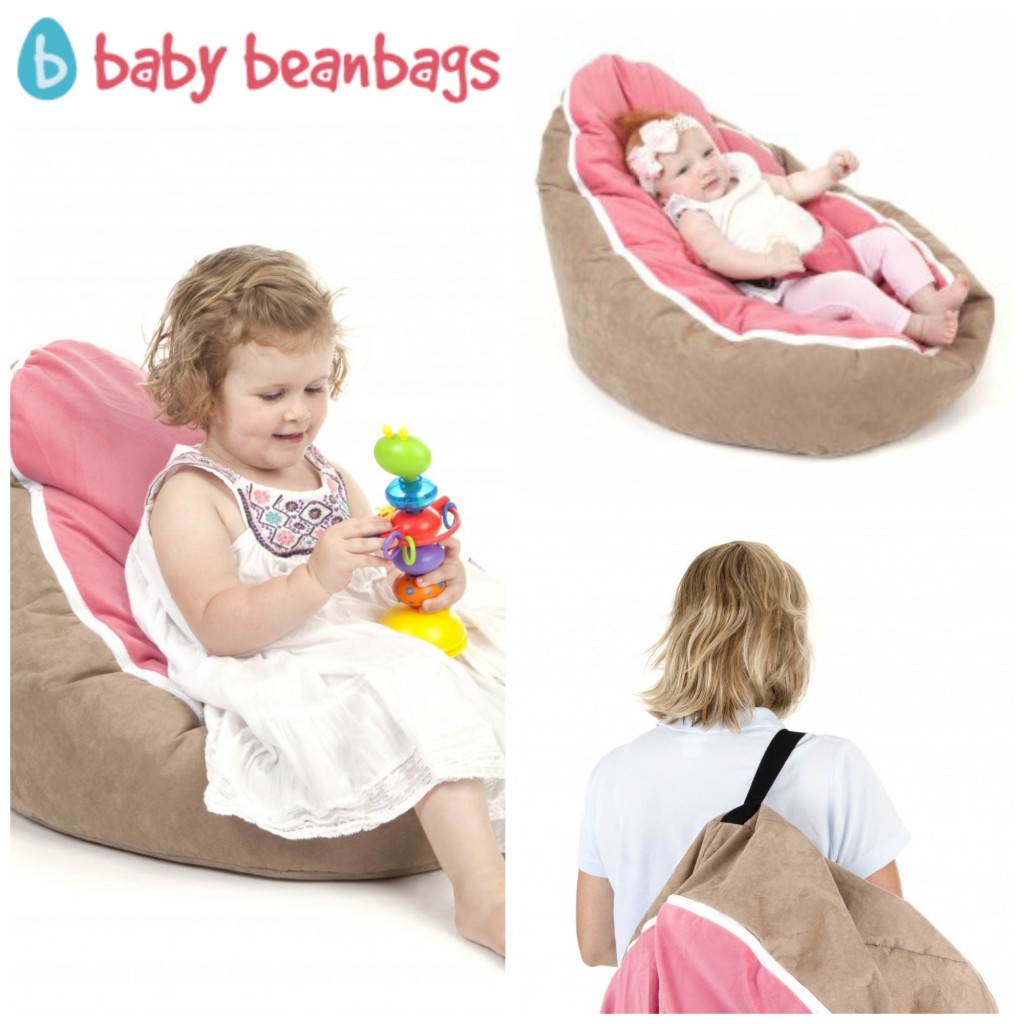 Baby Beanbags are an amazingly comfortable, high quality and innovative seating option for babies .  It's a beanbag, which thanks to the swappable covers grows with your child from newborn to school age.  Both covers are removable with Goretex water proof backing for any little accidents, making them fully breathable, warm in winter and cool in summer. The seat cover without a harness is included and can be swapped to the beanbag when your child no longer needs the security of a harness.  The beanbag filling offers supreme comfort by moulding around your baby's body to make them secure and content. It also allows you to change the elevation of your child's seating position so you can lie them down for snoozes and sit them up for feeds and interaction.
Baby Beanbags offer a wide range of health and practical benefits to you and your children.  They help to relieve reflux, helps to prevent flathead, they're safe and offer years of use.  Baby Beanbags are also portable, easy to clean, and flexible.  They sell for $79.99
Posh Play – Turquoise Play Mat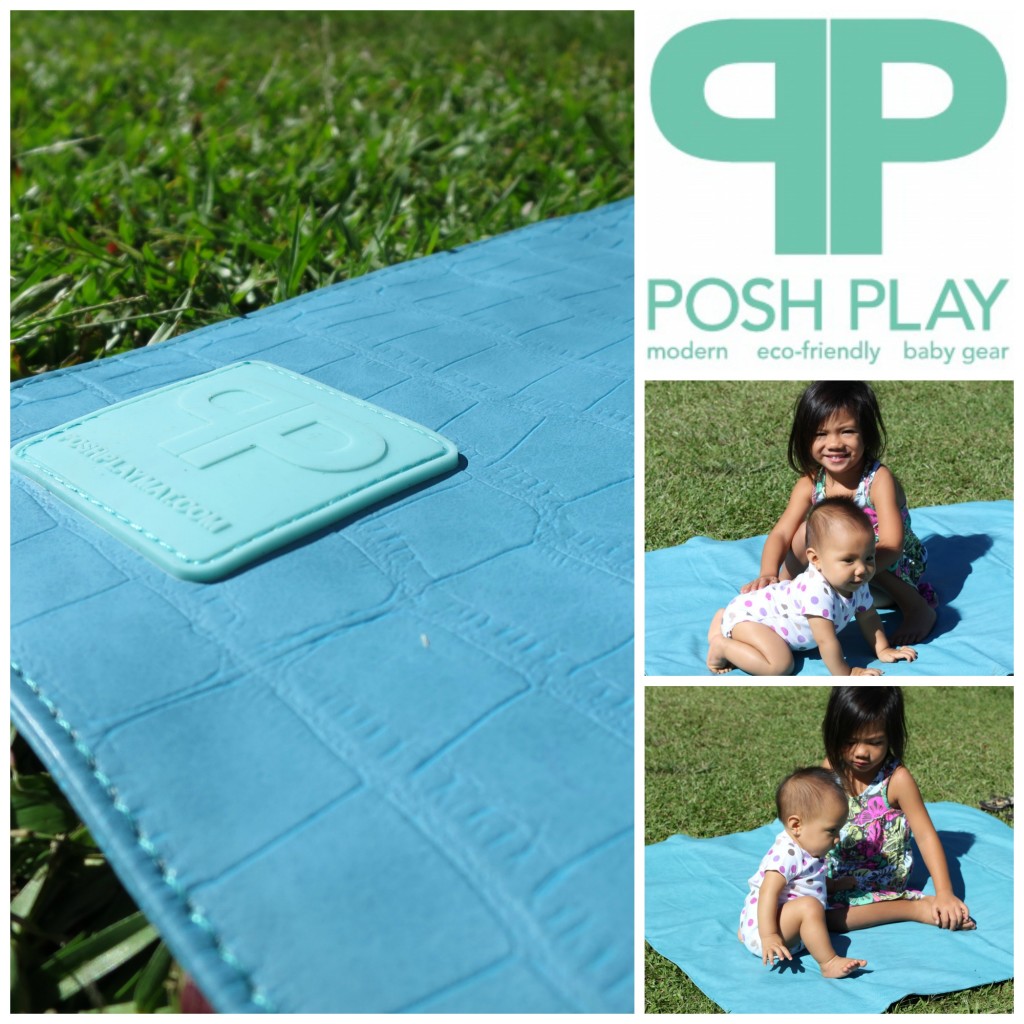 The Posh Play Mat is the perfect stylish play mat for outdoor and indoor use.  It can be used as a play space, for picnics, nap time and even diaper changes.  I love that it's so versatile and can be used by kids of all ages.
The Posh Play Mat is made of PVC free faux leather, giving it a very luxurious look.  This awesome play mat is eco-friendly.  It measures 50″ x 45″.  The play mat is reversible and easily wipes clean with a damp cloth.  They come in a variety of color options so you'll be sure to find a color that fits your style.  The play mat retails for $98.00
Daddy Diaper Pack By Daddy & Co.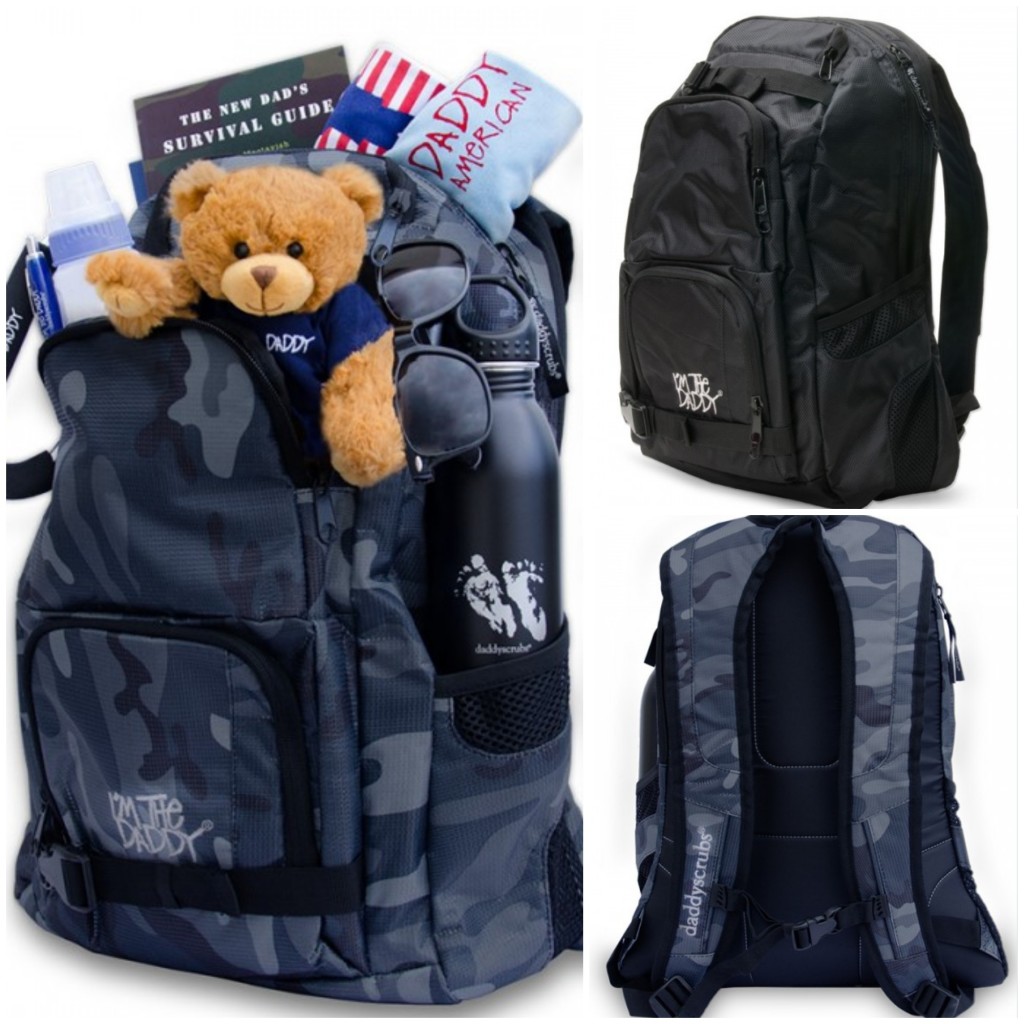 Most diaper bags are geared towards mom's, but what about dad's?  The Daddy Diaper Pack by Daddy & Co. is made just for dad!  This manly backpack comes in either black or a gray camo print.  It's a great stylish pack with lots of room to fit baby's necessities as well as daddy's.  The roomy backpack measures 19″ x 12″ x 9″.  It features two roomy compartments for diapers, wipes, clothes, and toys, an insulted cooler compartment for food or drinks, an organizer pocket for keys, money, small toys, pacifiers, etc., a fleece lined pocket for sunglasses and mesh side pockets for baby bottles or water bottles.  As you can see, this bag holds a lot of stuff!
The Daddy Diaper Pack can be purchased for $69.95.  If you're looking for a gift for a daddy or daddy-to-be the Daddy Diaper Pack by daddy & Co. is a wonderful choice!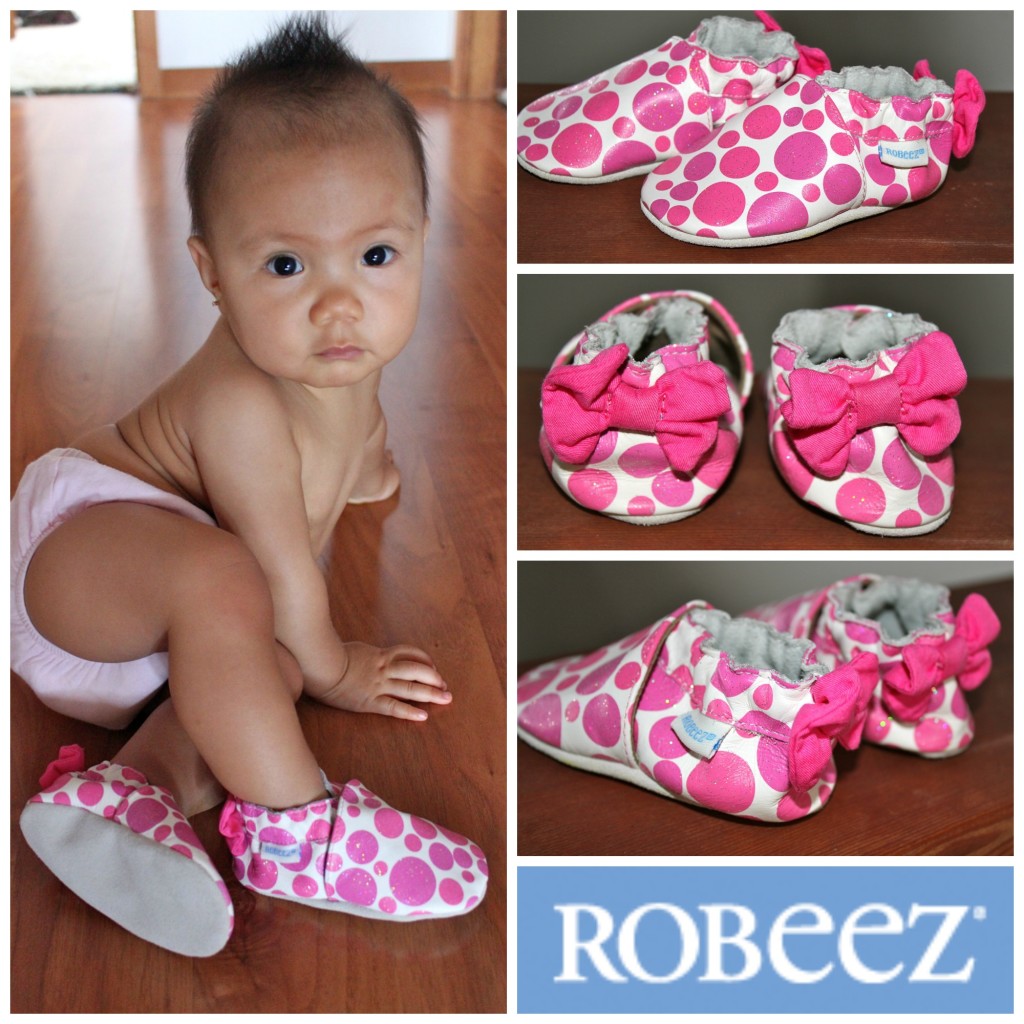 Robeez Shoes are absolutely adorable!  I received the Sorbet Fun Soft Soles which are too cute.  I especially love the little bow detail on the backs of the shoe.  These shoes come in a wide variety of styles for both boys and girls.
Robeez footwear mimics bare feet by flexing and bending with every step.  They support and protect growing feet. Robeez uses high quality leather and other materials making them a comfortable and durable shoe.  The soft-sole shoes feature a non-slip suede outsole to prevent slipping and an elasticized ankle band to ensure the shoe will stay on those little feet!  It's the ideal shoe for infants, babies, pre-walkers and toddlers and is best for indoor use as well as light outdoor activities.  These shoes are approved by the American Podiatric Medical Association.  Robeez Soft Sole shoes retail for $25.00 a pair.
Mayapple Baby – Suri the Octopus and Friends Teething Toys Set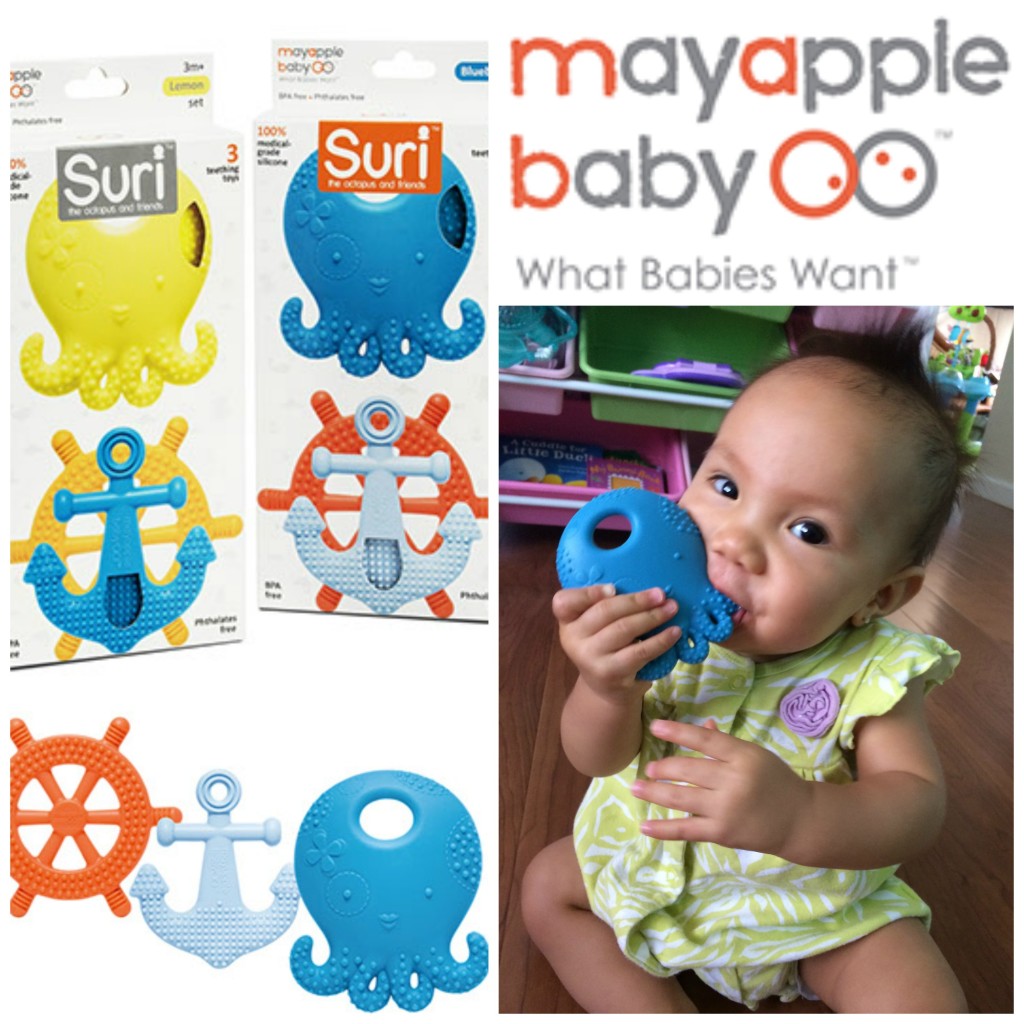 Suri the Octopus and Friends set of 3 teething toys from Mayapple Baby are great teethers for babies 3 months and up.  The set includes Suri the Octopus as well as The Anchor and The Wheel.  Each teether has multiple sensory points and textures and are designed to reach both front and back teeth.  The teethers are easy to grip and manipulate.  Suri's concave shape easily fits baby's hands.  The Anchor features 6 biting sites and 3 different teething textures. The Wheel has 12 biting sites and 2 different textures.  Not only can these be used as teethers, they make a perfect nautical theme play toy as well.
These teethers are made of 100% medical grade German silicone.  They are BPA and Phthalates free and were designed to be used for all stages of teething. The suggested retail price for this set is $22.99.
Summer Infant SwaddleMe Infant Wraps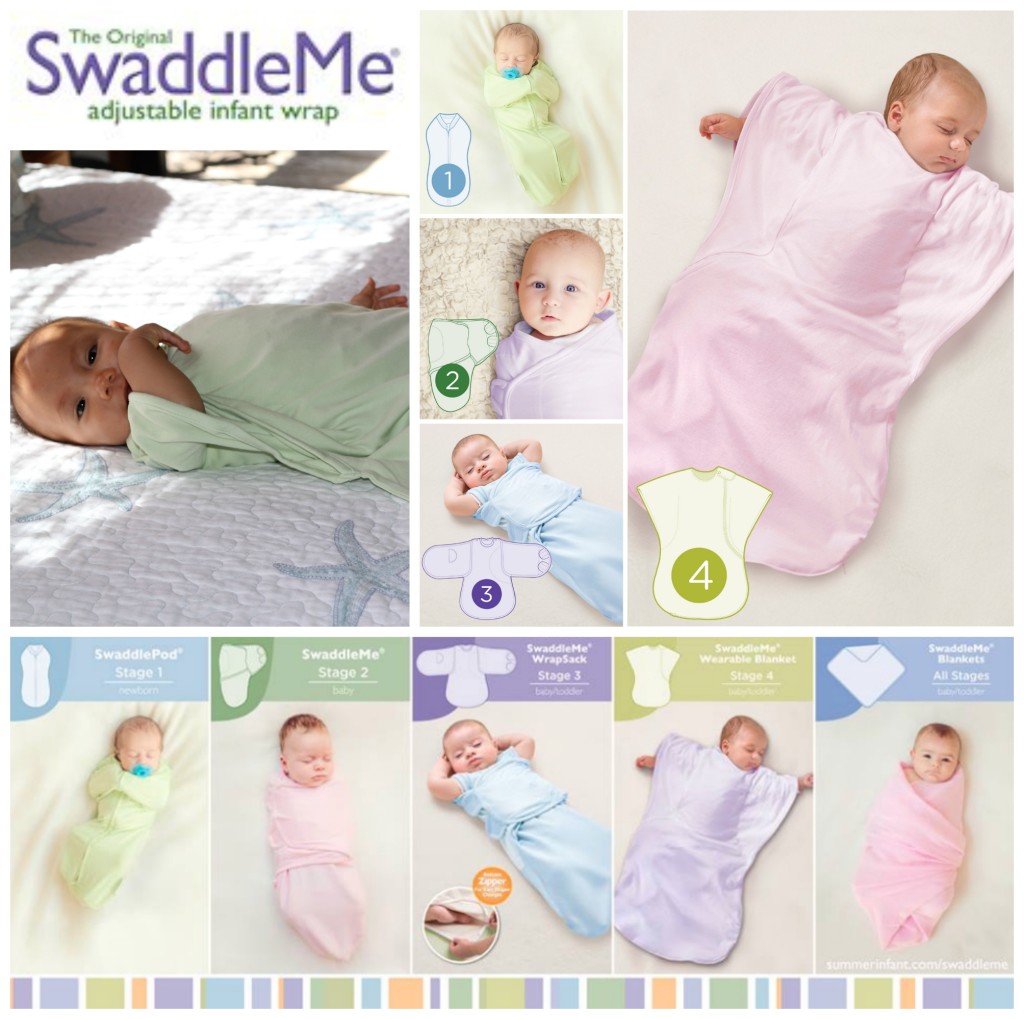 The award-winning SwaddleMe® wrap helps keep babies sleeping safely on their backs while replacing loose blankets in the crib.  It also recreates the snugness of the womb, so babies startle less and stay asleep longer.  Summer Infant's SwaddleMe adjustable infant wraps come in 4 stages.
Stage 1: SwaddlePod (5-10 lbs.) Recreates the comfort of the womb – $14.99
Stage 2: SwaddleMe (7-20 lbs.) Easiest way to swaddle for safe and sound sleep – $14.99 – $19.99
Stage 3: SwaddleMe Wrap Sack (7-20 lbs.) Transitioning swaddle, arms in or out – $22.99
Stage 4: ComfortMe (12-24 lbs.) Keeps Baby warm, and replaces loose blankets in the crib. – $23.99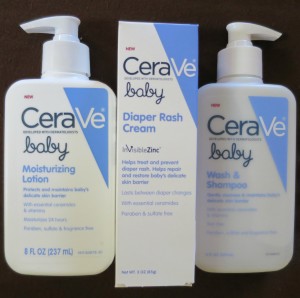 Developed with pediatric dermatologists, CeraVe® Baby products with essential Ceramides are free of Sulfates, Parabens and Phthalates for a healthy way to care for your baby's delicate skin.  CeraVe® Baby products include a Moisturizing Lotion, Baby Wash & Shampoo, and a Diaper Rash Cream.  All products are fragrance free.
Cozy Sun & Bug Infant Carrier Cover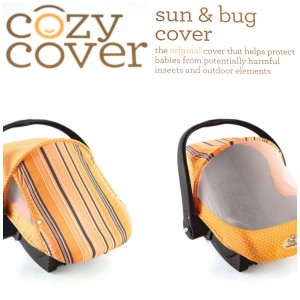 The Cozy Sun and Bug Infant Carrier Cover is a must-have item when it comes to keeping baby protected.  Not only does the Cozy Sun & Bug Cover keep baby safe from insects,  it keeps baby safe from unwanted touch as well.  Often, when someone sees a baby, the first thing they want to do is touch their face or hands!  I can't stand that, as I like to keep my baby free of unnecessary germs.  With this cover, baby is guaranteed to be protected from germy hands or kisses.  The pull over flap provides additional protection from the sun's harmful UV rays. The self supporting canopy creates a spacious, well ventilated enclosure for baby.   This cover is compact and folds up nicely.  The Cozy Sun & Bug Infant Carrier Cover retails for $14.99.
Cozy Cover On-The-Go Changing Pad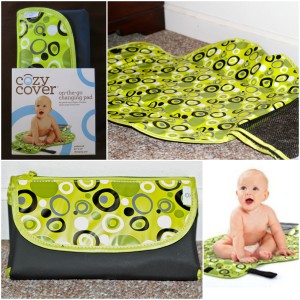 Cozy Cover's On-The-Go Changing Pad is very convenient for changing diapers while away from home.  The 20″x23″ cushioned pad is comfy for babies and has an easy to clean wipeable surface.  It features a velcro handle which allows the changing pad to be easily attached to your stroller, diaper bag, or anything else you can think of, so it'll never get misplaced.  When unfolded, you'll find expandable pockets where you can store a few diapers, wipes, creams and more!  The Cozy Cover On-The-Go Changing Pad is a must-have item for parents.  With this pad you can be assured that you'll always have a clean space to change your little ones diapers.  It comes in two color options and retails for $11.99.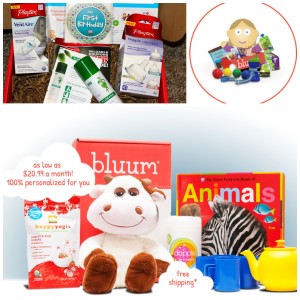 How would you like to get a box of new surprises each month?  Bluum is a monthly subscription box filled with new goodies for mom & baby from pregnancy to preschool.  Gifting a subscription to Bluum is easy.  All you'll need is Baby's due date or birthdate.  From there, a box is made especially for the recipient.  Products are based on the child's age, gender and developmental stage.  It's a great way for parents to discover and try out new products.
I received a box for a 2 month old.  It contained a Playtex Vent Aire Bottle and variety pack of nipples, a white onesie, Holiday Sticker Set to document babies first holidays, and a bottle of dry shampoo.  I liked the variety, and that included one useful product for mom.  You can purchase 1 month for $29, 3 months for $79, 6 months for $139, or you can save 17% and purchase a whole year for $249.50.
Baby Shoes, Onesies, and Sock Monkey Snuggle Buddy from Burlington's Baby Depot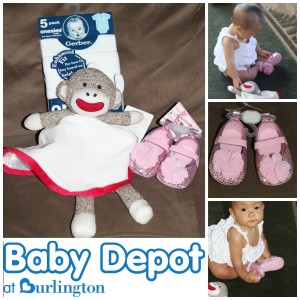 Burlington's Baby Depot is a wonderful place to shop for all your baby's needs.  You can find a wide variety of products for baby including toys, clothes, strollers, and more!  I received a few small items that would make nice baby shower gifts.  The items I received were the Baby Starters Sock Money Snuggle Buddy, Stepping Stones infant girl shoes and plain white Gerber onesies.  These cute little gifts are fairly inexpensive and would be great additions to a gift basket for baby-to-be.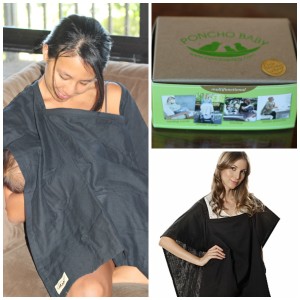 The Classic Poncho Baby Nursing Cover comes in five color options and a square or oval style.  The multiple award winning design allows mom to easily see baby while feeding.  It's large and spacious and provides full front and back coverage.  This awesome product is multi-functional.  Not only can it be used as a nursing cover-up, it can also be used as a blanket, stroller cover, car seat canopy, stylish poncho, or sunshade.  It can also be used during bottle feeding to provide privacy and block out distractions.  The poncho is made in the USA.  It's made of super soft, breathable premium cotton.  It features two inside pockets for holding burp cloths or pacifiers.  You can purchase the Classic Poncho Baby Nursing Cover for $48.00
What products in this Gift Guide are you most excited about?  Have you tried any of these products?  What are some other must-have items for new parents?