There comes a point in time where you may just need a little extra cash to make it through the day. Maybe you had an unexpected expense, and now you're broke! Sometimes, life takes us by surprise, and we find ourselves in a bit of a sticky situation. Don't worry, there are a few ways you can make a bit of extra money today. It'll take some time, but it's not impossible.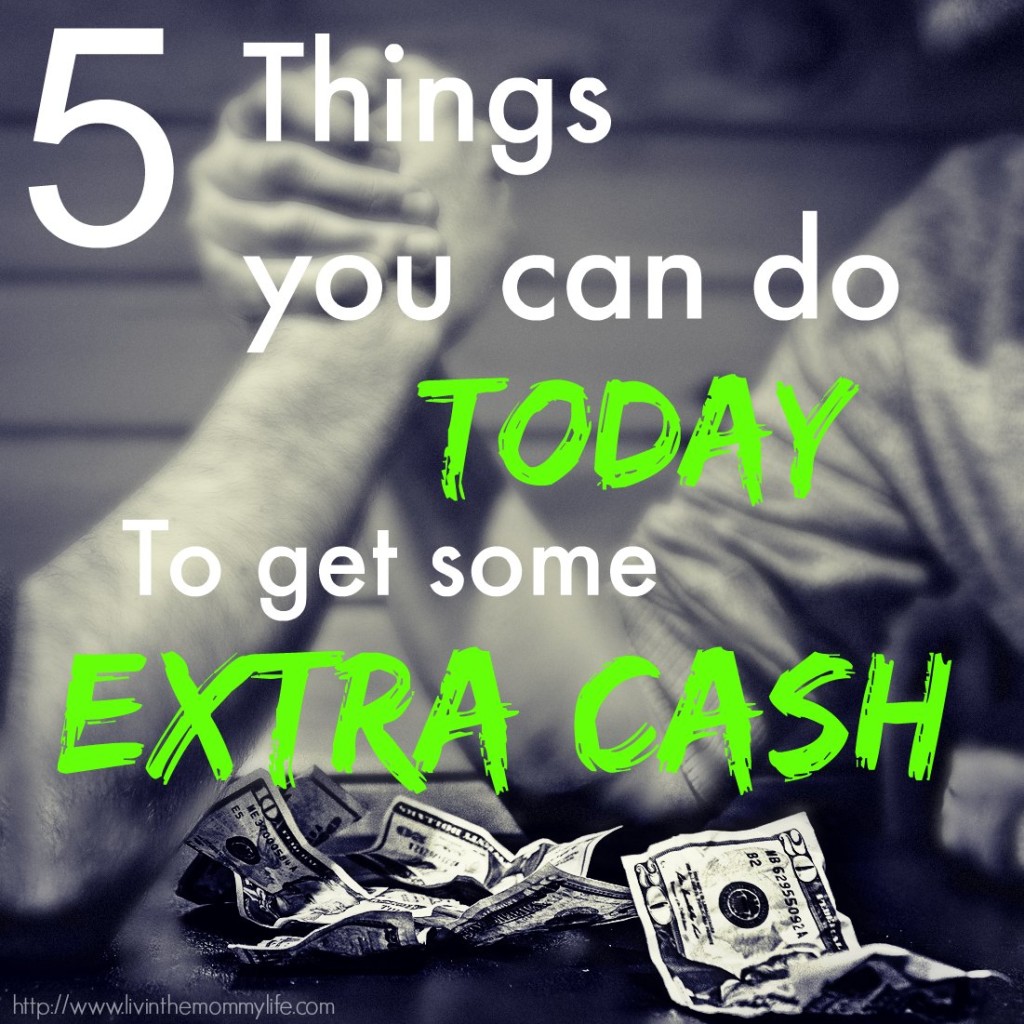 Sell a few things you don't need and no longer use on Craigslist, at a yard sale, or local Facebook buy & sell groups
Everyone has at least a few things in their home that they have no use for. Whether it's clothes your kids have outgrown, books you're done reading, toys, a gift you received but never used, etc. You should be able to find a few things that are still worth some money. Gather all the things you think someone else could use, and sell them. Not only is it a wonderful way to earn some extra money, it's also the best way to de-clutter.
Sign up for these online sites where you'll be able to quickly earn cash and gift cards
User Testing – User Testing is a site where you review, try out, and give your opinions on websites according to the questions asked. It usually takes no longer than 30 minutes (often less) to earn $10. You receive payment exactly a week after completing a test. Although you may have to qualify for certain tests, it's always worth stopping by to see what's available.
Amazon Mechanical Turk – Before I started blogging I made a good amount of extra money with mTurk. There are various tasks you can choose from and you earn money when you complete a task. It takes time, and the payment is low, but it definitely adds up.
Dealspotr – Earn Amazon gift cards for posting deals. I was able to redeem my points for my first gift card in one day! It's definitely possible.
Swag Bucks – Although it's possible, you probably won't be able to earn enough on SwagBucks to cash out in one day. However, it's a site worth spending some time on daily and you can cash out for Paypal cash or numerous gift cards when you earn enough Swag Bucks. I normally cash out once a month for a $25 Amazon gift card.
MyPoints
 – You can quickly get a $10 gift card when you shop online with MyPoints!
 Aside from shopping, you'll also earn points through reading e-mails, searching the web and taking surveys. Points can be redeemed for numerous gift cards or paypal cash.
For me, Amazon gift cards are nearly as good as cash! You can purchase just about anything you can think of on Amazon.
Recycle bottles and cans for CASH – if you live in the following states:
California
Connecticut
Hawai'i
Iowa
Maine
Massachusetts
Michigan
New York
Oregon
Vermont
Those states have a Bottle Bill. The term "bottle bill" is actually another way of saying "container deposit law." A container deposit law requires a minimum refundable deposit on beer, soft drink and other beverage containers in order to ensure a high rate of recycling or reuse.
We save all of our bottles and cans and make a decent amount of money each year. Not only is recyling a great way to earn some extra cash, you're saving the planet too!
Get Crafty
Are you crafty? Make something! People love to buy handmade goods. You can sell your items at craft fairs, to local shops, or online at sites like etsy or on social media sites such as Facebook or Instagram. Years ago I made little girls tutus and sold them at a local children's boutique. I also purchased a bunch of supplies to make flower clips and headbands, but I just can't seem to find the time to get crafty. It is something I can definitely try when I find myself in need of some extra cash.
Baby-sit
Let it be known that you're available for baby-sitting. Post an add on Craigslist, put a flier up at your local grocery store or post office and share on social media. Also, let friends and family with kids know that you're willing to baby-sit for a small fee. I'm not sure how it is in your area, but here, parents are always looking for a good sitter.
One way to cut back on expenses is to try to save money when possible. Check out my post on 10 Ways You Can Save Money This Month. It'll give you some ideas on how you can cut back on your monthly spending.
What are some of the things you do to earn a little extra money? I'd love to read your tips in the comments below.