For years, I've been earning Cash & Gift Cards through various online sources. It really isn't hard, in fact, anyone can do it as long as you have access to the internet. The extra money and gift cards I earned has helped me to get by when money was tight. Now that I'm living comfortably and have a decent income, the money and gift cards I earn help to pay for the extras I want but don't necessarily need.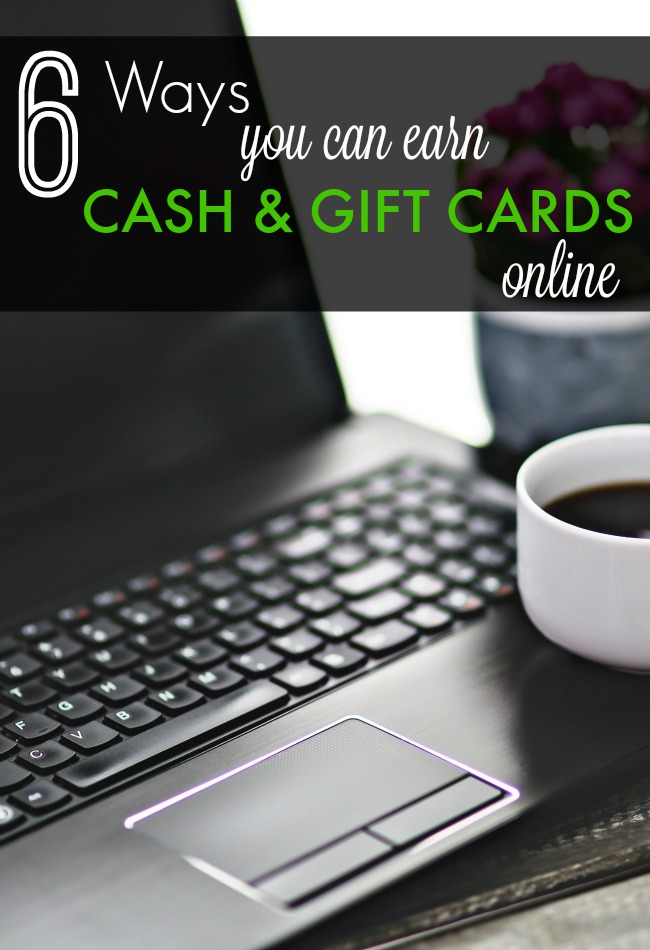 I know there are many people who are struggling to get by with their current income. Any little bit of extra money you make, whether in the form of cash or gift cards, is always helpful. Here you'll find 6 online sites I use on a regular basis to earn extra cash and gift cards. By using these sites, you too, can earn some extras to help you get by.
Dealspotr – Dealspotr is "Your social feed for deals. Facebook is our feed for friends, Instagram is our feed for images, Pinterest is our feed for inspiration, and now Dealspotr is your feed for deals. Dealspotr is a social network at its core, but tailored for shopping, coupons, and saving money." With Dealspotr, you earn Karma points by sharing deals and helping others save! To begin, you'll get +200 Karma just for signing up. Once you reach 1,000 Karma you'll be rewarded with a $5.00 Amazon gift card. It's definitely possible to reach that level in 1 day! From there, keep earning Karma, and you'll continue to earn gift cards as you level up.
Swag Bucks– Complete offers, use SwagBucks as your search engine, take a daily poll, etc. to earn swag bucks.  These swag bucks can be redeemed for paypal cash or a number of gift cards.  I redeem my swagbucks for Amazon gift cards or cash, depending on what I need most at the moment.
Bing Rewards – Earn points by searching through Bing Rewards. I visit Bing Rewards daily. The points I earn here are redeemed for Amazon Gift cards, but there are many different options as well. By visiting Bing Rewards daily, I usually get at least 1 $5.00 Amazon gift card each month.
My Points – Click on link in e-mail to get points.  You can also get points for shopping through the MyPoints site. Redeem points for gift cards from a variety of retailers or Pay Pal cash.
Ebates – Get CASH back on your online purchase with ebates.  Whenever I make an online purchase, I always go through Ebates or TopCashBack depending on which site offers a greater percentage of points for the retailer I'm making my purchase at. Ebates is a must when shopping online.
TopCashBack – Similar to ebates, TopCash back is another site I use to get CASH back on my online purchases.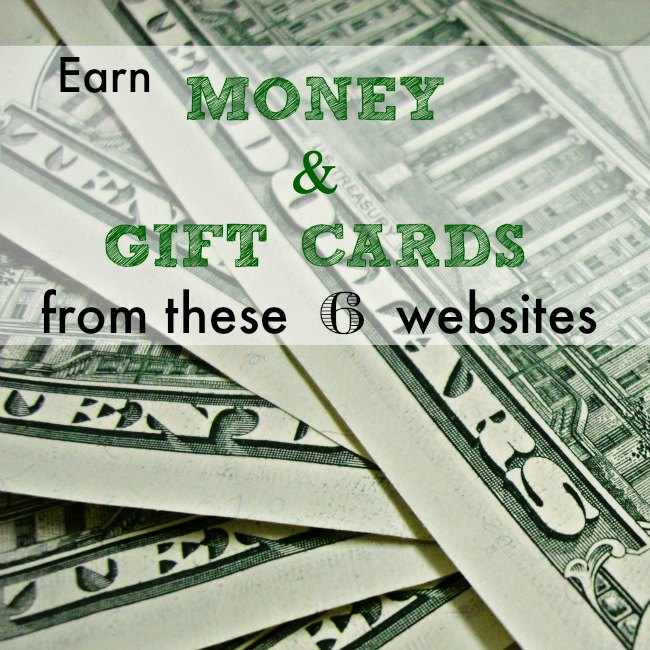 When able to choose from a variety of gift cards, I normally choose Amazon. My reason? You can purchase just about anything from Amazon. At Amazon, you'll find everything from household necessities like soap and toilet paper to food and personal hygiene products. You'll get these things delivered right to your door and save yourself a trip to the store.
If you don't already have a Paypal account, you're going to want to get one. Most of these places pay you through Paypal. Once the money is in your Paypal account, you can easily have it transferred to your bank account.
It really isn't hard to earn cash & gift cards online. Try these sites out and let me know what you think.
Looking for ways to save the money you earn online? Check out these helpful posts:
10 Ways you can Save Money this Month
How to Save Money so you can Travel More
Saving Money for Christmas – 10 Great Tips
How to Start an Emergency Fund