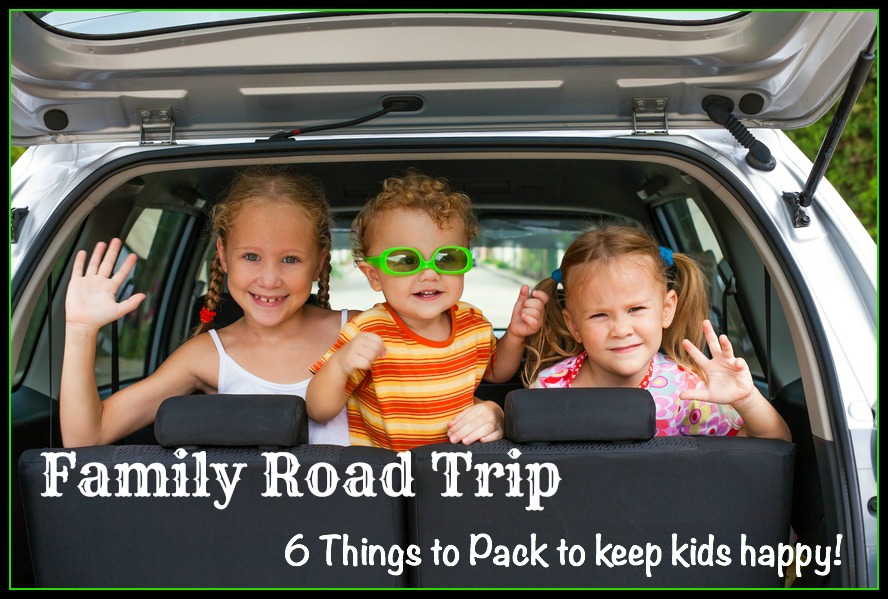 Disclosure:  This is a guest post.
I love road trips.  Especially road trips with my whole family. We make it a point to go on a road trip every now and then. It's good for family bonding, the kids get to stretch their legs and explore, and long trips in the beautiful US countryside are good for the soul.  But the longer the trip, the more problematic it's going to get. Hunger, rest room breaks and boredom are some of the things you have to be on top of as the mother hen if you want to keep everyone happy. I put together a list of what NOT to forget during a road trip to keep your children happy and entertained. Use a post it note, or save it on your calendar or reminder app so you won't forget.
Food, drinks and lots of it.
You're going to be hearing the words "I'm hungry!" a lot. Make sure you pack a lot of their favorite snacks and everything they love to guzzle up. If you're going to make sandwiches, seal them in individual Ziploc bags. For snacks, take items that are going to be easy to open so the kids can do it themselves.  Bring a refrigerated cooler that you can plug in your cars' cigarette lighter to make sure the drinks always stay cool. Don't forget the occasional candy! Lollipops are an excellent reward for the kids if you play an obedience game or any other game.
Gadgets!
Kids nowadays love electronics as much as adults do. If you want to keep your children entertained and occupied during a long trip, bring a gadget that they're accustomed to using. Tablets and old smartphones can work wonders: if you can install kid safe apps and games on them, the better.  Try saving episodes of their favorite TV shows and cartoons. Bring an extra USB stick or SD card with more videos. This way, they will be occupied while you focus on driving or navigating. Check if your car comes equipped with an auxiliary jack for the gadgets though, because the last thing you want to happen is for them to run out of juice while on the road. Mom, are we there yet?
Toys and personal items bag
Make each child pack a bag. Let them choose what toys and other personal items they want to bring on the trip. I give them one of those clear boxes with locks so the toys would store easily and to avoid them going all over the place when they start to play. Remember to choose a medium sized bag because kids will pack everything in their room if you give them a large bag.
Coloring Books and Crayons
Children love this activity, regardless of where they are. So, include coloring books and non-toxic crayons on your list. They can even use this while relaxing in the hotel room. Don't worry about crayons staining the car seats. If you drive a Hyundai, ask your dealer's parts and accessories section about the new stain resistant fabric that comes standard with some of the newer models. I'm sure they can arrange it to be installed in your car if you have kids and are afraid of stains.
Don't forget the music!
Bring along their favorite songs so you guys can sing along while on the trip. Make your own ultimate "mix tape" and blast away. Save it on a CD, DVD or bring an iPod or other portable MP3 player. Just make sure your car has USB or Bluetooth connectivity so your device can be played. Play games with their favorite songs, like name that tune, or fill in the lyrics. You can even pretend you're in a concert.
Books and Board Games
If your kids love to read, it's a great idea to bring along their favorite books or even comic books so that they have something to do while on the road. I know it's old-school, but board games still rule. Take along the ones your children love to play, and play a game or two while on the trip to beat the boredom. Make sure you give each child prizes to keep the games interesting, like candy bars, chocolate, or even chips.