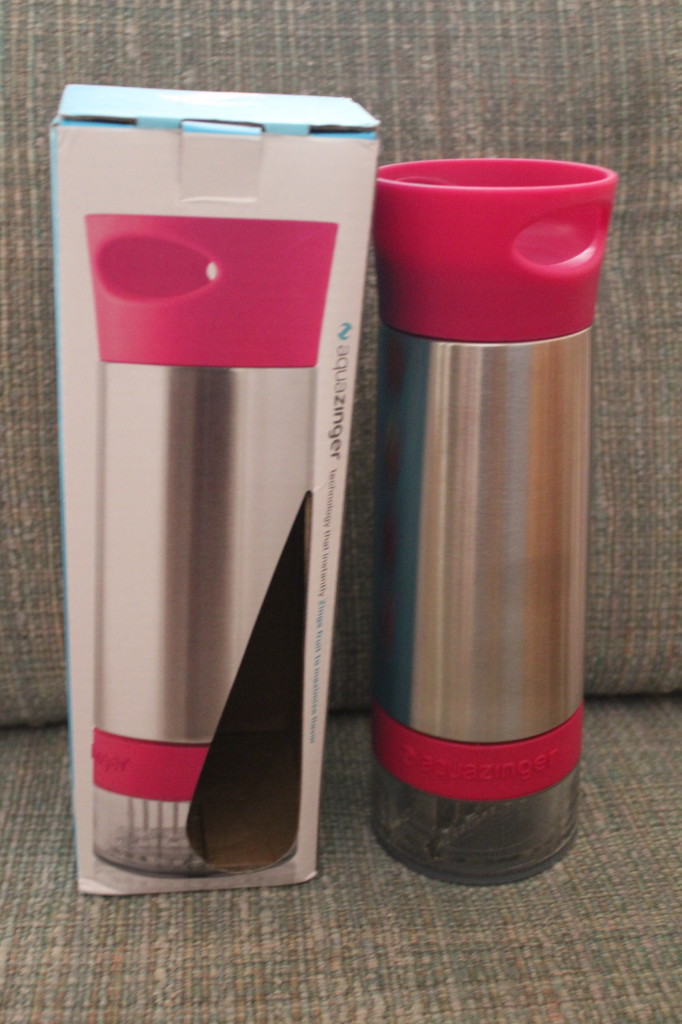 Disclosure:  I received this item for review purposes.  All thoughts and opinions are my own.
I know how important it is to drink lots of water, but the reality is, I just don't drink enough!  I try my best, but I can only drink so much water throughout the day. I like my drinks to have some taste to it!  Aqua Zinger is the perfect solution for those who feel the same as me.  With Aqua Zinger, you can add the taste of fresh fruit, vegetables and herbs to your water, giving you just the bit of flavor to make you drink up your bottle of water in no time!
The Aqua Zinger water bottle works by subtly infusing water with the flavors of fresh fruit, vegetables and or herbs.  My favorite flavor for infused water is honeydew, cucumber and mint.  The flavor possibilities and combinations are endless!
The stainless steel bottle has a bottom-mounted grinder that retains the ground pulp of your ingredients but allows the pure extracted flavors to travel through a fine-combed mesh screen and infuse the water.  All you need to do is add fresh ingredients, twist, and shake!

With the Aqua Zinger water bottle, making infused water is fast and easy, and you can take it on the go!  The bottle comes in four color options and retails for $25.99.
Want more gift ideas for the upcoming Holidays?  Check out Livin' The MOMMY life's 2013 Holiday Gift Guide.