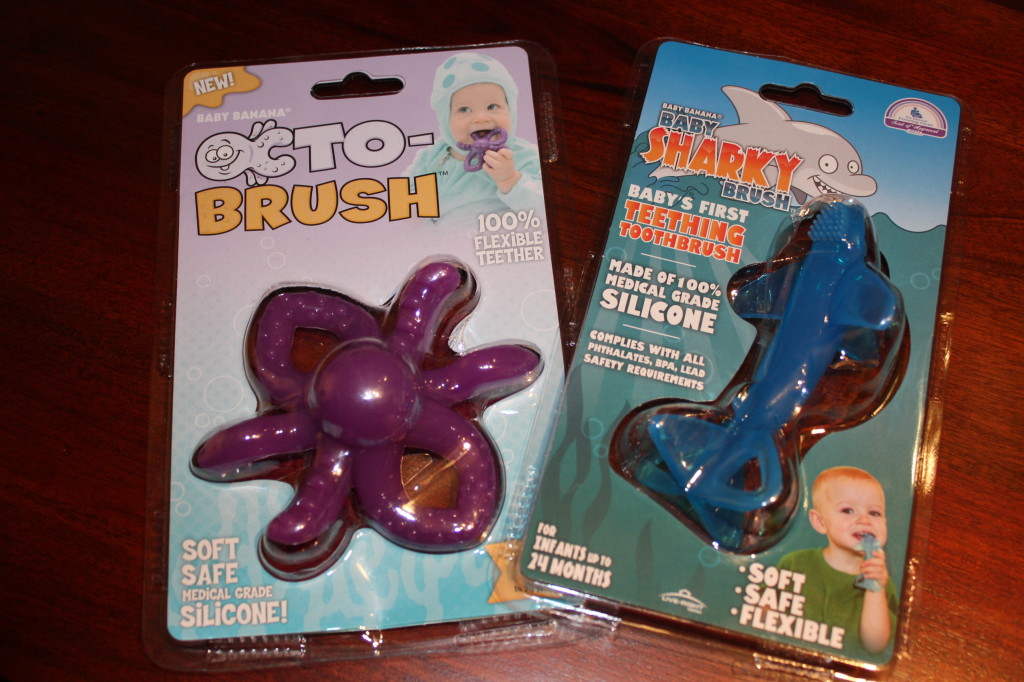 Both the Octo-Brush and Sharky Brush from Baby Banana Brushes are absolutely adorable.  They are perfect for newborns and babies up to 24 months.  They're made of 100% Medical Grade Silicon and are BPA, Phthalate, Lead and Toxin Free, so you can rest assured that these products are safe for your precious baby!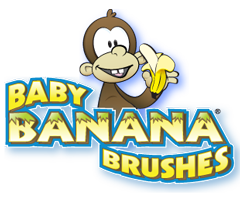 Baby Banana Brushes were developed by a Dental Hygienist and is recommended by Pediatric Dentists.  Not only does it promote healthy brushing habits at a young age, it's massaging bristles can also aid in the relief of teething pain and discomfort.    These brushes will help to remove food and milk particles in a gentle way, and baby can do it all by themselves under close adult supervision.
The Baby Sharky Brush is a pretty blue color.  It's fins offer a great chewing surface and prevents baby from sticking Sharky too far into his or her mouth.  Baby Sharky's "teeth" are bristles that will massage your little ones gums and get them used to the feel of bristles in their mouth for later use of a regular toothbrush.  My favorite feature is the tail.  There are special Safety Loops built in where you can connect a pacifier strap.  It's a great way to be sure Baby Sharky doesn't end up on the floor!
The adorable purple Octo-Brush is just too cute and so much fun.  It's tentacles offer a great variety of textures.  Like the Sharky Brush, you are able to freeze the Octo-Brush to help in comforting your teething baby.  You can also attach a pacifier strap to the Octo-Brush which is a very useful feature.
The Baby Octo-Brush and Baby Sharky both retail for $8.49.  They would definitely make a great gift or stocking stuffer for a little one in your life this Holiday Season.
Want to see more Gift Ideas?  Check out Livin' The MOMMY Life's 2013 Holiday Gift Guide