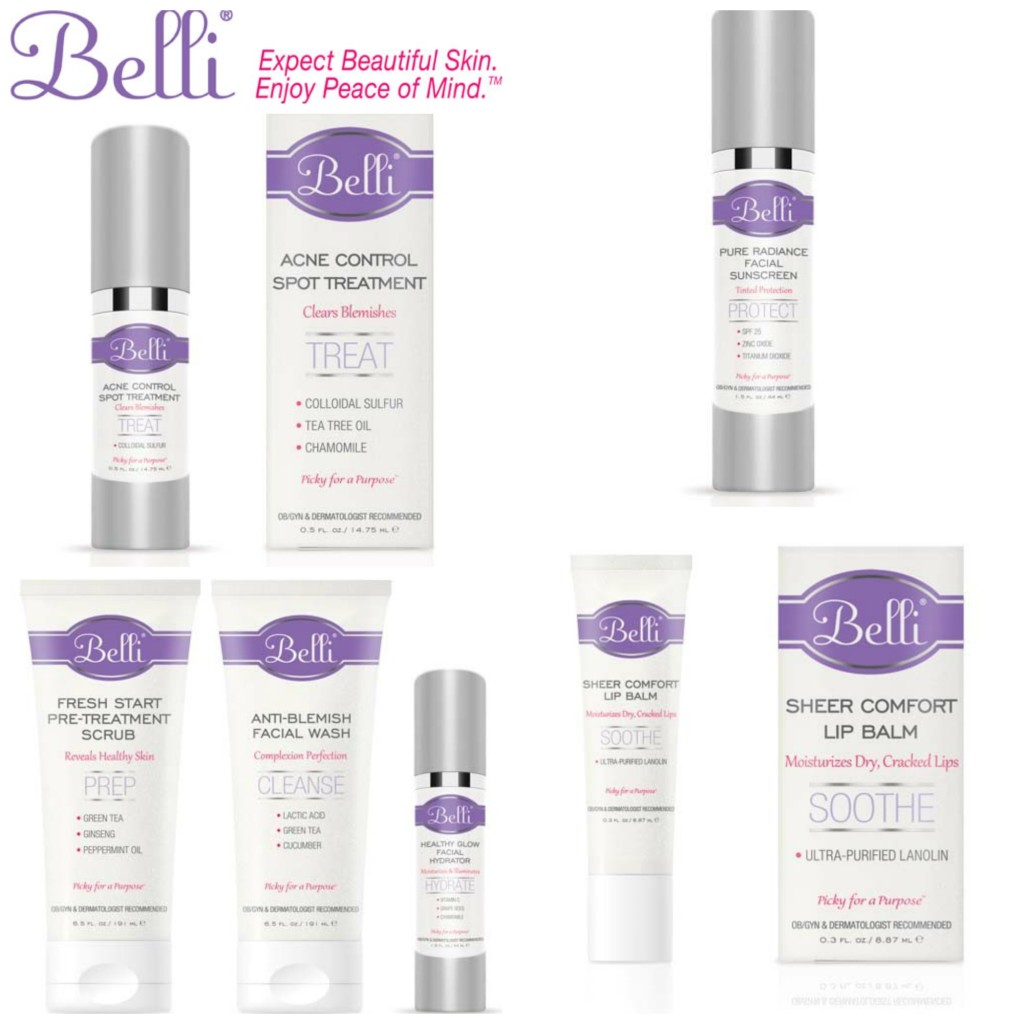 Disclosure:  I received these items for review purposes.  All thoughts and opinions are my own.
Belli's mission is to, "take the guesswork out of skincare ingredient safety and provide effective and luxurious formulations."  They hope you can,"expect beautiful skin and enjoy peace of mind with Belli."
The founders of Belli, a husband and wife team who happen to be a medical doctor and beauty expert, came up with the skincare line while expecting their first child.  They became discouraged as they tried to find skincare that was safe and effective to use during pregnancy.
It's such an important time in your life, and the products you use can really have an effect on the baby growing in your belly!  All parents only want what's best for their child.
Belli is picky when it comes to choosing the ingredients for their products.  Every product is allergy tested.  It's free of paraben preservatives, phthalates, and artificial dyes or fragrances.  Belli products are also made in the USA.  Expecting and new moms will be happy to know that Belli products are teratology screened to avoid ingredients with even remote links to birth defects or miscarriage in published medical studies, and Lactmed screened to avoid and ingredients that could be harmful if passed through breast milk.
 If you're pregnant, or a new mom, you can rest assured that these products are safe and they're effective as well.
I'm not exactly a new mom.  My youngest daughter just turned 5!  However, that doesn't mean these products aren't for me.  They can be used by anyone.  Especially if, like me, you're looking for products which are free of harmful ingredients.
I was able to try a variety of Belli products and I found them to be great!  They have become a part of my daily routine.  Of all the products, my favorite would have to be the Belli Fresh Start Pre-Treatment Scrub ($24).  It contains anti-oxidant rich green tea and ginseng and is scented with peppermint essential oil which is known to calm an upset stomach.  I love the way the scrub leaves my skin feeling so smooth and refreshed.  It removes old skin cells to reveal new, smooth, healthy skin.  I follow up with a nice gentle cleanse using the Belli Anti-Blemish Facial Wash ($22).  The Anti-Blemish Facial Wash contains such ingredients as lactic acid, which gently cleanses and exfoliates.  It's free of salicylic acid, benzoyl peroxide, and glycolic acid which are ingredients commonly found in acne products.  Those ingredients should be avoided during pregnancy and can cause dryness and irritation.
I've been using the face wash with my Clarisonic Mia 2, which is another product I really love that's been helping to clear my skin and get it really nice and clean.  Being over 30 and still having breakouts is no fun!  These products are really helping to clear my skin.  After just a couple weeks of use, I'm already able to see a difference.  I'm so glad I was introduced to such a wonderful line and plan to continue using it as its been working so well for me.
If you're pregnant, a new mom, or just looking for safe & effective skincare, I recommend giving Belli Products a try.  They also have sunscreen, acne spot treatment, stretchmark minimizing cream and more.  Check out their selection and give their products a try.  You may just find something that's perfect for you!