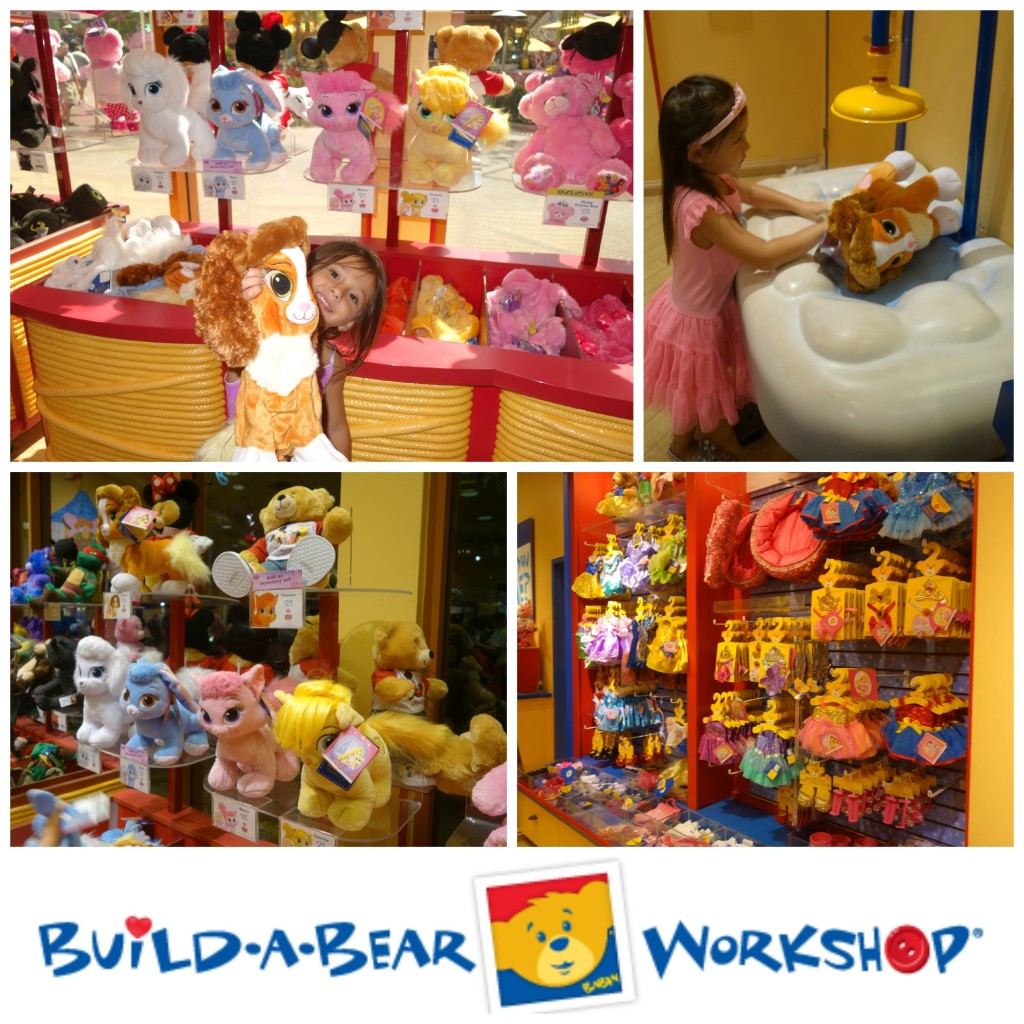 Disclosure:  I was provided with a Gift card to help facilitate this review.  All thoughts and opinions are my own.
Build-A-Bear Workshop is a magical place that's sure to bring loads of happiness and excitement to those of all ages.  It's a wonderful place where dreams (and stuffed animals) are made!
On our recent trip to California we visited the Build-a-Bear Workshop in Downtown Disney.  This was my first time visiting Build-a-Bear, and I loved it as soon as I walked in.  The two-story store in Downtown Disney features a wide variety of outfits as well as a great selection of stuffed animals to choose from.
We visited the store on my daughter's 4th birthday.  I figured it would be a nice addition to the other festivities we had planned for her special day.  She immediately gravitated to the Disney Princess Palace Pets, and chose Teacup who is Belle's pet.  I must admit, Teacup was a great choice, she is very cute!  There are so many great options, I would have had such a hard time choosing just one.
Once you choose your furry friend, it's time to make a few more choices.  You can record your own message or choose one of the pre-recorded options.  Being a huge Frozen fan, my daughter opted for a clip from the song "Let It Go".  A sound is optional, and does cost a little more.  You can also choose a scent for your animal.  Once those choices are made, it's time to get your new friend stuffed.  I thought the whole stuffing process was really cute.  I love how they had the child help and be a part of it all.  My daughter was able to step on the lever to help fill her pet with stuffing. Once it was filled she got to choose a heart, do a little something special with it and place it in her furry friend.  After placing the heart in the animal and making sure she was not too soft or too hard, she was stitched up and ready to be "washed" and brushed.  It was such a cute experience, so much more than just buying a stuffed animal off a shelf.  Build-a-Bear makes the entire experience extra special and memorable.

Once the pet is made, it's time for an outfit.  Choosing an outfit can be quite difficult as there are so many choices, and they're all cute!  My daughter chose an adorable dress as well as an accessory set which came with a bow, crown and necklace.  Before leaving we headed over to the computers in the back of the store to name the pet and get a birth certificate.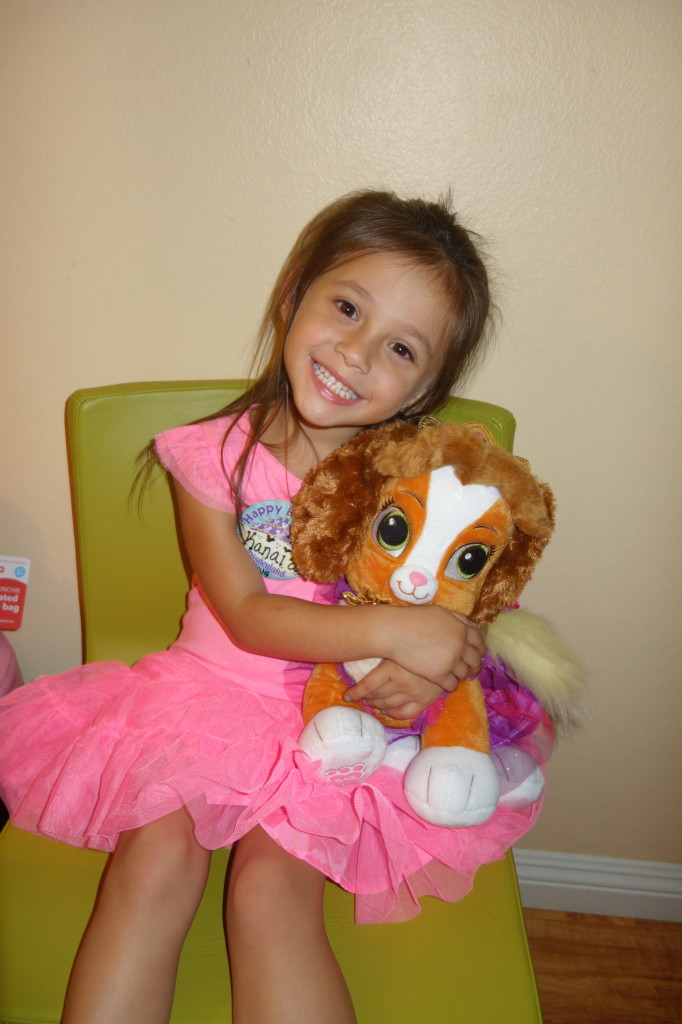 The stuffed animal itself cost just $25.  For that price, all you get is a stuffed pet.  Everything else is extra, so by the time you're done, you will be leaving with a pricey new furry friend.  Some may think it's too expensive for a stuffed animal, but it's so much more than that!  I think a trip to Build-a-Bear is worth every penny!  If you don't live near a Build-a-Bear Workshop, you are also able to order online.  Other than ordering clothing and accessories, I probably wouldn't order a pet online because for me, the part I liked the best was the whole experience of having my daughter choose out her own pet, stuffing it, adding a heart, and choosing an outfit.  Since we don't live near a Build-a-Bear Workshop, I do plan on shopping online for some new outfits, shoes, and accessories.  They also had the cutest roller skates that really work, and a leash too.  I may just be a little more excited about it all than my daughter!
As you can imagine there are many stuffed animals to choose from.  The Furever Princess Collection recently arrived at Build-A-Bear and I thought they were such a glamorous bunch.  Pawrincess Bunny, Purrincess Kitty, and Pawrincess Bear make up the Furever Princess Collection.  The princesses come from a land far away where days are spent playing with friends, shopping and dancing the night away at fancy balls to celebrate every special occasion. They've come to Build-A-Bear Workshop to spread happiness and add some fancy into everyday activities.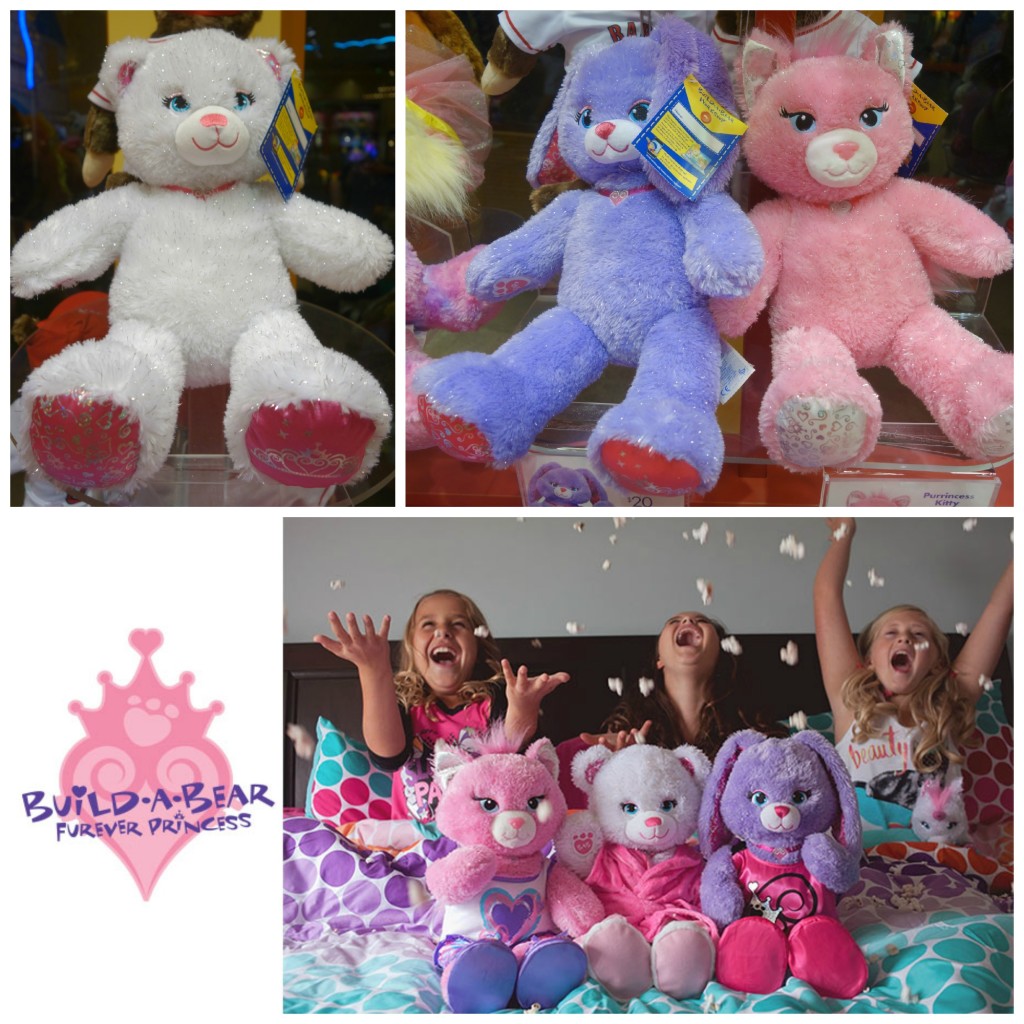 A Build-A-Bear Gift card or a trip to Build-A-Bear would make a fabulously special gift for any child.  There's a great selection for both boys & girls so everyone is sure to find something they like!  I highly recommend it.