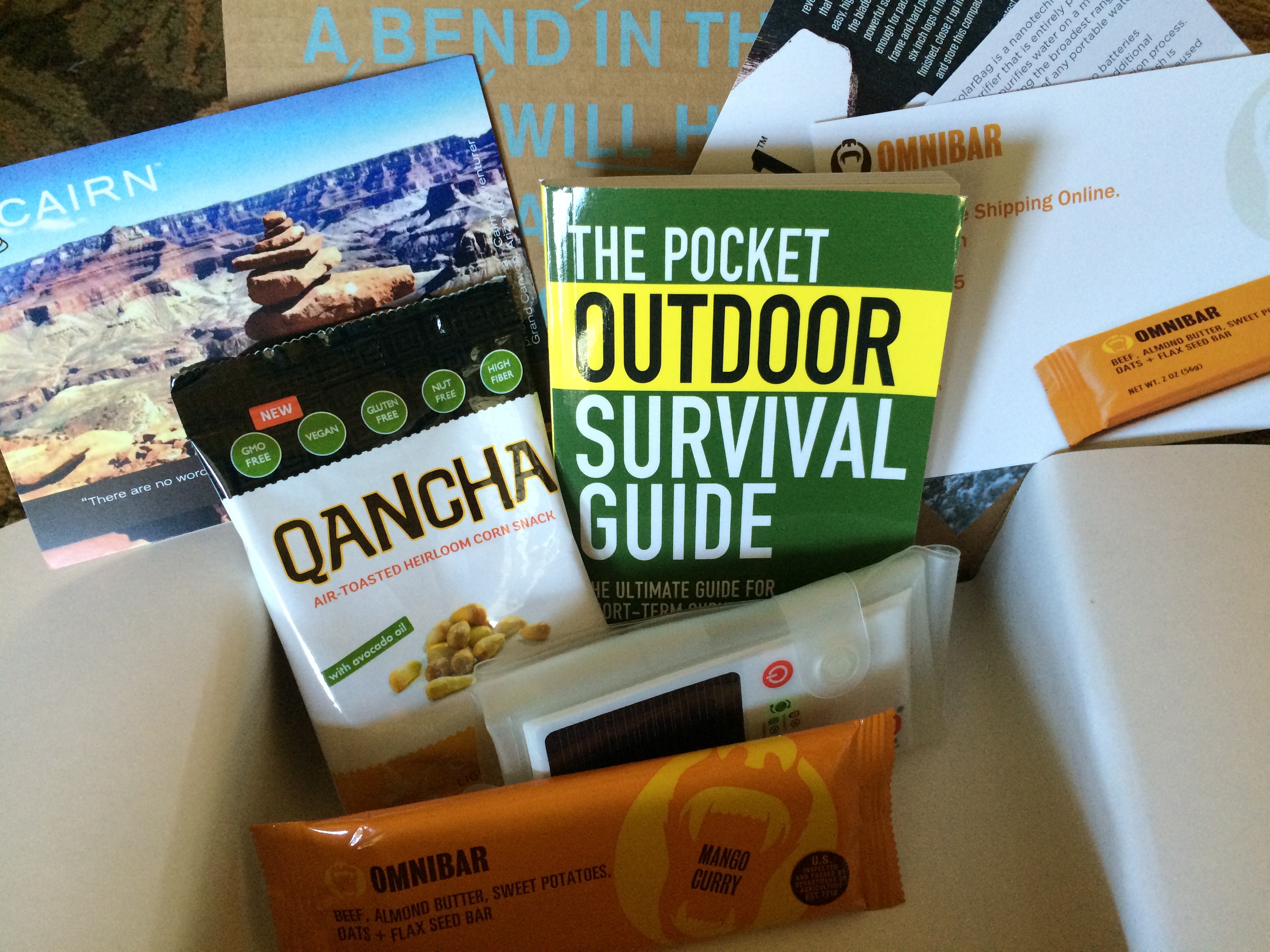 I must say, I really enjoy a good subscription box!  By now, most of you have probably heard of subscription boxes.  Subscription boxes are boxes filled with products delivered to your door monthly.  There are different categories for these boxes from food, to health, to kids crafts.  There are all kinds of subscription boxes out there.  Cairn boxes are perfect for those who love the outdoors.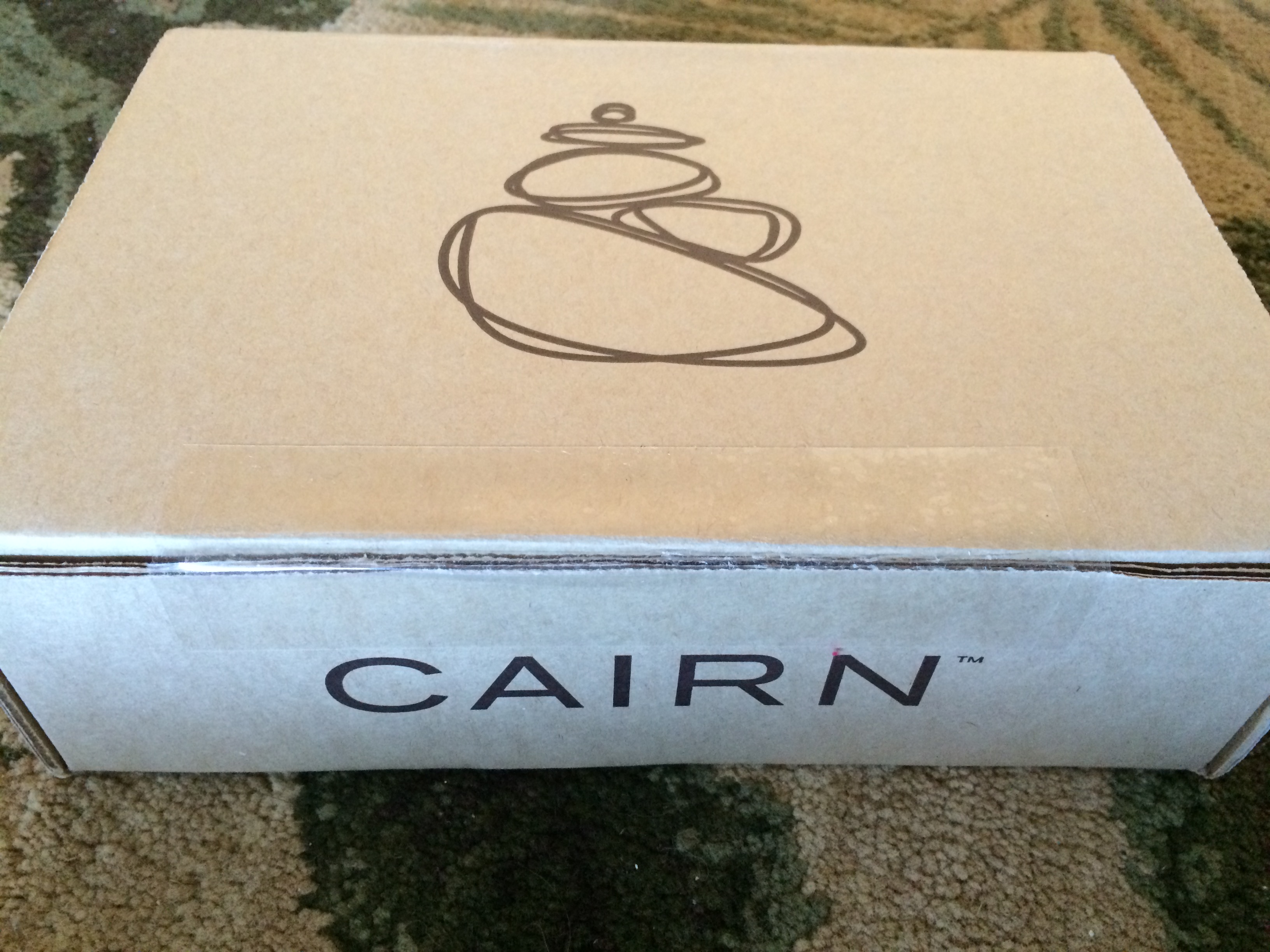 In your monthly Cairn subscription box you'll find a variety of new brands and products in the outdoor and recreational industry.  If you love surprises as much as you enjoy the outdoors, you'll be thrilled with these boxes!  Each box is a complete surprise, you'll never know what's inside until you open it up.  When choosing products, Cairn looks to 5 general categories – Gear, Apparel, Food/Energy, Skin Care and Emergency/Medical.  You'll find 4 to 5 different items in your monthly box with a value of $35-$40.
The box I received included four items – the luminAID PackLite 16 ($25), The Pocket Outdoor Survival Guide ($10), Omnibar Mango Curry Beef Bar ($3) and Quancha by Nazqiz ($2.50).  I think it's great that this box is valued at $40.50 and only cost $25!  It's an awesome deal and I get to check out some really neat things.  These are all brands that are new to me, so I'm excited to have discovered something new.  I haven't tried the snacks yet, but I'm especially excited to try the Omnibar, sounds like such an interesting flavor.  My hubby will probably enjoy it, so I'll share it with him.  The luminAID PackLite is pretty cool, and perfect for camping trips.  I can't wait to try it out.  Along with the products I also received three product cards (OmniBar, Solarbag Water Purifier and  Boreal21 Folding Bow Saw) with coupon codes to use for a discount on online purchases.  The codes are exclusive for Cairn subscribers.  As a whole I think this months box was awesome.  It offered a great selection of products and is a great deal.
A Cairn Subscription Box is the perfect gift for any outdoor enthusiast in your life.  They're so great, you may even want to purchase one for yourself!  It's a wonderful way to find out about new products and brands.  Most of all, it'll help you to get inspired to go out, get some fresh air and start adventuring!
You can purchase just one box for $25 or make it a recurring gift and purchase up to 12 months in advance.  If you decide to order multiple month it'll be an awesome gift that keeps on giving.  Your lucky recipient will enjoy receiving a new surprise every month.  I know quite a few people who'd really enjoy these Cairn Subscription boxes, how about you?  Get Cairn,
"A MONTHLY BOX OF OUTDOOR FUN, DELIVERED RIGHT TO YOUR DOOR."