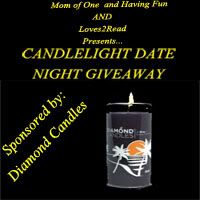 Mom Of One and Having Fun
,
Loves 2 Read
,
Crazy About Deals
,
Oh My Heartsie
,
My Charmed Mom
,
Missi Rose's Coupon Spot
,
Coupondipity
,
Dnbuster's Place
,
7 Kids and Us
,
Livin The MOMMY Life 
and other fabulous bloggers are bringing you Candlelight Date Night, sponsored by Diamond Candles!
Diamond Candles are Earth Friendly, all natural
soy candles
. While they are not organic due to resources not yet available, they are 100% soy. They do not contain bees wax, palm wax or parrafin wax. They will be looking into their candles becoming organic when resources come about. It's always great knowing that a company is looking for a more natural make. Not only this, but these are NOT your typical candles.
They come with rings inside them.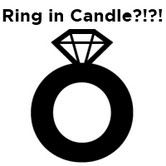 The rings value anywhere from $10 to $5,000.
YES- $5,000! Wouldn't you LOVE to be that person?!
I first heard of Diamond Candles sometime at the end of last year when a bunch of mom's were talking about them in a group I'm in on Cafemom.  "Really? Diamonds in the candle?",  I though.  I quickly looked them up, and was fascinated by the idea.  What a great idea it is!  I think what most attracts me to the Diamond Candles is the suspense, the possibility that you will find a ring worth $5,000!
Men here's a great idea if you cannot afford the Ring… Buy the candle and HOPE you get lucky! Even if the ring is worth $300-$500, that's still only $24.95 you spent. 
Click here
to run and buy one NOW! How do you know it's worth? If the ring has 14K inside of it or any other branding your ring is worth $100+ and run to the jeweler's for the estimate. The ring sizes are typically 6-8. If you find that this is too big or too small, you can give it away or re-size it (if it's one of the $100+ rings).
Something else unique? They actually allow you to suggest scents. We bloggers are sure you would love to make YOUR favorite scent a candle. They have Carnival Candy (yum), Snow? Really… Snow? Anyone know what Snow smells like?! We're curious! Going to have to try that one in the future. Sweet Pea, Honeydew Melon and many, many more. 
Being that I'm a huge fan of chocolate, I would love to try the Chocolate Truffle out!  And the Cupcake must smell amazing too.
Ready to win? Diamond Candles is Giving Away 3 Candles worth $25 each! We hope you will be happy to enjoy these great scents, and have a nice romantic dinner by them. We know many parents could use a night to themselves. Just don't expect us to cook the dinner or babysit! 3 Winners will be receiving one candle of your choice. You get to pick the scent!