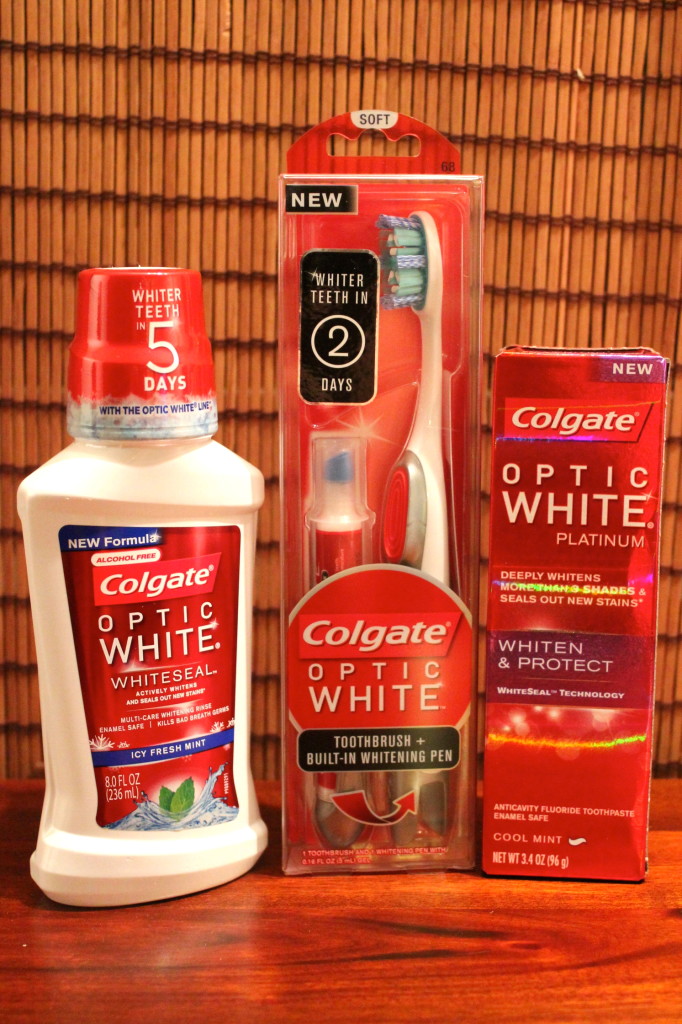 I recently had the chance to try out Colgate's new Optic White regimen which promises to help you achieve whiter teeth in just one day!  My teeth could definitely use a little whitening, so I was excited to give it a try.
The regimen includes the Optic White Toothpaste, Mouthwash and Toothbrush + Whitening Pen.  All items can be purchased separately.  I've tried a few whitening products in the past and never really kept up with it, but this time I made it a point to try to use the complete regimen regularly.
The new toothbrush is unlike any toothbrush I have ever used before.  The brush features polishing bristles as well as six rubber stain removing bristles to help remove surface stains.  I had to get used to the feeling of this new brush on my teeth, but once I did I felt like I was really getting a good cleaning.  There's a whitening pen attached to the handle of the brush.
My regimen includes brushing with the toothpaste, followed by using the mouthwash and finishing off with applying the whitening pen to my teeth.  There is no need to remove the gel from your teeth.  Once applied, you are set to go!  For me, the whitening pen left a thick residue on my teeth, and I didn't feel comfortable leaving the house like that, so I had to use my finger to spread the gel out and rub it in better than I was able to with just the pen.  The gel is white, not clear, so I could see it on my teeth.  In the evenings, I just applied it and left it before going to bed.
I am not sure I noticed any difference in just one day, but after a week of use, I do think my teeth are slightly whiter.  I will continue using the Optic White regimen in hopes of attaining the whitest teeth possible!
You can purchase the Toothbrush + Whitening Pen for $14.99.  The Toothpaste costs $4.29 and comes in two flavors.  The mouth wash starts at $2.99 up to $7.29 depending on the size of the bottle.  I think it's great that you can purchase the entire regimen for less than $25!
and now for the GIVEAWAY…
Would you like to try Colgate's Optic White Regimen for yourself?  We are giving away prize packages to 3 winners!  Enter using the rafflecopter below.  Open to US residents.  Giveaway ends on April 11th.