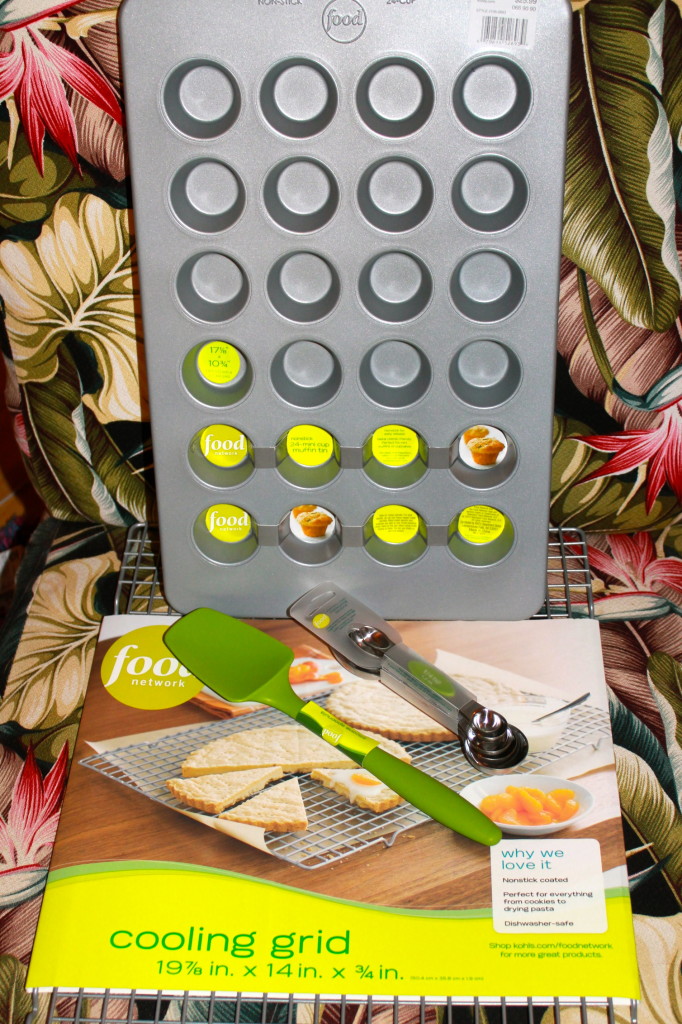 Disclosure:  I was provided with gift cards from Kohl's to facilitate this review.  All thoughts and opinions are my own.


I was happily surprised with the great array of Food Network products offered at Kohl's!  You can find everything from cookware, to linens, cooking utensils, bakeware and more.  After browsing through the many options I finally decided upon a few items including the Food Network Nonstick 24-cup Mini Muffin Pan, the 14″ x 20″ Cooling Grid, Silicone Spoonula, and the Magnetic Measuring Spoons.  All of the items I received will really help out in the kitchen when baking up special treats!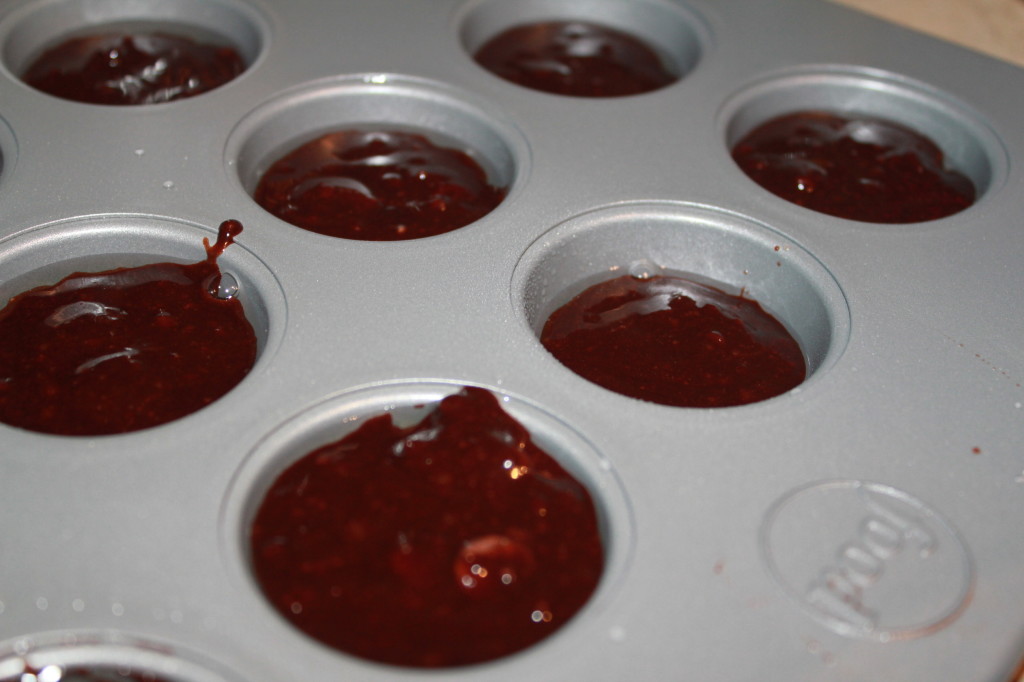 I decided to use the Mini Muffin Pan to bake up some brownies for my daughter to share with her class on the last day of school.   It's the first Mini Muffin Pan I've ever owned, and I loved it!  Its great for smaller portions and the brownies turned out perfect.  This pan features a nonstick coating so food is easily released offering a quick clean up.  The rolled rim resists warping, and the aluminized steel construction ensures it's built to last.  It comes with a manufacturer's 25 year limited warranty.  The Mini Muffin Pan can be purchased at kohl's for $25.99.
I have wanted a cooling rack for quite some time.  I figured it would be especially useful when baking multiple batches of cookies.  The Food Network 14″ x 20″ Cooling Grid features a nonstick coating and is dishwasher safe.  You can use it for various things including cooling off your baked treats to drying pasta.  I like it's generous size as it offers an ample amount of space.  You can purchase the Cooling Grid for $12.99.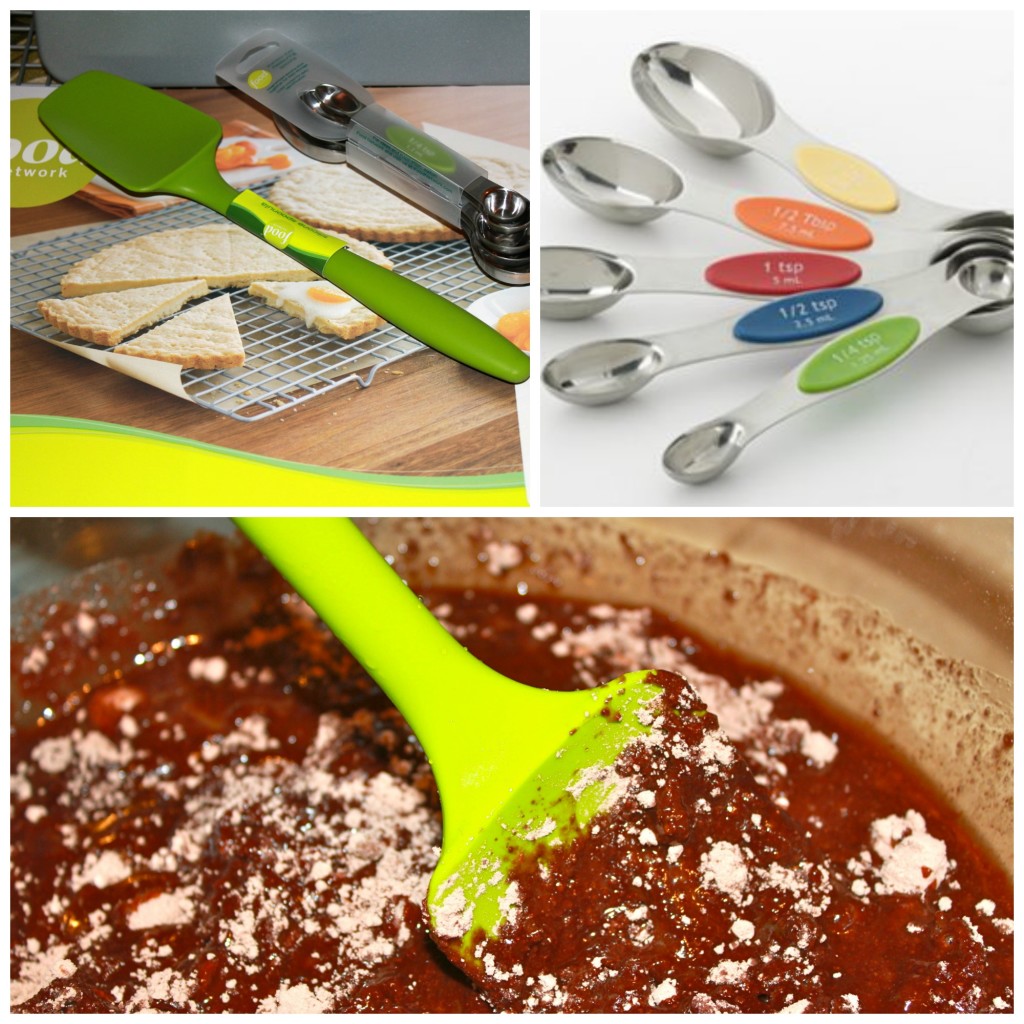 I must admit, I have quite a few spoons in my kitchen drawer, but there's only a couple I use often.  The Food Network Silicone Spoonula is sure to become my new favorite.  I was initially attracted to the Spoonula's various bright bold colors.  I chose the green, but it's also available in pink, orange, purple, red and blue.  The Spoonula is awesome!  It combines the scraping capabilities of a spatula with the serving abilities of a spoon.  I used it to mix up a batch of brownies and it worked perfectly.  The Spoonula is heat resistant up to 400 degrees and is dishwasher safe.  It measure 11 1/4 in.  You can purchase the Spoonula for $11.99.
I'm pretty excited about the Magnetic Measuring Spoons.  I love the fact that they're magnetic!  It's so much easier to keep them together this way, and no more misplacing a spoon.  The Magnetic Measuring Spoon set features the convenience of standard and metric measurements.  They have two ends – the narrow end is perfect for fitting in spice jars and smaller openings while the round ends are idea for measuring liquids.  The flat bases allow the spoons to sit on a countertop without tipping over.  The spoons are also color coded so you can easily identify them.  This set takes your average set of measuring spoons to a whole new level.  I plan on replacing my old set with this one.  You can purchase it for $24.99.
To enter the contest, be sure to include this week's theme (9:00 a.m. CDT on 6/2/14 – 8:59 a.m. CDT on 6/9/14) : Hot Dog Toppings. From corn dogs to taco dogs, Kohl's wants to hear your favorite summertime hot dog topping do's and don'ts!
Weekly Prizes (1 per Weekly Period): Each winner will receive one (1) $500 KOHL'S Gift Card.  Grand Prize (1 winner): Grand Prize winner will receive one (1) $5,000 KOHL'S Gift Card.
How to Enter on Instagram:
Follow Kohl's on Instagram
Post a photo on Instagram related to Kohl's Weekly Topic tagging @Kohls, and containing the hashtag #CookWithKohls
You may include a comment with your photo, but this is not required. (Nor will the inclusion of a comment in any way enhance your odds of winning a prize.)
How to Enter on Twitter:
Follow Kohl's on Twitter
Send a tweet, with or without a photo, related to Kohl's Weekly Topic tagging @Kohls, and containing the hashtag #CookWithKohls.
You may include a photo with your tweet, but this is not required. (Nor will the inclusion of a photo in any way enhance your odds of winning a prize.)
Weekly Period #3 : 9:00 a.m. CDT on 6/2/14 – 8:59 a.m. CDT on 6/9/14
Weekly Period #4 : 9:00 a.m. CDT on 6/9/14 – 8:59 a.m. CDT on 6/16/14
Weekly Period #5 : 9:00 a.m. CDT on 6/16/14 – 8:59 a.m. CDT on 6/23/14
Weekly Period #6 : 9:00 a.m. CDT on 6/23/14 – 8:59 a.m. CDT on 6/30/14
Weekly Period #7 : 9:00 a.m. CDT on 6/30/14 – 11:59 p.m. CDT on 7/6/14
The KOHL'S "#CookWithKohls Sweepstakes" ("Sweepstakes") is open only to legal residents of the 50 United States and the District of Columbia who are at least eighteen (18) years of age (or the age of majority in the jurisdiction of their residence, whichever is older)  Find the Official rules HERE