I am all for healthy snack options.  With all the unhealthy junk in stores nowdays, it's always nice to find healthier choices.  As the amount of health-conscious shoppers continues to increase I believe more and more people are starting to look for healthy, nutritious snack ideas that are not only good for you, but tasty too!
Crunchies is a great option for those looking for healthy snack alternatives.  Crunchies offers a tasty line of all-natural, freeze dried fruit snacks.  What I love most about these awesome snacks is that they only contain a single ingredient – fresh fruit!  Yes, that it.  They contain no added sugar and no artificial coloring or flavors.  It can be hard to find snacks without these added ingredients, which is why Crunchies is one of the best options out there.  They are also non-GMO, gluten-free, vegan, kosher and halal certified.
Crunchies comes in a variety of tasty flavor options including strawberries, mango, pineapple, blueberries, raspberries, grapes, cinnamon apple, strawberry banana and mixed fruit.  The freeze-drying method used to make Crunchies ensures that the fresh fruit retains its nutritional value while enhancing shelf life.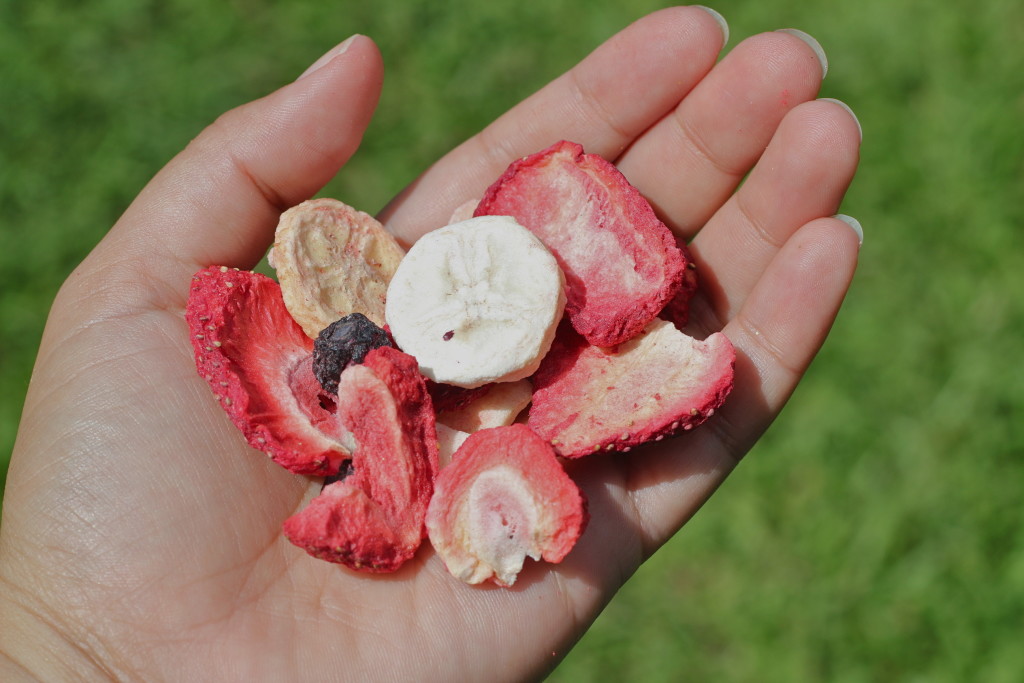 I found Crunchies to be very tasty and a great snack. It definitely satisfied my sweet tooth as well.  I really enjoyed the combination of sweet and tart fruit flavors in the mixed-fruit variety.  I love that I can snack on Crunchies knowing that I'm putting something good and nutritious into my body.  I've also added it to my daughters school lunches and she really enjoys it and thinks of it as a special treat (she honestly believes it's some type of candy).  Little does she know, it's just fruit!  The only problem I've had with Crunchies is saving some for later.  The 1.2 oz. bag contains about 3.5 servings. However, I could easily finish it in one sitting if I let myself.
Crunchies come in resealable pouches ($4.99-$5.99) or single-serve bags ($1.25).  The resealable pouches are perfect for taking on the go.  They've become our go-to beach snack.  The single-serve bags are perfect for packing in a lunch box or an after school/work snack.
If you're interested in a great tasting, healthy snack option, I definitely recommend giving Crunchies a try.  For more information and to purchase via the website, visit CrunchiesFood.com.