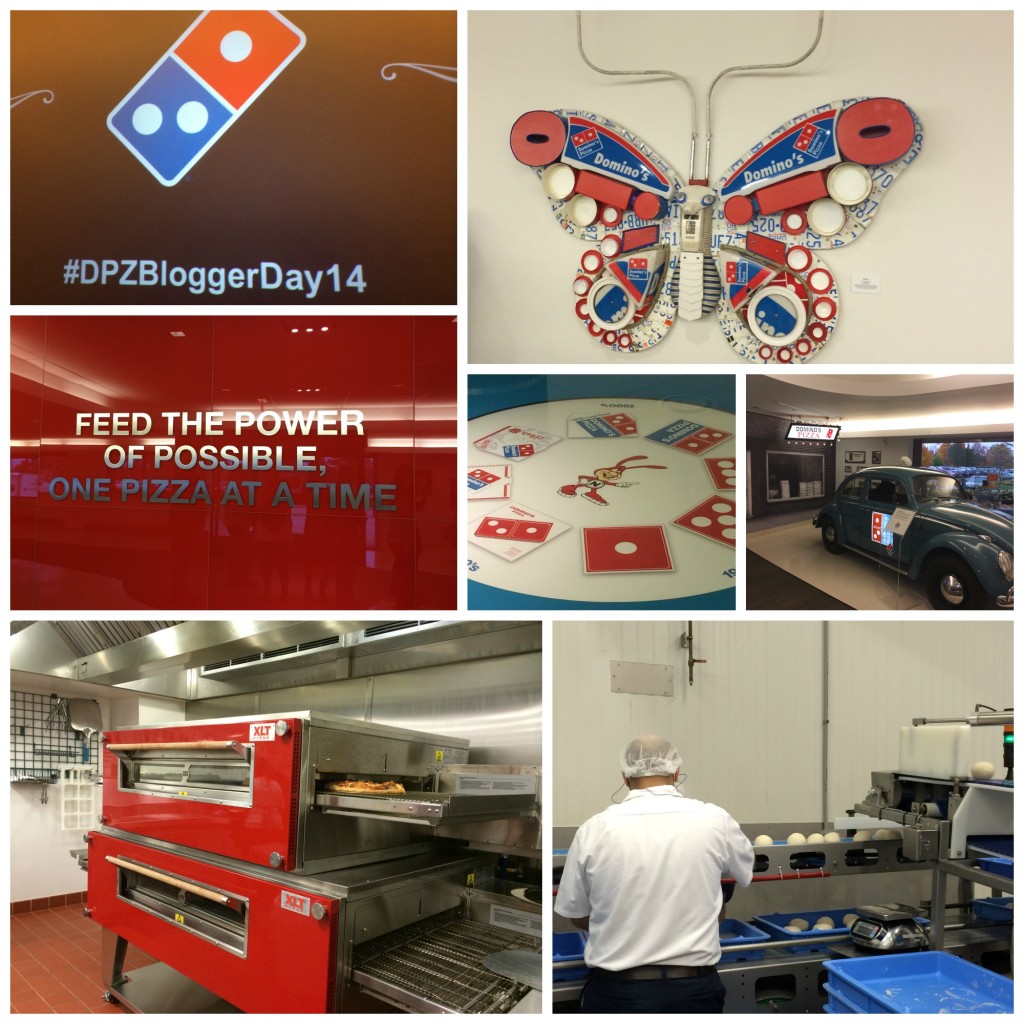 Disclosure:  I attended Domino's Blogger Day.  Travel expenses were paid for by Domino's.  All thoughts and opinions are my own.
Back in October I was lucky enough to be a part of Domino's Blogger Day held at the Domino's headquarters in Ann Arbor Michigan.  I was very excited for the opportunity as I love pizza and Domino's!  Living on the Big Island of Hawaii, we don't have many options when it comes to food, a couple year's ago Domino's opened up nearby and I was so happy.  My husband picks up Domino's for dinner a few times a month, it's always a nice treat for the family, and I get a break from cooking dinner!
Domino's Blogger Day was a great, informative experience!  I learned so much about the company from it's history, to how dough is made, as well as the new things they've been coming up with and where the company is headed.
Do you know what the three dots represent on the Domino logo?  Those three dots represent the first three stores.  Interesting right?  As we took a tour around the Domino's Resource Center, we learned a lot about the company and it's history.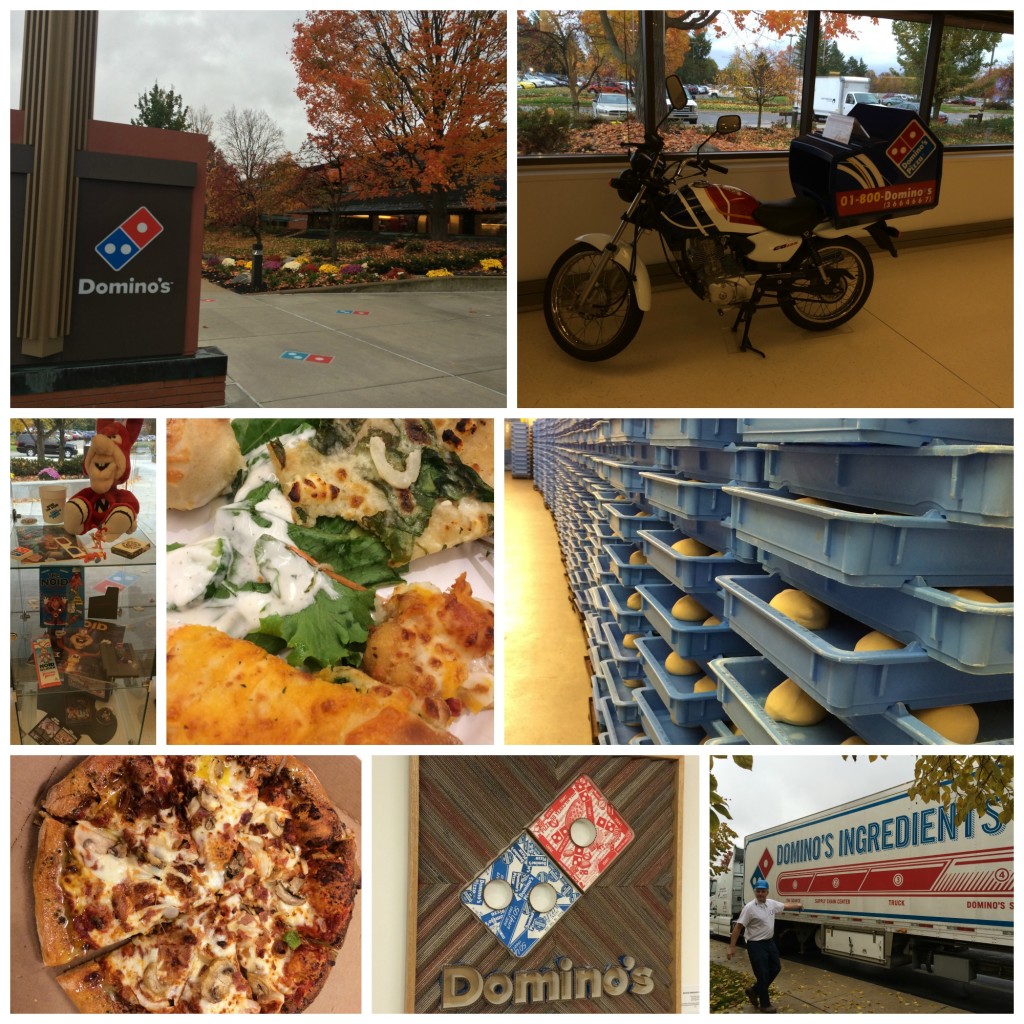 After our tour of the World Resource Center, we boarded a van and headed to the Supply Chain Center.  Once there, we got a tour of the facilities.  It was pretty neat seeing the dough being made.  Did you know Domino's makes their dough fresh every day?  Once the dough is made it's delivered along with other supplies right to the stores.  We had the chance to see the delivery trucks and talk to one of the drivers. I now realize what an important job those delivery drivers have.  They are the ones who get the dough and other supplies to the stores so that we can get our pizzas!
After our tour of the supply chain center, we headed back to the World Resource Center where we got a tour of the Test Kitchen and had a pizza making lesson.  We each had the opportunity to make our very own pizzas.  Rolling out the dough wasn't too hard, but it definitely wasn't as easy as the workers at Domino's make it look.  I topped my pizza with bacon and onions, my favorite!  It wasn't the prettiest pizza, but it did taste delicious.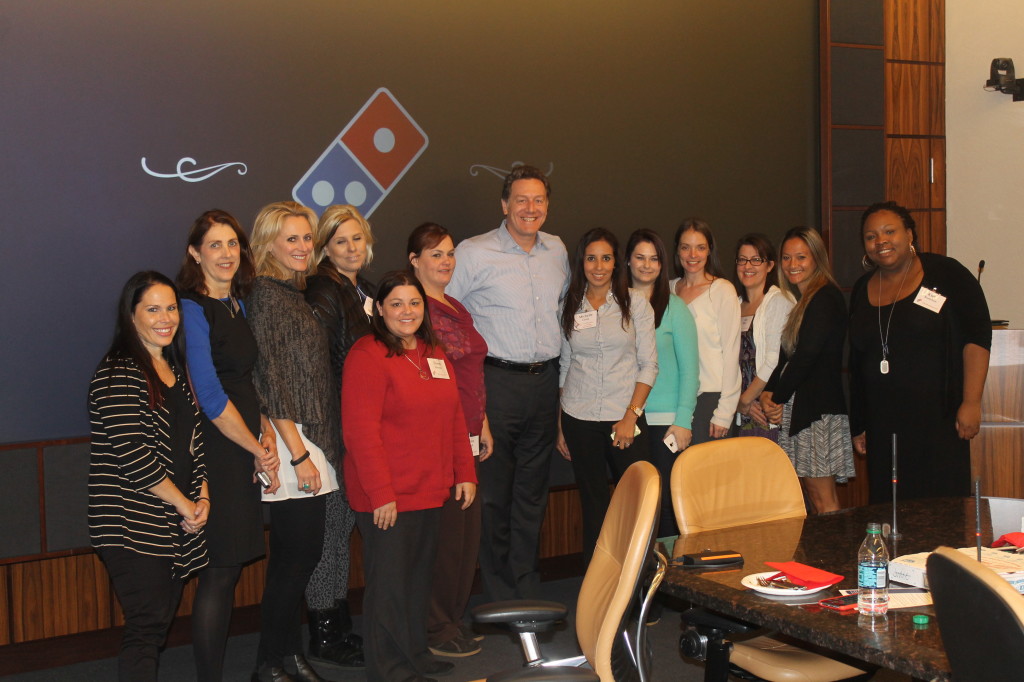 After making our pizzas we had lunch with the Executive Team Members including President & CEO Patrick Doyle, Lynn Liddle, and Kevin Vasconi who were happy to answer any and all questions that came their way.  During lunch we got to try a sampling of the different items offered at Domino's.  There's so much more than just pizza.
Following lunch we got to hear from the technology and social media teams.  It was the first I had heard of Dom, the Virtual Voice Ordering Assistant featured on the Domino's App.  Dom is similar to Siri and makes ordering pizza fun and easy!  When I got home I showed my kids the app and Dom.  They kept coming up with new questions to ask him and really got a kick out of it.  I love his replies!  Domino's is also active on social media.  Follow them on Instagram for your daily dose of mouthwatering pizzas!  Every time I see one of their posts, I want to order a pizza.  You can find them on Facebook too.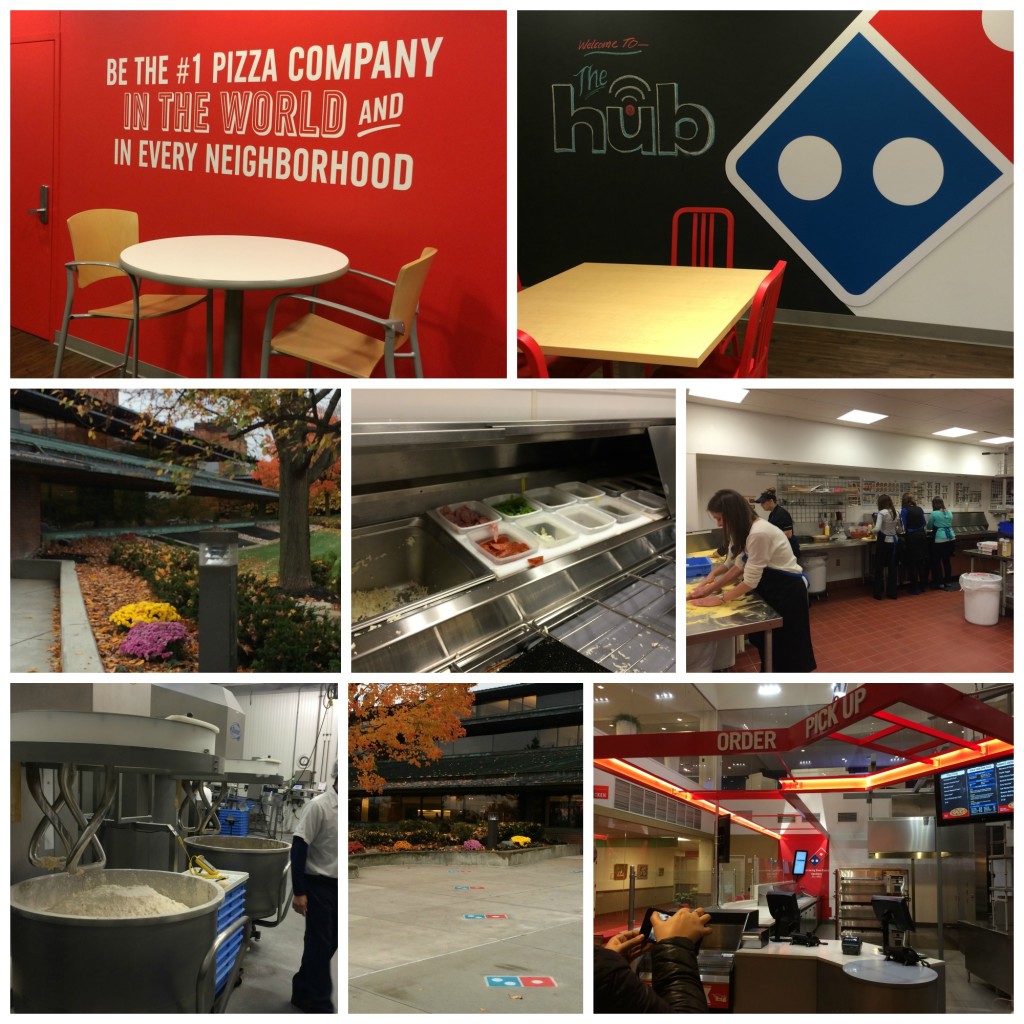 We ended our day with a tour of the Information Services Department.
I'm excited to see what the future has in store for this great company.  They have already started re-imagining their stores and within the next three years all stores will have the new "Pizza Theatre" look which will allow customers to watch the pizza making process.
In my opinion Domino's Blogger Day was definitely a great experience, and I'm glad I went.  Even with all the hours (about 20) I spent on the plane, it was worth it!  It really was a great day and a wonderful experience.