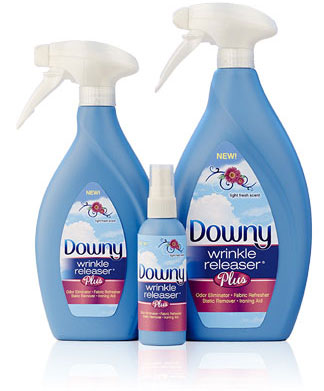 Disclosure:  I received these items in exchange for this post.  All thoughts and opinions are my own.
Wrinkles!  Have you ever put on an outfit only to find it was just too wrinkled to wear?  It happens to me all the time.  In the past, whenever it happened I'd either have to wear it wrinkled, or change into something new if I didn't have time to bring out the iron.  Well, now that has all changed.  Downy Wrinkle Releaser Plus helps to eliminate wrinkles without an iron!
Downy Wrinkle Releaser Plus works to eliminate wrinkles by coating fabric fibers with silicone that allows them to relax and slide apart instead of being frozen in a crease. Simply spray, smooth and tug, then allow fabric to dry for a crisp, fresh smelling and wrinkle-free look in minutes.
I couldn't wait to try the product out because I knew if it really did what it's supposed to, it would make life so much easier!  Guess what?  It works!  After using the product multiple times on various wrinkles, I must say it does work to eliminate most wrinkles.  However, if you want a super smooth finish, you'll still need to bring out the iron.  For every day wear the spray works great.  When I tried to use the spray on my daughter's hula skirt for her last performance, it worked fine, but it wasn't as smooth as it would have been had I used an iron.  For quick touch ups, it's perfect!

The great thing about Downy Wrinkle Releaser Spray is it's multiple uses.  Not only can it help to remove wrinkles, but it can also be used as an odor eliminator, fabric refresher, static remover, ironing aid and more.  The little bottles are perfect for travel.  It can be used on everything from clothes to bedding, curtains, table cloths and more!
Downy Wrinkle Releaser Plus is sold at Walmart, Target, Walgreens, Kroger, Publix and many other grocery, drug, and mass retailers. Downy Wrinkle Releaser Plus is sold in a 1-liter bottle for $6.99 and a 500 mL bottle for $4.19. It is also available in a travel-friendly 3-ounce size for $1.99.