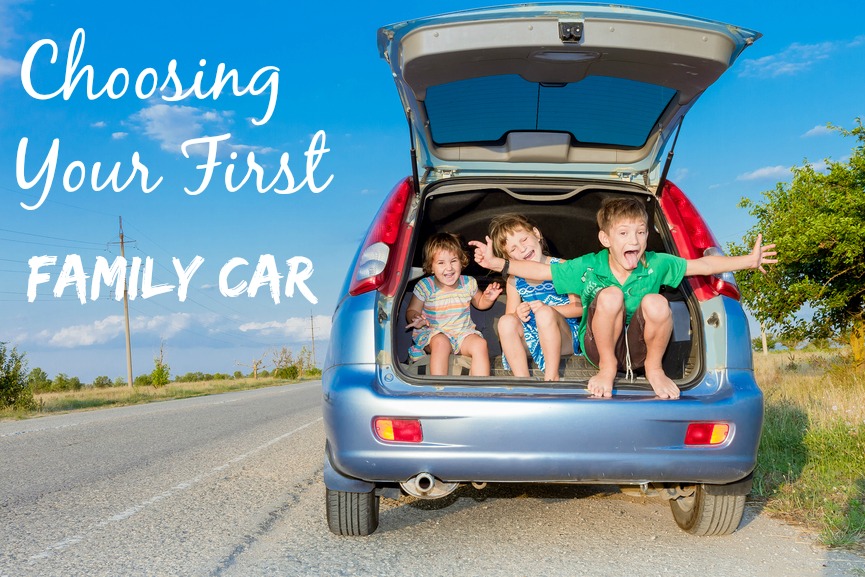 Disclosure:  This is a guest post.
It is going to be the car in which your toddler has its first outing, it's going to be the car which took you for that beautiful vacation by the beach. A family car is where laughs are shared, tantrums are thrown and memories are made; memories that stay alive after your kids have left for college. Choosing your first family car is going be like welcoming another person into the family to share all of your adventures. It's best that you do your homework while making that all-important decision. Here are some tips to help you do that well.
Know what you need and what you want: Write down what you expect from a family car. It would be ideal if you can classify them into needs and wants so that you have all your needs taken care of before you start looking into your wants.

Would you prefer a small car or a big one? Take into consideration how many kids you have, and if you are planning to have more kids soon. Also, if you have a pet or if you are planning on getting one. If your kid uses a stroller, you would want enough boot space to store it. 
Is your car going to be driven around more in the city or is it going to be taken out frequently for long road trips? Take into account the weather conditions in your town, if it snows a lot you might be better off driving a four wheel drive with an anti-lock braking system.
These are some of the questions that you need to answer before you can start shortlisting your options. Once you have all your basic needs answered, you may think of adding that TV screen on to the rear seat.
Set a Budget: Decide how much you want to spend on the car and how much you would be comfortable shelling out as a monthly payment. This figure could be a little flexible both ways, but it will help you decide whether you want to get a brand new car or a used one or even lease one. It's also important to have a clear idea about the maintenance cost of your prospective vehicle and the cost of spares. Keep an eye on the fuel efficiency if you plan to do a lot of miles in a month; small differences can add up to become big numbers. 
Add the cost of insuring the vehicle also to your budget so that you don't end up spending more than you want. Once you have fixed on a budget you are comfortable with, stick to it and do not feel bad about losing out on some features because you can't spend more.
Safety foremost: You want your family to be safe, no matter what. Rest assured that most modern cars come equipped with standard safety features. Research online and shortlist cars that perform well in crash tests and have low rollover statistics. 
Look out for the following terms: – ABS (Anti-Lock Braking System), ESC (Electronic Stability Control), dual-stage airbags, Blind Spot Detection System.
It would be ideal to choose a car that offers childproof windows and doors as well as has rear, front, knee and side curtain airbags that can be turned on and off. Make sure that the car you select has as many child seat anchorage points as you need.
Test drive them: Shortlist a few cars based on your needs, budget and safety features you want and take them on sufficiently long test drives. It is very important to feel comfortable with the car you drive – its size, performance and manoeuvrability. Take your kids along and see if they like the car you want. If you have young kids, check if your strollers fit in the boot space and if there is adequate space for your child seats.
Take some time out to identify your needs and research well so that you have many happy miles ahead. Most (if not all) car dealerships offer to test drive their available models, which makes your shortlist easier to be done.