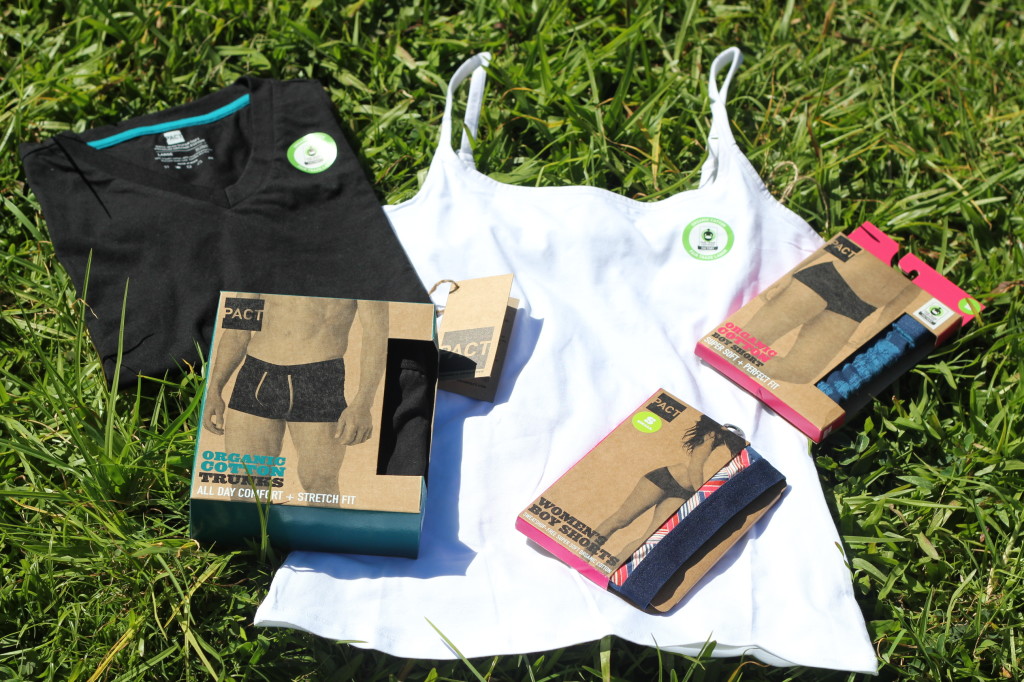 Disclosure:  I received these items for review purposes.  All thoughts and opinions are my own.
PACT is obsessed with a big idea: super soft organic cotton that makes the world a better place. Socks with soul, altruistic underwear and other everyday essentials ethically manufactured with fabrics that feel good and go easy on the environment.
I recently received a great selection of items from PACT.  A few pieces for me, and some for my husband too.  I love that their products are made of super soft and comfy organic cotton.  It feels great against your skin.  You can rest assured that each piece you wear from PACT will be super comfy.
I received two pairs of Organic Cotton Boy Shorts and a white Shelf-Bra Camisole.  The boy shorts are very comfortable and they're perfect for sleeping and lounging around the house, especially when paired with the camisole.  They come in a selection of beautiful prints including the Basket Weave and Waterlilies designs which is what I have.  The boy shorts are made of 95% organic cotton and 5% elastane.  They feature a smooth flat waistband and were designed for maximum coziness with a stretch fit that won't lose it's shape.  They retail for $12.99-$17.00.
PACT also has a great selection of products for men.  I received a 2 pack of black Organic Cotton Trunks along with a black V-Neck Tee for my husband.  He hasn't tried them on yet as I'm saving them for a Valentine's Day gift!  I know he'll just love both items as they're sure to be very comfortable.  The trunks feature a no-roll brushed waistband as well as a snug fit which won't lose it's shape.  Like the women's boy shorts, the trunks are also made of 95% organic cotton and 5% elastane.  It retails for $24.99.  The black V-Neck Tee is something my husband will get a lot of use out of for sure!  He really likes the V-Neck style, and black is a great  color that'll match with just about anything.  It can be worn while lounging at home or while out and about too.  The V-Neck Tee is made of 60% organic cotton and 40% recycled polyester.  It retails for $19.99.
If you're looking for the perfect gift for your loved ones this Valentine's Day, take a look at all the wonderful products PACT has to offer.  With every purchase, you help PACT make a positive change in our world!