The new Extreme Motion Jeans from Lee Jeans are unlike any other. I received two pairs for my husband to try out, and he loves them! The Extreme Motion Jean combines classic Lee style with new design innovation. Features include, flexible fibers, a stretch waistband and five pockets.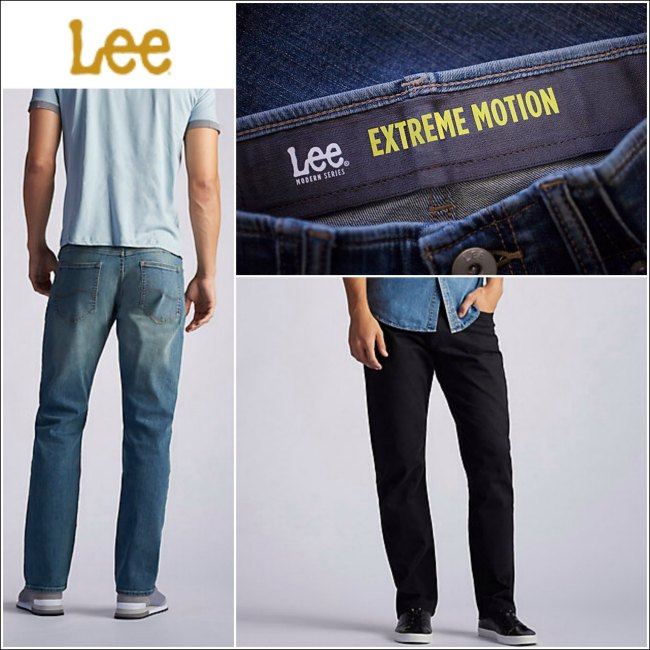 I showed my husband the two pairs I received in the colors Radical and Black. He thought they looked good and were something he'd wear, but he was "too busy" to try them on, so I tried again the next night. Once he tried them on, he became a lot more excited about them! He loved how flexible they were, he loved the stretch, and he couldn't get over how comfortable they were! I guess I take the stretchiness of jeans for granted, since mine are all pretty stretchy. I didn't realize his jeans weren't the most comfortable. He was amazed, to say the least. He squatted with them on, kicked his leg up, and tried out all sorts of moves (it was pretty funny). According to him, he couldn't do any of that with any of the other pairs he owned.
Other than the extreme stretchiness, some other things he liked are the stretch waistband and the deep pockets. He says the waistband is very comfortable, and with the added stretch, he feels a belt isn't necessary. He also commented on the pockets being deep, which he liked. He said the one thing he'd recommend to improve the jeans would be to add more washes (it currently comes in five color options). He's into "destroyed denim", so he'd really like for the Extreme Motion Jean to come in a destroyed/distressed denim. Other than that, these jeans are everything he could ever want. After trying them on, he ended up using one pair for the rest of the day. He's not one who comments much on clothes, so with all his positive comments on these jeans, I knew he really liked them!
The Extreme Motion Jeans are machine washable. The black is made of 97% Cotton/ 3% Spandex and the Radical is made of 69% Cotton/ 20% Poly/ 8% Rayon/3% Spandex. They cost $48.00. My husband highly recommends these. I'm sure he'll be purchasing a few more pairs soon.