Interior design is the art and craftsmanship of understanding people's behaviour to come up with well-designed spots within a home or commercial buildings. It can as well be likened to the process furnishing and enhancing of specific areas within and outside a building with elegant and fascinating items; this which includes extraordinary light fittings, flowers, textiles, artworks as well as uses of various forms of lighted mirrors amongst many others.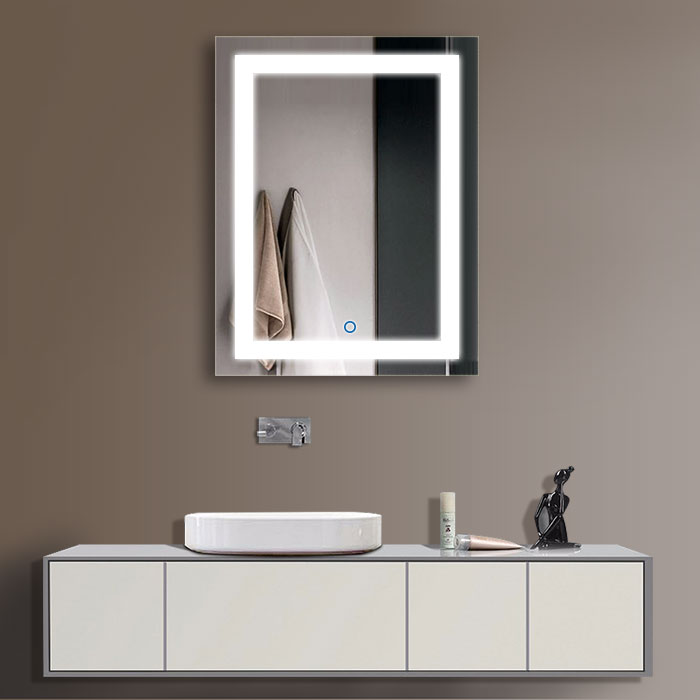 Disclosure:  *This post was created in part thanks to Decoraport, all words and suggestions are my own.
Interior decoration and design scope are extensive, but for the purpose of this write-up, the focus will be more on interior decoration or furnishing with illuminated Mirrors because they have become an indispensable part of home décor.  The stylish layouts of the lighted mirrors are making them an essential component for interior decorators. The illumination and design of one's apartment (either home or commercial buildings) defines the kind of mirror that best fits.
Most people choose to fix bathroom mirrors that are firm and operative. Interior decoration with lighted mirror is lovely and comfortable to use because of the lighted up surfaces which make viewing through the mirror crystal clear. A complete interior decoration or furnishing plan can be created using this design and style, or perhaps having some amount of beautiful objects combined with the interior to set the tone and make an interior seem more appealing, classical and modern.
Mounting or fixing lighted mirror in your apartments can certainly brighten any apartment; this is because they are ideal for compact rooms as they offer the fantasy of experiencing additional space in a room. It also makes a big impression when certain locations within a building such as the bedrooms, dressing room and apartment's mini bar have these mirrors on walls at strategic positions as well as in suitable sizes, styles, and shapes. Besides, they make the room look more broad and attractive.  You can as well venture out and shop for classy illuminated mirrors when you need to give your apartment a kind of facelift. Picking out mirrors for the bathroom is no different; you have to select the right mirror to appeal to the decorating desire or expectation.
You do have a whole of types of mirrors to choose from among which you have varieties of Led mirrors and lighted mirrors that are fascinating.
One can look for mirrors that are elegantly crafted and are designed to feature both modern and traditional framing methods. We now have several unique masterpieces bathroom's Led and wall mirrors to choose from. It is possible to add dimension to you dwelling place by introducing cool lighted mirrors in your living room and bathroom.
You may as well prefer to brighten up your bathroom space with a lighted wall mirror; this is because Lighted bathroom mirrors are perfect for grooming, applying makeup and for shaving. Some of the mirrors have a frameless glass with lights fixed perfectly along the sides for clear viewing. These light bulbs around the mirrors help to create illumination and clarity which a lot of people find lovely and compelling in a modern bathroom.
Another way to divert attention is by adding a contemporary style wall mirror that has a raised diamond trim. It is very stylish and cannot go unrecognized by any standards. You can use this to create a striking effect in the dining room but can also do very well as bathroom mirrors to accentuate your modern style and décor.
You can recreate your living space just by going out there and choosing stylish illuminated or Led mirrors that accommodate your personal style and décor. You can use them to add a smart look to your bathroom and your hallways. There are even some mirrors that are frameless and some that come in oval shapes, adding a modern twist to your house's overall design. They can be hung vertically, horizontally but can also look excellent with the mounting devices. An easy method to do findings on bathroom mirrors is the Internet. You will find all of the types, styles, sizes, and shapes.
In addition to the illuminated mirrors explained above, textiles are another essential element in an interior decor. Also, Lighting is essential when considering interior designing. For instance, ceiling lamps are supposed to be chandeliers or modern variations on chandeliers. You also should incorporate sconces and desk lights into the interior. After all, a lot of light is needed to reflect in furniture, textile as well as various the so called illuminated mirrors.
Lighted mirror of a bathroom or dressing room is not just a basic choice and but also a secret companion to a countless number of individuals. Many people inclusive of celebrities and prominent personalities admit of talking and also spending several hours in front of their particular types of mirrors. However, for a typical individual, time is of utmost significance while getting prepared for the day event. Hence, some people opt for illuminated mirror, Led mirrors and vanity mirrors among many others out there, and this mirrors also satisfy the need of being anti-fog, having quality lighting, fascinating designs and crystal-clear display.