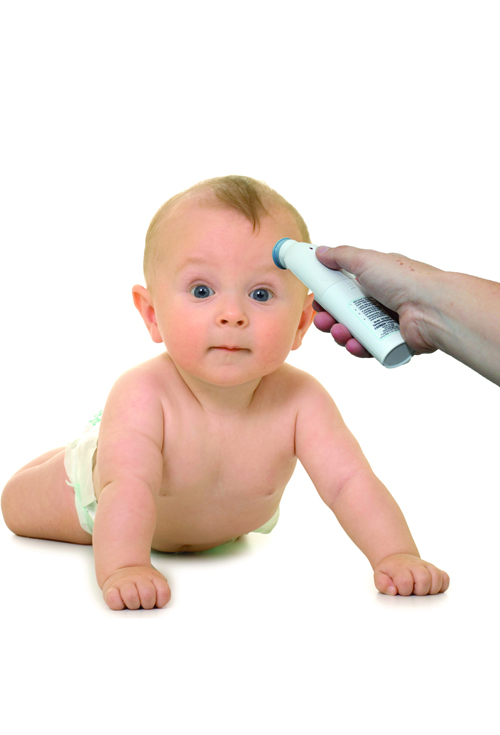 Disclosure:  I received this item for review purposes.  All thoughts and opinions are my own.
We've probably all been there, a sick child who just doesn't want his temperature taken.  Whether they're just extra fussy or in pain, sometimes, when kids have a fever they just don't want to be bothered.  It can be nearly impossible to get them to use an oral thermometer.  I haven't used one of those in years!
Instead, I've been using an ear thermometer on my kids, and it's worked ok for us for a while now.  The downfalls to an ear thermometer would be having to purchase replacement probe covers and getting an accurate reading when they're asleep.  With the ear thermometer, you have to get it in their ear just right in order to get an accurate reading.  It can be annoying for a sleeping or fussy child, and especially for one who has an earache.  I've had my ear thermometer for years, although I do like it a lot, I was excited to see what else is out there.  The girls pediatricians  office uses a temporal artery thermometer.  I figured if they use it, it must be good!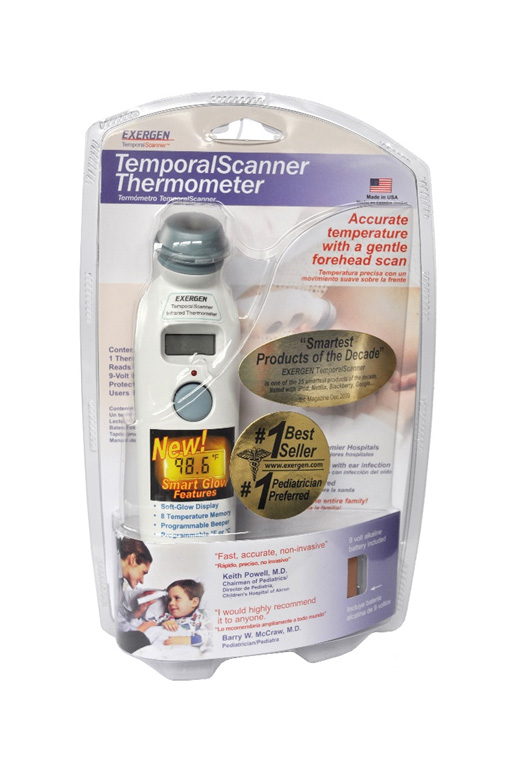 The Exergen TemporalScanner Temporal Artery Thermometer gives an accurate temperature with a gentle forehead scan.  It's safe, easy to use, and you get a reading in seconds.
Why the Temporal Artery?
The temporal artery is directly connected to the heart via the carotid artery.  It has the constant blood flow needed for accurate measurement.  It is the safest, most convenient, and comfortable place to measure temperature.
How Does it Work?
Press and hold the button, lightly scan the thermometer across forehead, release button and read temperature.  That's it!  The natural stroke of the forehead captures naturally emitted heat from the skin over the temporal artery.  The red LED lights and soft beep indicate a correct scan.  It takes 1,000 readings per second, selecting the most accurate.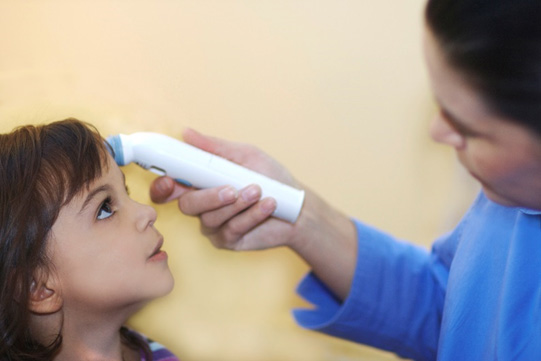 While I still do like my ear thermometer, and it still works fine after all these years, the temporal artery thermometer is another great option.  When taking my own temperature, I still prefer to use the ear thermometer.  For me, it's easier to just place it in my ear rather than positioning it on my forehead the correct way.  Maybe I'll get better with practice.  However, it is easy for me to take someone else's temperature using the temporal artery thermometer, and it's very quick!  I'll probably start using the Exergen Temporal Artery Thermometer
on the girls more often than the ear thermometer, especially when checking on fevers while they're asleep.