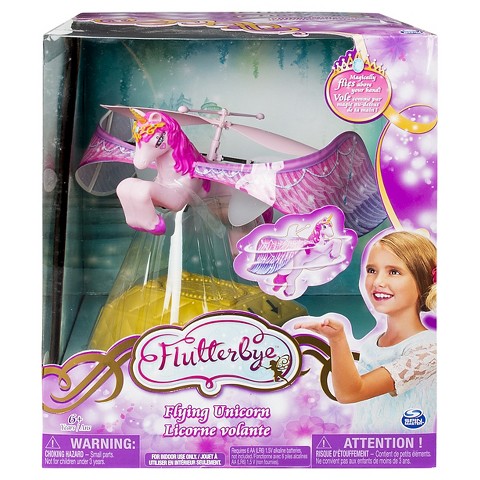 The Flutterbye Flying Unicorn from Spin Master, was one of the items my daughter added to her Christmas Wish List this year. Unicorn toys can be hard to come by, so if you know someone who loves unicorns, this is a great option.
The majestic pink unicorn has a golden horn that lights up and pretty pink wings. Watch her fly as she magically floats over the palm of your hand. Raise your hand and she will rise, lower your hand and she follows.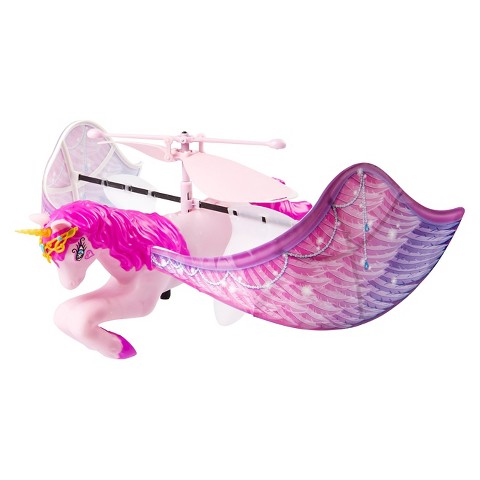 The Flutterbye Flying Unicorn is such a fun toy for kids. It does seem sort of fragile, especially the blades and wings, so kids definitely need to handle it with care. It is a little difficult to operate, especially for younger kids who may become frustrated. Once they get a hang of it, kids will get a kick out of watching her fly and helping to control her. The toy requires 6 AA batteries which are not included. Batteries aren't cheap, so I sure wish it didn't require so much. The Flutterbye Unicorn needs to be charged before the first use. It takes about 45 minutes to charge and flies for 5 minutes or slightly less. Once charged, simply press the button on her lovely gold base and she magically sets off for flight. Have her rest on her charging base between flights. Flutterbye Flying Unicorn was made for indoor use only. Be sure you have a big space to fly her because you'll need it!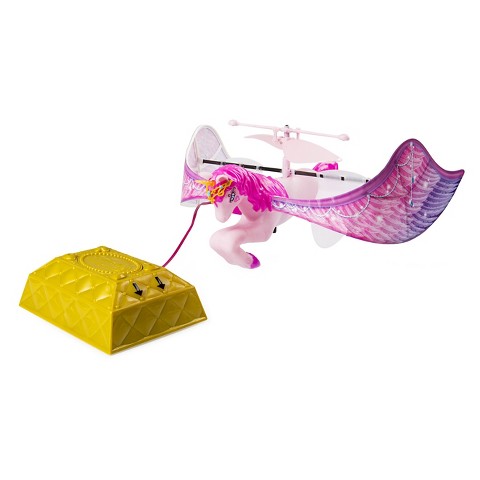 Along with the Flutterbye Flying Unicorn you'll also find 1 Launching Base with Cord and 1 Instruction Sheet in the box.  This toy is recommended for children ages 6 and up. It has a MSRP of $34.99. And can be purchased in stores and online at Target, Walmart, Amazon and more.
For a helpful and informative video on how to fly your Flutterbye Flying Unicorn, check out Flutterbye.com.