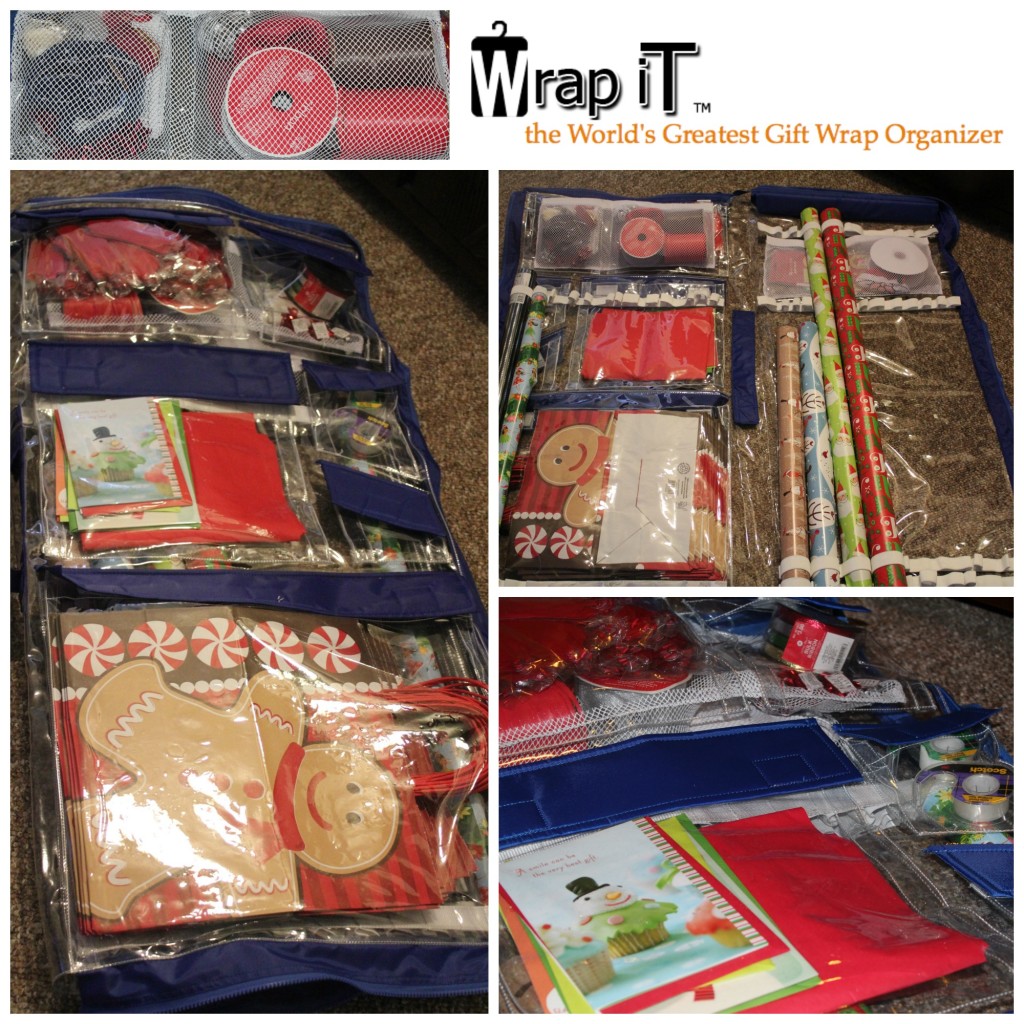 Disclosure:  I received this item for review purposes.  All thoughts and opinions are my own. 
After the holidays, my rolls of gift wrap, and boxes of wrapping supplies lay in a cluttered mess in the corner of my bedroom.  I knew I had to get it cleaned up and organized, but I just didn't know where to put the left over rolls, gift bags and ribbon.  I wanted it organized, neat and all stored together so it would be easy to get to when I needed to wrap another gift.
Then I found out about Wrap iT, a gift wrap organizer.  What an ingenious idea!  I was extremely excited to try it out.  I love finding products which help to make my home and life more organized.
I received the Wrap iT Deluxe in blue and I absolutely love it!  This amazing organizer is well made and durable.  It's made with high grade elastics, clear PVC and a heavy duty nylon zipper.  The Wrap iT is also water repellent.  It weighs 1.8 pounds when empty and holds up to 22 lbs.  It's 44″ tall, 19.5″ wide and up to 4″ thick when filled.
I love how the Wrap It makes it so easy to get all of my wrapping supplies organized.  I was not only able to store my rolls of wrapping paper, but my gift bags, ribbon, tissue paper, tape, and more!  There are pockets on the outside as well as on the inside.  There's also elastic to keep the many rolls of wrapping paper in place.  Once I got all my supplies organized, I just zipped up the Wrap iT and hung it in my closet with the built in hanger.  I was surprised with how many wrapping supplies I was able to fit in the Wrap It.  Even when filled, it's still so compact and really saves a lot of space.  It's so much better than storing my supplies in boxes piled up in the corner of my bedroom!
The Deluxe Wrap iT comes in blue and copper and sells for $59.97, or buy a 2-pack and save $20!  The Wrap iT Original is a little smaller and sells for $54.97.   If you're looking to be more organized, the Wrap iT Gift Wrap Organizer is definitely an item you need to own!