I recently tried Organic Ghee from Carrington Farms for the first time, and I enjoyed it! I've been staying away from butter for the most part, so I'm so happy to have this available. Ghee is a heart healthy, clarified butter that is known to reduce inflammation and increase energy. Carrington Farms' ghee is even gluten-free! I've been making healthier choices this year, so I was happy to hear of all the great health benefits I can get from using ghee in my cooking.
This delicious recipe for Ghee French Toast from Carrington Farms makes a wonderful, tasty breakfast. It's one of those foods the whole family will enjoy. Top it off with some pure maple syrup for absolute breakfast perfection!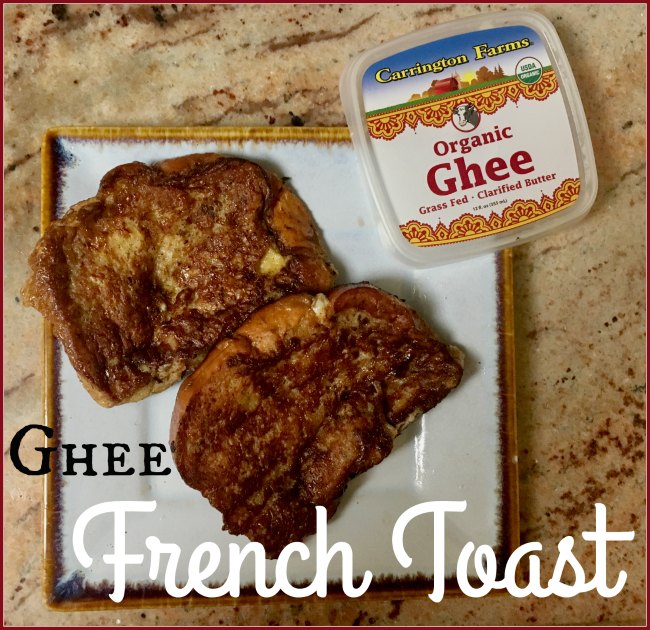 Ingredients:
5 eggs
3 tablespoons of sugar
1/3 cup 1% milk
3 tablespoons cinnamon
6 slices of brioche bread (cut into ½ inch slices)
2 tbsp of Carrington Farms Organic Ghee
Directions:
Whisk eggs, sugar, milk, ghee and cinnamon for 30 seconds.
Dip both sides of bread in mixture until saturated
Put 1 tbsp of ghee in pan and turn heat on low for 20 seconds to let the ghee melt.
Place 3 slices of bread in pan at a time and keep on medium heat.
Cook slices until browned on both sides.
Repeat steps 3-5 for the last 3 pieces.
East and ENJOY!
If you give this recipe a try, be sure to let me know how you liked it. What are some other ways you use Ghee? I'd love more recipes and cooking ideas.