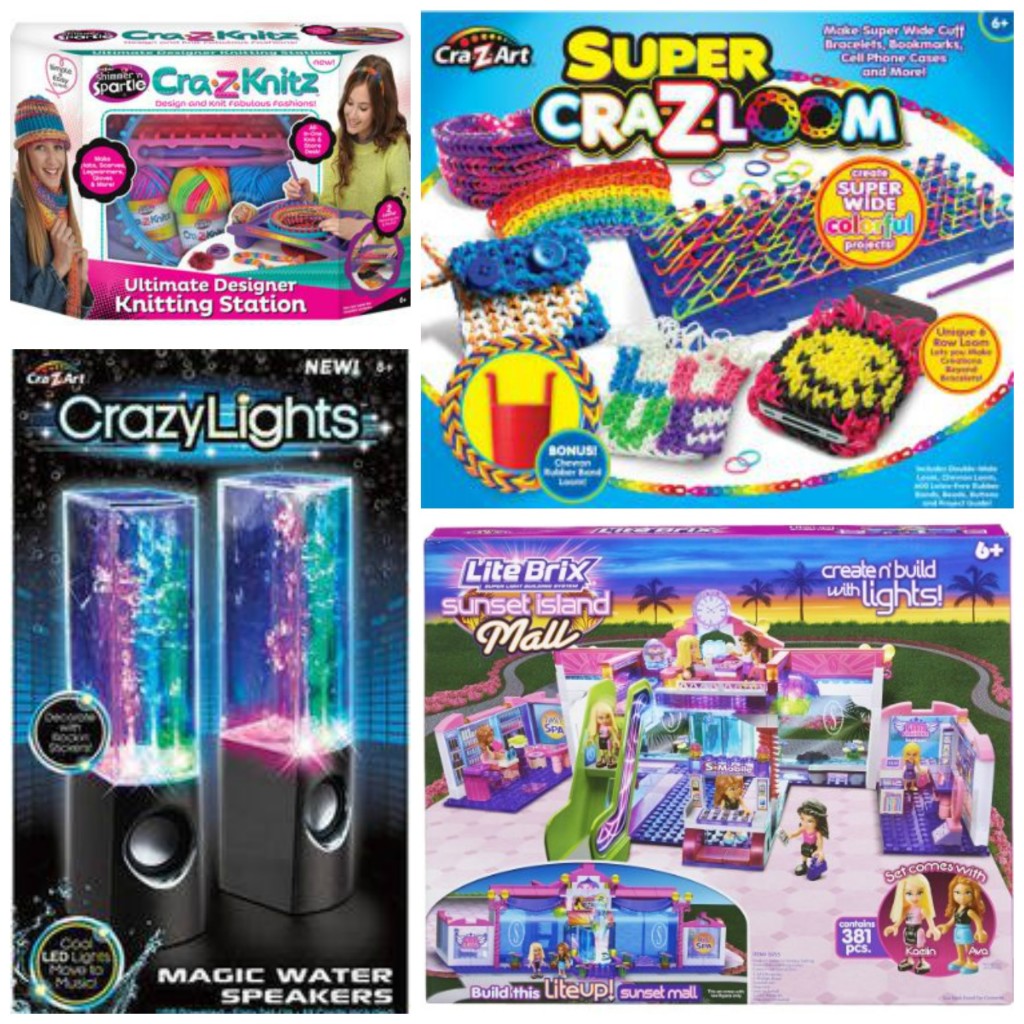 Disclosure:  I received these items for inclusion in my Holiday Gift Guide.  All thoughts and opinions are my own.
Cra-Z-Art was founded by Lawrence Rosen in 2008.  It's the fastest growing and most innovative manufacturer in the toy industry.  Based in Randolph, New Jersey, Cra-Z-Art produces high-quality toys and stationary products.
I never realized Cra-Z-Art made such a wide variety of products for kids.  They sent me four items that will make awesome gifts for the upcoming holidays.  I received the Cra-Z-Knit Ultimate Designer Knitting Station, Super Cra-Z-Loom, Lite Brix Sunset Island Mall, and Crazy Lights Magic Water Speakers.
The Shimmer 'n Sparkle Cra-Z-Knits Ultimate Designer Knitting Station makes knitting easy and fun with two looms in one.  It includes everything you need to make hats, scarves, leg warmers, gloves and more.  In the box you'll find the Knitting Design Desk with Storage Comaprtments, 1 Round Loom, 1 Rectangular Loom, 4 Skeins Acrylic Blend Yarn – 150 yds each, 2 Skeins Specialty Yarn – 15 years each, 1 Knitting Hook, 1 Plastic Needle, 1 Sheet Product Labels, and easy to follow instructions.  The Cra-Z-Knits Ultimate Designer Station is perfect for keeping kids busy and getting their creative juices flowing.  These are the types of things I loved to do when I was growing up and we don't see enough of it these days with kids so immersed in their electronics.  It's nice for kids to "unplug" from time to time and get involved in hands-on activities like this.  The Ultimate Designer Knitting Station is recommended for kids ages 6 and up.  It retails for $32.99.
The new Super Cra-Z-Loom is the biggest loom ever!  Last year for Christmas my daughter got the regular Cra-Z-Loom.  She's used it a lot in the past year and has created some wonderful bracelets for friends and family.  She enjoys watching tutorials on YouTube to learn to create new designs.  The Super Cra-Z-Loom is a unique 6 row loom that allows you to create super wide colorful projects.  Kids can use their imagination and create to their hearts content!  They can design and make cool colorful cuffs, cell phone cases, banners, keychains and so much more!  In the box you'll find 1 Double-Wide Loom, 2 Hooks, 1-6 Prong Loom, 2200 Latex-Free Rubber Bands, 1 String-2 yards, 8 buttons, 40 "S" Clips and Easy to Follow Lettering Templates & Instructions.  The Super Cra-Z-Loom is recommended for children ages 6 and up.  It retails for $22.99.
Lite Brix Sunset Island Mall is a line released by Cra-Z-Art for holiday 2014.  The Line includes the Sunset Mall, Carousel, Food Court, Boutique, and Toy Store.  Lite Brix are compatible with all other brick building systems on the market which creates endless possibilities for creative play.  Lite Brix combines traditional brick building constructions with the magic of lights.  The set includes 3 Lite Brix, 1 Lite Brix with Flexible Connector, 2 Flexible Connectors, 310 Brick Blocks, 60 Special Shaped Parts, 1 Fiber Optics Strands, 2 Dolls (Kaelin & Ava), 1 Mini LED Power Pack, 1 Lite Up Power Brix, 1 Decal Sheet and an Instruction Manual.  The complete set, when built, features 4 stores, an escalator, revolving door, and more!  It's sure to bring hours of enjoyment and imaginative play.  It was designed for children ages 6 and up.
Cra-Z-Art Crazy Lights Magic Water Speakers are perfect for kids who love music!  The Speakers feature cool LED lights that move in tune with your music.  The 4 Multi-Colored LEDs create an awesome sound and light show.  It works with computers, Smart Phones, Music Players, and most other audio devices.  Along with the two speakers, the box includes a USB Power Cable and Audio Cable for easy set-up.  The speakers come in black or white.  It's recommended for children ages 8 and up and retails for $42.99