Glee Gum is one of the only brands of gum I let my daughters chew. Why? Because it's free of artificial colors, flavors, sweeteners, or preservatives. It's a tasty, natural chewing gum that's Non-GMO Project Verified. Most importantly, it's Aspartame-free! As much as possible, I try to stay away from all products containing aspartame. Believe it or not, it can be very hard to find a chewing gum that does not contain this awful ingredient! This is why I love Glee gum.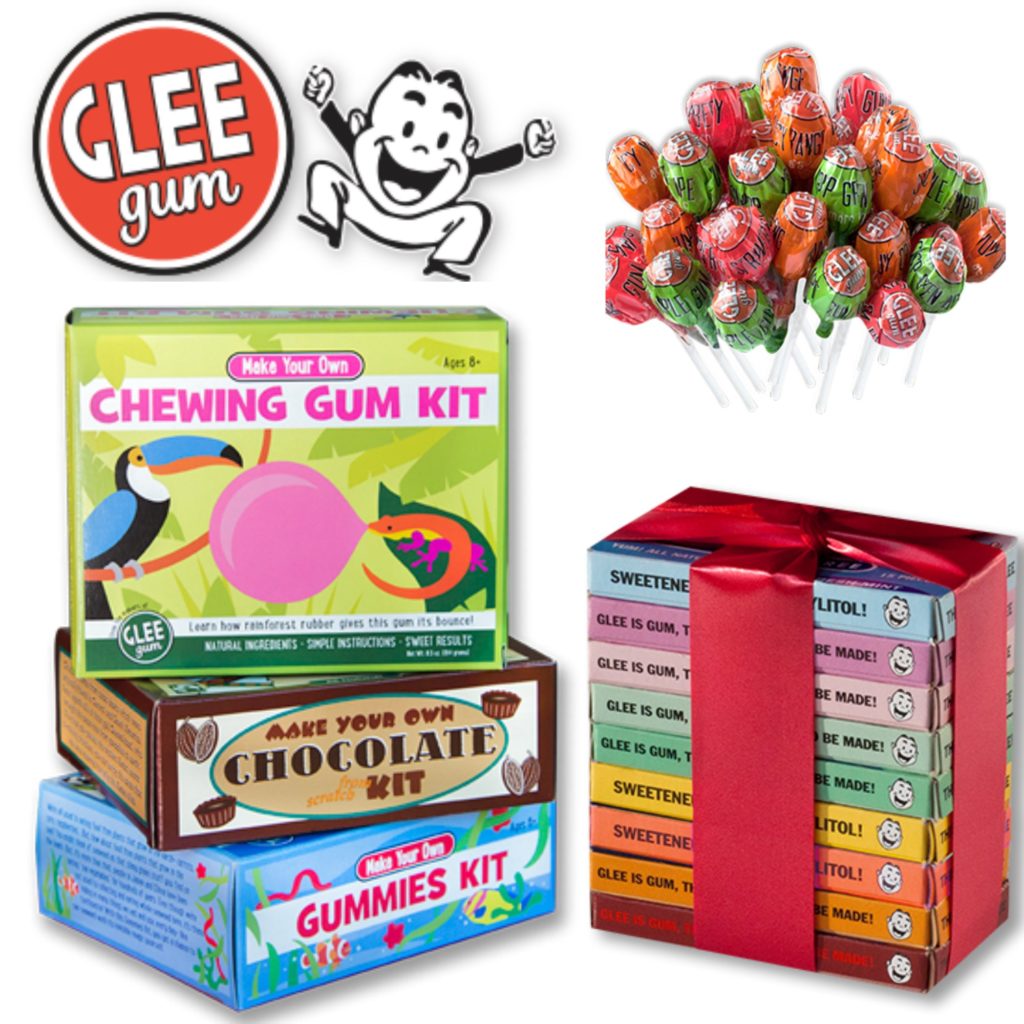 Glee Gum is made with chicle, a tree sap harvested sustainably to help conserve the rainforest. Glee Gum comes in nine great flavors: peppermint, tangerine, cinnamon, bubblegum, spearmint, mixed berry, sugar-free lemon-lime, sugar-free refresh-mint, and sugar-free wild watermelon.
Glee Gum makes a great stocking stuffer. My 6 year old loves gum so much, she added it to her Christmas Wish List. Lucky for her, she'll be getting the Glee Gum Sweet Stack in her stocking this year. The Sweet Stack contains 9 boxes of Glee Gum: 6 Classic Glee flavors and 3 Sugar-Free Glee flavors (16 pieces of gum/ box). Our local health food store only carries the bubblegum and spearmint flavors, so she'll be happy to try the others.
You can get more than just gum from Glee Gum. They have Gum Pops too! These fun sweet treats are the world's first & only 100% natural gum pops— hard candy lollipops with yummy, natural bubblegum centers. They come in a mix of three yummy flavors: Sweet Strawberry, Crisp Green Apple, and Juicy Orange. Gum Pops are gluten-free, allergy-friendly, and vegan. They're made without artificial colors, flavors, sweeteners, or preservatives and are certified kosher by the International Kosher Council.
While The Gum and Gum Pops are perfect stocking stuffers, Glee Gums Make Your Own Candy Kits are a fun gift idea for kids.  The kits are designed to connect, create, and captivate! Connect to the global community by tracing the origins of raw materials we encounter in our daily lives. Create something exciting and delicious. Captivate kids' (and adults'!) interest. It's fun to stir, mix, touch, and taste. Now you can make yummy treats while learning a little about the rainforest, ethnobotany, chemistry, mathematics and measurement, ecology and environmental issues, home economics, nutrition, the oceans, and more! The Make Your Own Candy Kits include, Make Your Own Chewing Gum, Make Your Own Chocolate and Make Your Own Gummies. Each Kit sells for $13.95 or you can purchase all 3 kits for $41.85.
If you're looking for healthy sweet treat alternatives to gift your kids this holiday season, look no further than Glee Gum!