The B2B Team has finally let the cat out of the bag!  They have finally revealed their big project, the video training course: Blogpreneur.
Let me tell you though, ONLY take this course if you are interested in taking your blog to the next level and creating something amazing – possibly LIFE-CHANGING.
This course will walk you through how to optimize your site, creating social media strategies that actually work and how to make money blogging. We're not just talking a free meal here and there either. They have teamed up together to teach you how to truly make a living from your blog. And then make even more. They'll show you how to get people to your site and how to make them stay so that your message can be heard!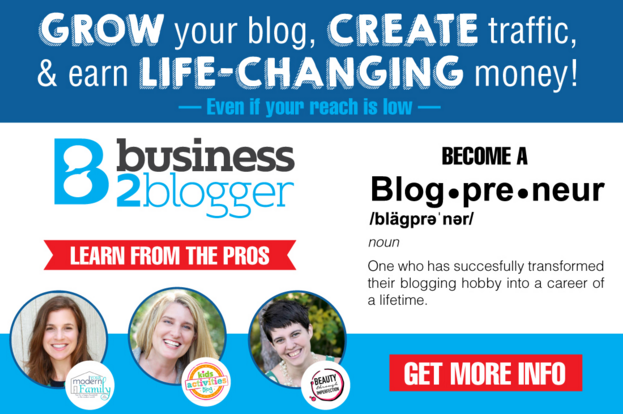 Holly Homer, Becky Mansfield and Paula Rollo joined together to create this amazing resource for you and unlock the secrets of their success, just for you!  If you are feeling stuck, learn some close-kept secrets that WILL help you get unstuck and on your way to a career in blogging and social media.
If you are already earning with your blog or just starting out, this course can help you improve, optimize your site and get ready to make more money.
You'll learn things like:
How to write for YOUR audience

What makes a post go viral

How to run your blog like a business

Science behind pinterest

Content strategies

How to monetize your Facebook page

Types of passive income

and so much more!
Who is it for?
Blogpreneur is for bloggers who are just past the beginner stage or at an intermediate level in blogging.  Specifically this course is for bloggers whose blogs are up and running and they are familiar with the basics of posting all the way up to seasoned bloggers who need help breaking through their ceiling by improving their working knowledge of blogging basics (such as images tricks, plugin utilization and the anatomy of a stellar blog post), maximizing social media and blowing up their monetization skills.  
I am so excited to give you this chance to learn the secrets that have taken these three bloggers to making 6 figures a month in earnings, publishing more than a dozen books while balancing their home and family lives as well.
If this sounds like something you'd be interested in, don't delay! Sign up Today. Sign-Ups close on 12/23/15. You really don't want to miss out on this amazing opportunity.
Sign up for Blogpreneur today, and get the following BONUSES (valued at over $1,500):
FREE eBook: A Stronger Blog in 30 Days

BlogPreneurs Only Exclusive Facebook Group

50% off our upcoming YouTube 101 Course

Exclusive Q&A Follow-up Webinar

Get entered for a chance to win a FULL blog review by the B2B Team

Email List Building CRASH COURSE from CreateIfWriting.com
Want more info? Learn more about BlogPreneur HERE. 
*This post contains affiliate links.