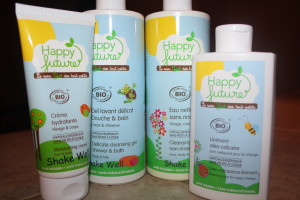 What do I like about Happy Future Products?  I love the fact that they are 100% hypoallergenic.  These products are made in France and are all organic and USDA certified!
I received the Delicate Cleansing Bath & Shower Gel, Cleansing Lotion non-rinse, Liniment lotion for Diaper Change and Moisturizing Cream for Face & Body.
Although I liked all of the products, there was one that really stood out for me.  That would be the Liniment lotion.  My daughter had a diaper rash that just wouldn't go away.  It was then I remembered I had the Liniment lotion and remembered reading that it worked on diaper rashes.  I applied the lotion to the rash area with a cotton ball after my daughters bath.  I checked the next morning and was pleased to see that the rash had gone away!  It is rich in protective nutrients and Vitamin E for gentle cleansing, purifying, preventing the appearance of redness.  I highly recommend this product for use on diaper rashes, as it worked so well.
The non-rinse Cleansing Lotion would be perfect for newborn babies because you can get them nice, clean and fresh without having to use water.
I've been using The Moisturizing Cream on my daughter after her baths and she enjoys the nightly ritual.  There isn't a very strong scent, which I like.  I noticed all of the products have a similar mild scent, which I can't quite describe.  My 5 year old said it smelled like her vitamins!  No artificial scents are added.  The cream goes on well and easily absorbs into your skin without leaving a sticky residue.
I'm able to use the Bath & Shower Gel on my daughter's hair and body.  With this product, as well as the others I've noticed that a little goes a long way.  My daughter always smells nice and fresh after her baths.
If you want a natural and organic product for your baby, or yourself,  you should definitely try the Happy Future Baby Skincare Products.
and now for the GIVEAWAY…
1 Winner will Win the same four Items that I reviewed.  Happy Future asks the winner to leave their impression of the products on their Facebook Page. Giveaway ends 9/9
Disclaimer:  I received these products for the purpose of this review.  I was not financially compensated for this post.  All thoughts and opinions are my own.