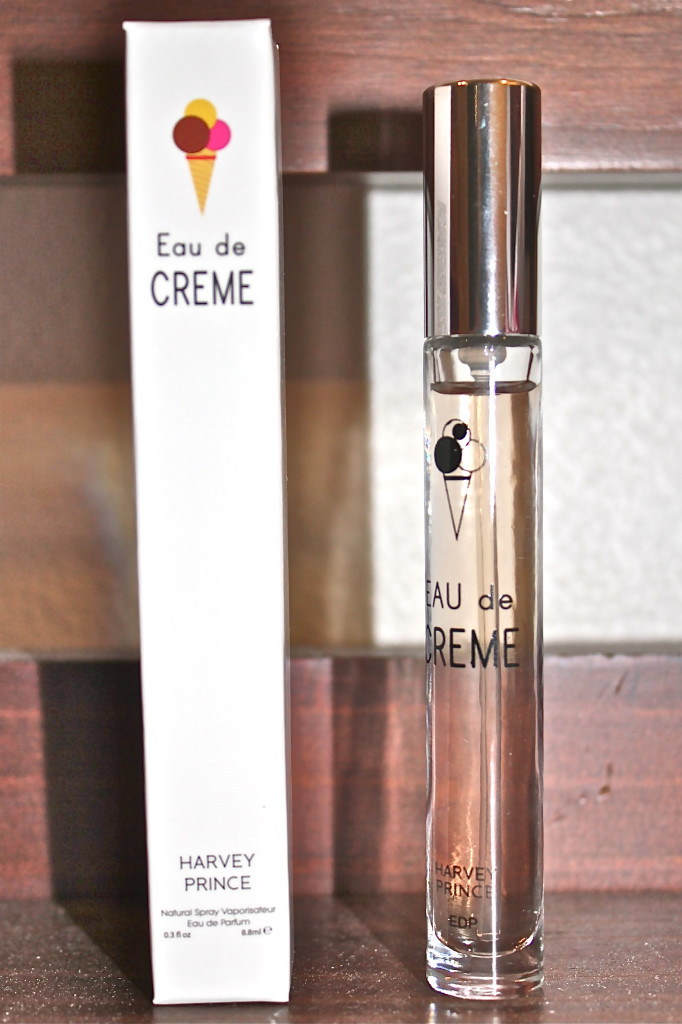 "Eau De Creme's signature blend starts with a cool spritz from top notes of pink passion fruit, and melds with curious rum raisin for aromatic taste. A smooth finish of rich French vanilla & sinful dark chocolate"
When I saw that Harvey Prince's Eau de Creme fragrance was compared to an ice cream cone on a hot summers day, I knew I had to try it!  I have always preferred these types of scents over floral scents.  Eau de Creme includes the flavorful aromas of Citrus, Passion Fruit, Rum Raisin, Vanilla, Patchouli and Chocolate. Doesn't that sound like a delicious combination?  Well, it sure does smell delicious!
The scent is not overpowering at all like some other fragrances I've tried, yet it is noticeable, and does last.   I really enjoy the lingering vanilla scent, and my hubby liked it too.  To be honest, I'm not one who normally wears perfume as part of my daily routine.  Lots of scents are too strong and overpowering for me or I get tired of it after a short while, but to my surprise, that was not the case with Eau de Creme.  After trying Eau de Creme, I liked it so much that I find my self spraying it on often.  I'm so happy to have finally found a scent I really like!
Eau de Creme comes in 3 sizes, plus a mini sample size which is a great option if you'd like to try out the other available fragrances as well.  The 8.8ml spray sells for $26.00 which is a great price for such a wonderful product.
Harvey Prince Perfumes are all crafted in the USA.  Only the finest essential & natural oils from around the world are used in making these products.  They are 100% cruelty free and contain no phthalates, parabens, sulfates, benzene, GMOs, or triclosan.
and now for the GIVEAWAY….
3 LUCKY winners will each receive an
8.8ml bottle of Eau de Creme.