With L'OCCITANE, you can give the gift of cherished ingredients straight from the South of France. They offer a wonderful selection of High Quality beauty products. Those you gift these products to will enjoy treating themselves to such luxury. Or, maybe you need a special treat for yoursel. You'll love L'OCCITANE. I sure do!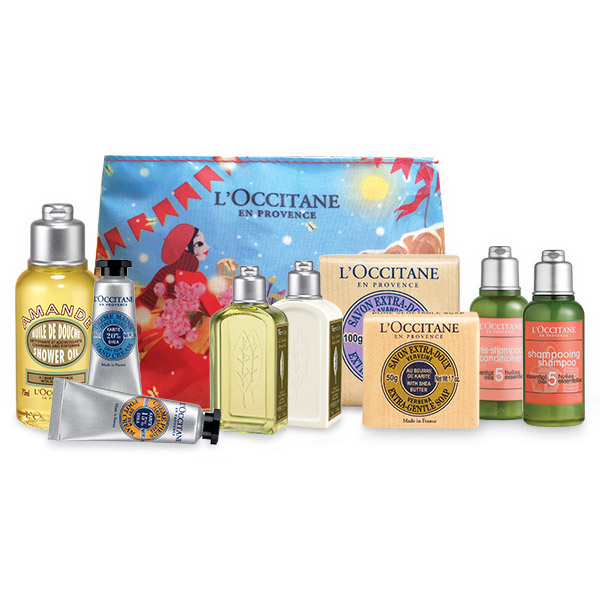 I received two awesome gift sets that had they not been given to me, I would have loved to have received them as gifts. The Luxury Travel Set and Shea Butter Gift Set are both exceptional items. Everything, down to the packaging is just perfect. The quality of the items is apparent just by looking at them.
The Luxury Travel Set is perfect for those that are always on the go. It includes a variety ofL'OCCITANE's best-selling body care products, everything you'd need to stay fresh and clean on your travels. The set contains Shea Extra Gentle Lavender Soap 3.5 oz., Almond Shower Oil 2.5 fl.oz, Shea Butter Hand Cream 0.34 oz., Shea Butter Foot Cream 0.34 oz., Verbena Shower Gel 1 oz., Verbena Body Lotion 1 oz., Shea Extra Gentle Verbena Soap 1.7 oz., Aromachologie Shampoo 1.18 fl.oz and Aromachologie Conditioner 1.18 fl.oz. All the items come in a lovelyL'OCCITANE Holiday Pouch. The pouch itself, is beautiful and holds everything perfectly. Other than for travel, this set is also a great way to try a few of the best-selling items. You may just find a new fav. The Luxury Travel Set is valued at $44.00 and can be purchased for $40.00.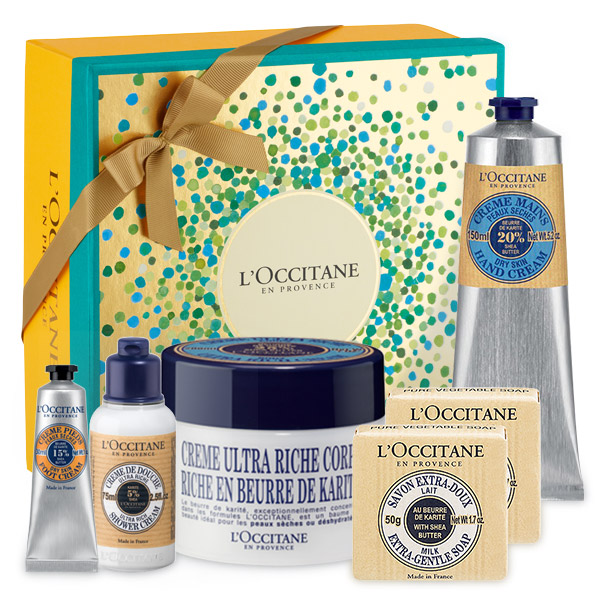 The Nourishing Shea Butter Gift Set is absolutely wonderful. It's filled with L'OCCITANE's Shea Butter favorites such as the Shea Ultra Rich Body Cream 7.8 fl.oz, Shea Ultra Rich Shower Cream 2.5 fl.ozm 2 Shea Butter Extra Gentle Milk Soap 1.7 oz., Shea Butter Foot Cream 1 oz. and Shea Butter Hand Cream 2.6 oz.. All the items come packaged in a nice L'OCCITANE Holiday Box. Shea Butter is an ideal beauty ingredient, used by women in Sub-saharan Africa to help nourish and protect their skin and hair. L'OCCITANE uses shea butter from Burkina Faso, harvested in a sustainable and fair trade partnership with the women who produce it. The Nourishing Shea Butter Gift Set is valued at $103.50. It can be purchased for just $69.00.
If you're looking to pamper your loved one for the Holidays, look now further than L'OCCITANE. Give the gift of high quality body care products that will be thoroughly enjoyed!