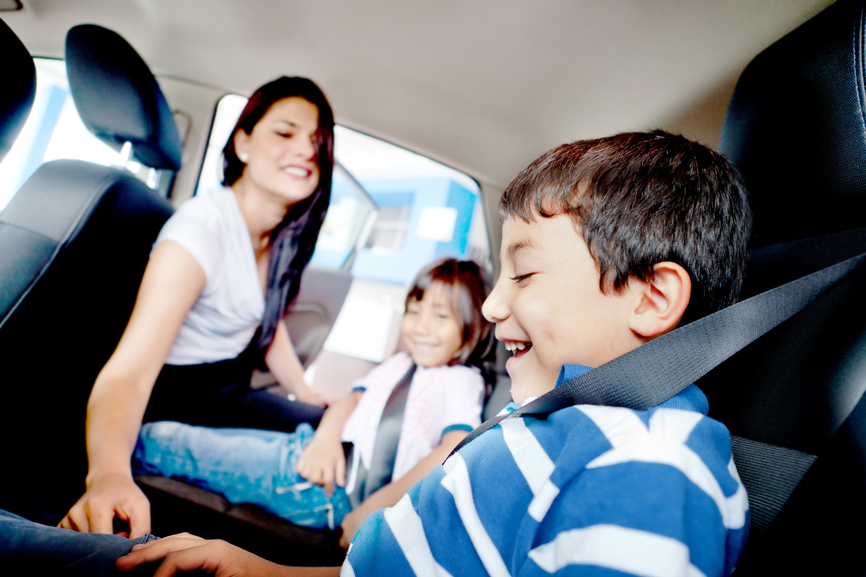 This is a guest post. 
What stylish, hip mom wants to pull up to the soccer field and pop the hatch of an old school and unattractive minivan? Um, I would say not many. A soccer mom still has that girly flare she wants to show off while breezing through a 'manic Monday'. Don't get me wrong, it's not always about, "Hey! look at this hot mommy right here", while doubling as the full time kids' chauffeur.  Besides, not too many moms would turn down the chance to sport their Roxy shades, cruise with the tinted windows halfway down, while secretly singing along to Who Let the Dogs Out. Ok, well maybe that's a little too much fun, but when it's time to loading up the soccer crew, we want to roll-out in style. So, for all you soccer moms who want that hot ride for 2015, you'd be happy to know that some of the hottest van and suv models are hitting next year's line. I took care of fun part for you and shopped some of the most, loaded, stylish, safe and reasonably priced vehicles. Auto competition is fierce for 2015, this was not an easy task. Considering all the perks and safety features I look for in a family vehicle, I narrowed my picks down to two cars. The two I am going to introduce to you now will for sure be on my Christmas list this year. Now ladies, nothing says, "this soccer mom scores", like this little beauty here.  The 2015 Town & Country Touring can hands down be my BFF. Now, to sell the car to your husband you can enthusiastically inform him of the V6-283 horsepower engine, 25 highway mpg, rear parking assistant, and blah, blah, blah. Now that he's taken care of, the rest you will love.  
This 'baby' can make a busy momma feel at home on or off the road. Features are very similar to the 2014 Town & Country. For starters, it has convenient power sliding doors / windows and a power liftgate which makes loading and unloading hassle-free. In addition, a soccer crew who loves munching while riding can so while creating very little interior damage. The easy to clean interior seats will help you prevent undesirable stains. We know kids can spill and drip the most questionable substances on car interior. This is why most moms would much rather have the kid friendly, easy-wipe-down, leather interior seats. It's simple to maintenance and the sleek, contemporary appearance is very attractive. It also comes with an up-to-date skyroof style sunroof and heated front and back seats for those frosty early mornings. Best of all, every good car should have what I call the, "the shut-up and ride" features. These features include any and all amenities to keep the little ones quiet and occupied. This way you can groove to some Lady Antebellum on the crisp and clear mp3 compatible sound system. Just sing your heart out as the carpool kiddies enjoys the dual, drop-down tv screens, operating from a Blu-ray entertainment system that's equipped with individual headphone outlets. Yep, one of the hottest soccer mom cars of 2015. So you see it's obvious why this girly ride is my top hot car pick for the 2015 soccer mom.
OK, spoke enough to all the glitz and glamour. It's time to discuss keeping out precious ones safe. Of all features, a mother's most desired features are those which provide peace of mind. The 2015 Town & Country Touring, is equipped the popular Safety Tec pack. The Chrysler Town & Country Touring, has an overall 4 out of 5 star safety rating with a complete 5 stars rating in side-crash safety. Air bags, side-collision safety, and helpful parking features, deems this soccer mom's dream ride, a complete keeper.
The hottest cars for a soccer mom should look so good and perform so well you must hide the keys from your recently licensed babysitter. The 2015 Dodge Durango, has so much power you'll forget you were on your way to gym. The Durango mashes-out with it's V6 engine. If your power hungry mama than the "Boss" V8 HEMI engine may be your speed. In addition, it has a 290 horsepower eight-speed transmission.
If you family is as active as mine, that means fun time entails hauling equipment or vehicles of some sort. With this cool car you can haul practically anything for those family trips. Admiring my taste so far? You see, I know exactly how the hottest soccer mom car should be equipped.
Now, as far looks are concerned, you might just drop your jaw at first sight of the interior and body style. The variety of factory colors mixed with the touch of "bling" chrome, wrapped around that solid truck style body well turn the heads of all soccer moms. The captivating design and luxury style body, makes it a suitable vehicle for a night out or a hectic day full of errand runs.
There are plenty attractive features throughout the cab. For instance the remote Blu-ray entertainment system, the stylish sun roof, ventilated front seats, a heated steering wheel and an updated navigation system.
As I said before, these two are my absolute favorite 2015 rides. There are more which will be featured on the next list. Until then, the Touring and Durango are hot soccer mom's car to look into for 2015. The 2015 SUV and van line, has a style for every mother's unique style. Whether your first concern is safety or style, you couldn't go wrong with either set of wheels. I personally prefer to have a ride which possess it all. Both the high safety ratings with features that will make you never want to leave the car. If you want to overlook these hot picks yourself here is one site I came across during my car search http://www.excellencevaudreuil.com/fr. Go ahead and judge for yourself!