I always knew that having an Emergency Fund was important.  I'm one who always likes to be prepared for anything that comes my way.  I know for some, it's hard to start an emergency fund when you barely have enough to get through the month as it is.  But…every dollar counts.  There's no better time to start that fund than right NOW!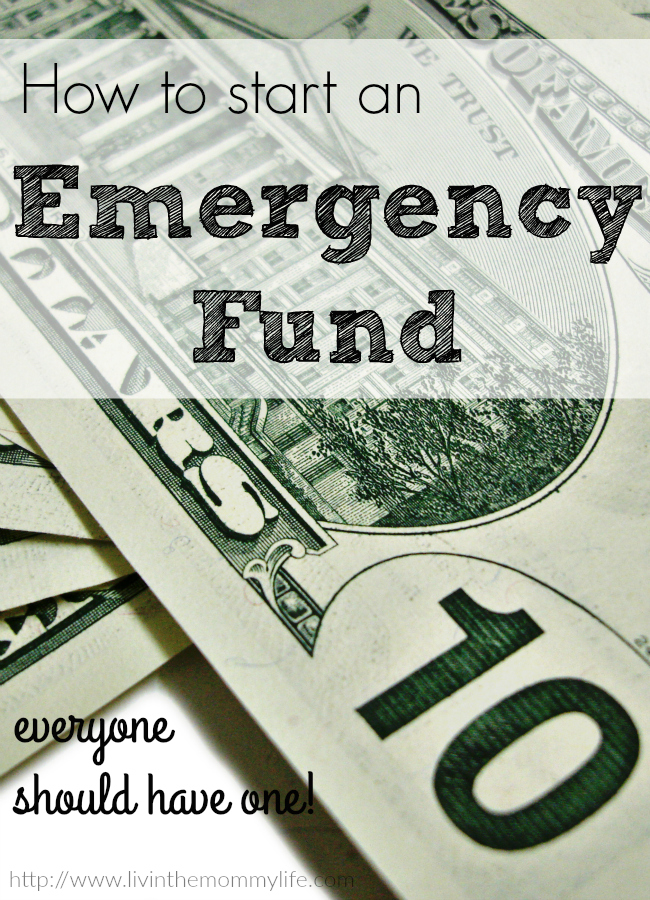 How to Start Saving
Take out ANY amount from your next pay check and add it to your emergency fund.  If you're just starting out, you can either save your money in a bank account, or in a safe at home.  Of course, it's probably safer in the bank.  You want the money to be easily accessible, in case you need to get to it quick, so something like a CD wouldn't be appropriate for an emergency fund.
Whether you can set aside $5, $20, $100, or more each pay check, the important thing is that you are starting to save. ANY amount will make a difference, and it does add up.
You can also take your CASH earnings from various online sources and use some of that towards your emergency fund.
How much should I have in my Emergency Fund?
It's best to have at least 3 months of living expenses in your fund.  In order to find out your living expenses write down all of your monthly bills.  Add in what it costs for food as well as entertainment, gas for your car, and any other expenses. Once you come up with that number, times it by three. This number should be the goal you set for your emergency fund.
example:
Electric- $75
Mortgage- $1500
Cell Phones- $100
Gas- $500
Food- $500
Preschool – $500
Total: 3,175 X 3 months + 9,525
A family with these expenses should shoot for an emergency fund of at least $9,525. With that saved, in an emergency, they wouldn't have to worry about bills for at least 3 months.
You just never know when an emergency will occur. Back in 2010 I went into pre-term labor with my youngest. The island I live on doesn't have the adequate facilities to care for a pre-term baby, therefore, I was sent to the island of Oahu. My husband took some time off from work to be by my side. We were there for a month, and in that whole month, we had absolutely NO income. My husband did not have paid leave from his job, so we had to make do on nothing more than the money we had saved. It was hard, but it was manageable thanks to the small "emergency fund" we had.
An emergency fund is not only for a time when you are out of work. It can also be used for certain emergencies that pop up. Whether your car breaks down or you have a medical emergency, you just never know when your emergency fund could save the day.
It's important that you only use your emergency fund for EMERGENCIES. I can't stress this enough. Do NOT use your emergency fund for a shopping spree or a family vacation. You'll need another fund for those. You can make a separate Travel Fund to save up for your next family trip and another fund for wants. I'd recommend building up your emergency fund first, but everyone deserves a little fun. So, if you have a good portion of your emergency fund saved up, it's ok to put a little into a savings for something fun.
Do you have an Emergency Fund? If not, do you plan on starting one?