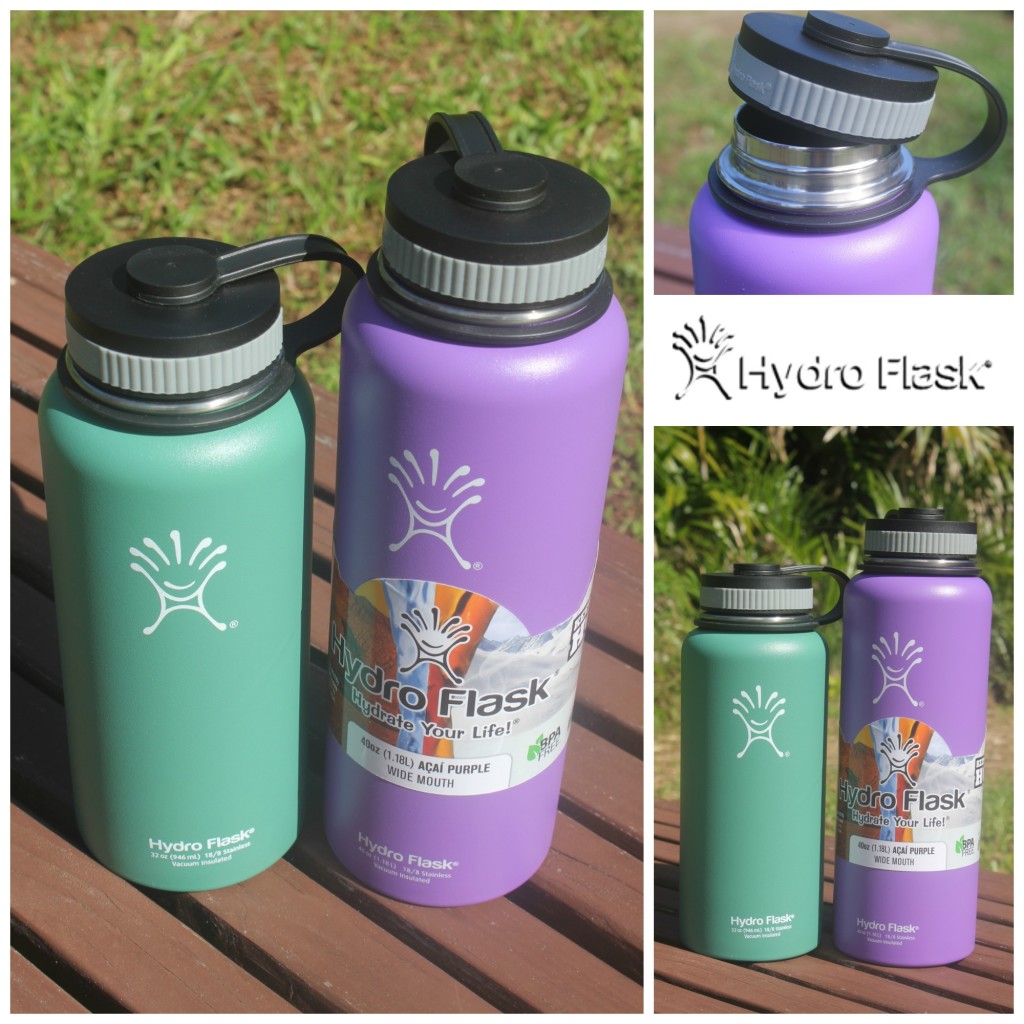 Disclosure:  I received these items for gift guide inclusion.  All thoughts and opinions are my own.
I'd say the Hydro Flask has become the most popular water bottle in Hawaii within the last year.  It's amazing how many people here own them.  In fact, our local surf shops seem to sell out soon after they get their shipment in.  If a water bottle is that popular, there must be a reason, right?
I received two Hydro Flask Bottles, a 32 oz. and a 40 oz to try out.  I just had to see what all the hype is about.  Are they really as great as everyone says?  After testing them out for myself, my answer is YES, they really are that good!
Hydro Flask bottles are made from high-quality 18/8 stainless steel and are BPA-free.  They feature a double wall vacuum insulation.  This prevents condensation when drinking cold drinks.  When drinking something hot, the vacuum insulation prevents the heat from transferring to the outside of the Hydro Flask, so there's no need to worry about the bottle being too hot!  With the Hydro Flask, beverages will stay cold for up to 24 hours and hot up to 12 hours.  Isn't that awesome?  It's perfect for just about anyone!
Spending the day at the beach?  The Hydro Flask is sure to keep your water nice, cold, and refreshing!  Gone are the days of drinking a bottle of water warmed up by the sun.  If you happen to leave the bottle in the car on a hot day, you can rest assured, you'll have a nice cold beverage waiting for you on your return.  This bottle really works and does exactly what it claims to.  I'm going to give one to my daughter to bring to school.  I love that she can have an icy cold bottle of water without worrying about the condensation making the insides of her backpack wet.  She'll be more likely to drink the water when it's nice and cold.
The Hydro Flask comes in a wide variety of colors and sizes.  They're very durable, stylish and well-made.  I really don't have anything bad to say about this water bottle.  It's awesome!  If you're looking for a great gift idea for men, women, kids or teens, the Hydro Flask is the perfect thing.  The 32 oz. retails for $33.99 and the 40 oz. can be purchased for $36.99.  The bottles come with the wide mouth flat cap lid, additional lids such as the flip and straw lids, can be purchased separately.