Jonathan's Wild Cherry Spoons are handcrafted in Pennsylvania and made of beautiful Cherry wood!   I love finding great quality products that are made in America.
The first spoon I tried is the Original Lazy Spoon.  It's been called a "must have" by Rachael Ray.  So, what exactly is the Lazy Spoon?  The Lazy Spoon features a unique design with a notch on the handle so that the spoon can be placed along the edge of a pot or pan.  I really love it because I no longer have to leave my spoon on the edge of the stove where it always leaves a mess!  Now I just rest the spoon on the edge of the pot, and I don't even have to worry about it getting hot. The Lazy Spoon is the only spoon I use when cooking.  It's great, and I highly recommend it!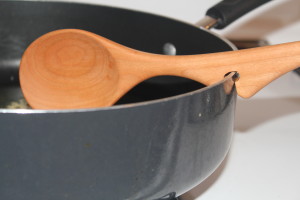 The second item I was able to try out is the Folding Wooden Tong.  I love this item!  I'd have to say it is my new favorite kitchen utensil.  I've purchased tongs in the past, and have never found the right one until now.  The tongs I've tried are either too bulky and takes up too much space in the utensil drawer, doesn't grasp onto foods well, or made of metal and scratches up our pans.  The wooden tong from Jonathan's spoons folds up nice and compact, it measures 10 inches in length.  It's also very well made and I can easily use it to sauté veggies or turn over a burger.  It's such a simple design, and works so well!
You can shop for Jonathan's Spoons at their Online Store.  Also, check them out on Facebook.
Disclaimer:  I received these products for review purposes only.  All thoughts and opinions are my own.