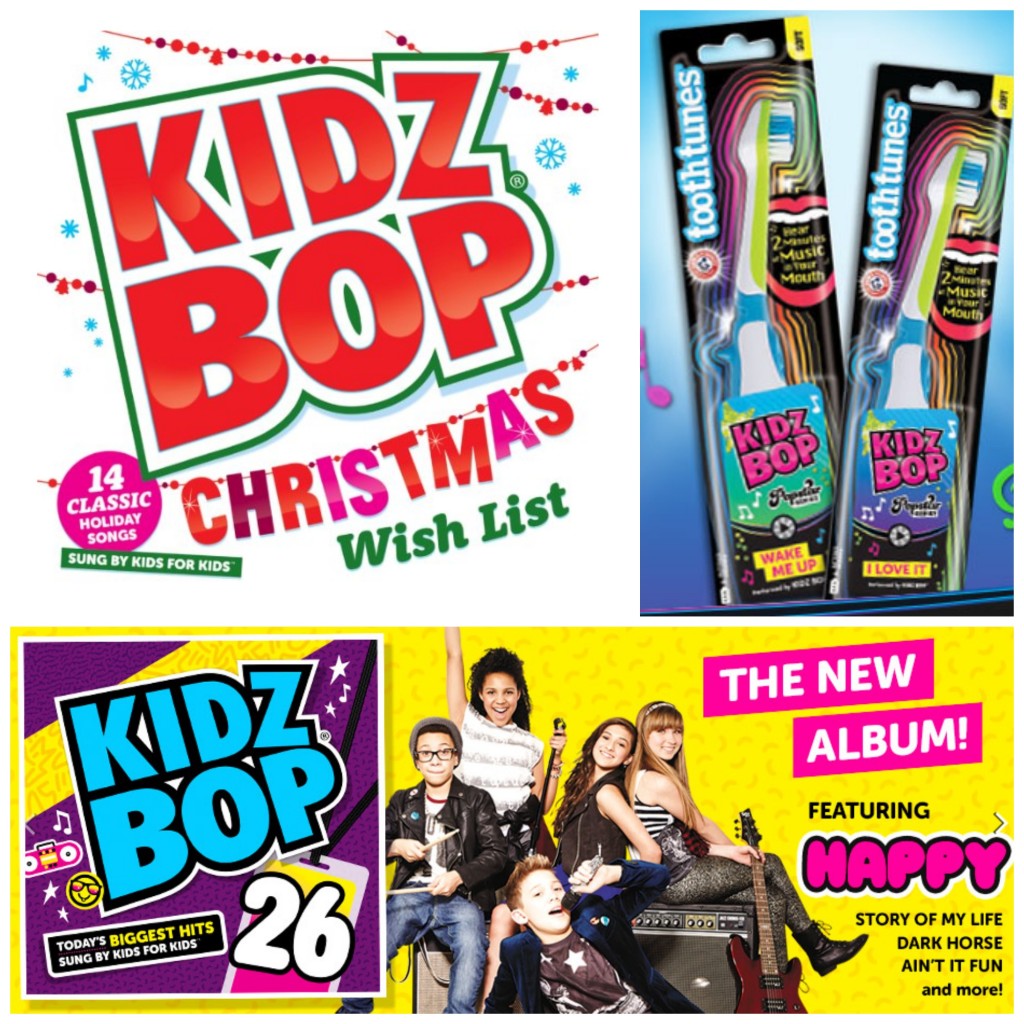 Disclosure:  I received these items for review purposes.  All thoughts and opinions are my own.
My 7 year old is all about music and the latest songs.  She loves all the popular music on the radio and likes listening and singing along.  I knew KIDZ BOP CD's would be the perfect gift for her as they feature songs "sung by kids, for kids."
KIDZ BOP records child-friendly versions of today's biggest pop music hits.  You don't need to worry about inappropriate language with these versions.  The songs are sung by the KIDZ BOP Kids, a cast of 5 singing and dancing phenoms who were chosen in a nationwide casting call out of thousands of other kids!
KIDZ BOP releases two new albums each year along with a themed album in the Spring, one for Halloween, and one for Christmas.  I received KIDZ BOP 26, the new release for the year as well as Christmas Wish List, the new Christmas Album.  I love Christmas music, so I was very excited to listen to all of the Christmas songs.
KIDZ BOP 26 debuted at #4 on the Billboard Top 200 this Summer.  The album features popular songs such as "Happy", "Say Something", and "Let it Go".  The 15 hits featured are sure to get your kids singing along.
KIDZ BOP Christmas Wish List features 14 classic Holiday songs including "Winter Wonderland", "White Christmas", and my absolute favorite, "All I Want for Christmas Is You".  It's a great Christmas album that the whole family will enjoy.
The Arm & Hammer Tooth Tunes Musical Toothbrush is a toothbrush that'll make brushing your teeth fun!   It features two KIDZ BOP songs including "Wake Me Up" and "I Love It".  It's the only toothbrush with "Music In Your Mouth" technology. Just turn it on and start brushing to hear two minutes of your favorite music pumped directly through your teeth… straight to your head!  Dentists recommend two minutes of brushing to help fight plaque and remove cavities.  The Tooth Tunes Toothbrush will encourage kids to brush and let them know exactly how long to brush!  The toothbrush has a suggested retail price of $8.97.  It makes a great stocking stuffer!