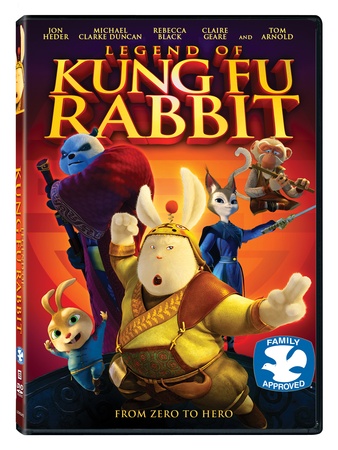 Disclosure: I am a member of the Entertainment New Media Network, and we help promote, sometimes for a promotional fee, entertainment industry projects we find meaningful. As always all opinions are my own.
For a full disclaimer, visit www.ENMNetwork.com/disclaimer 
I recently received a new DVD to watch with my family.  Legend Of Kung Fu Rabbit will be arriving on DVD, Digital Download and Video on Demand September 24 from Lionsgate Home Entertainment.  Cast includes a few actors I've heard of including Jon Header from Napoleon Dynamite, Tom Arnold and Academy Award nominee Michael Clarke Duncan from The Green Mile.
Fu, a simple-minded Rabbit, finds and tries to save Kung Fu master Sifu who has been poisoned.  Sifu  gives Fu his Kung Fu powers before he passes.  As his last wish, Sifu asks Fu to deliver a tablet to his daughter Penny.  He travels to the academy which has been taken over by Sifu's Mortal Enemy, Slash.  Fu's powers will be revealed, but will it be enough to save the academy?  Watch the movie to find out!
What really stood out to me as I began to watch the movie was the wonderful animation and vivid colors that filled the screen.  Picture quality was great.  My husband and two daughters, 3 and 6 watched the movie with me.  My 6 year old fell asleep, but my 3 year old stayed up and watched the entire movie.  She doesn't have the longest attention span, so it had to have been engaging for her to sit through the whole thing.  It's an action-packed movie that's great for the whole family.  Watch the clip from the movie below, and tell me what you think.
Legend of Kung Fu Rabbit will be available for the suggested retail price of $19.98.
And now for the GIVEAWAY…
1 Lucky Winner will receive a copy of Legend Of Kung Fu Rabbit.  Open to residents of the US.  Giveaway ends 09/26/13 Enter using the rafflecopter below.