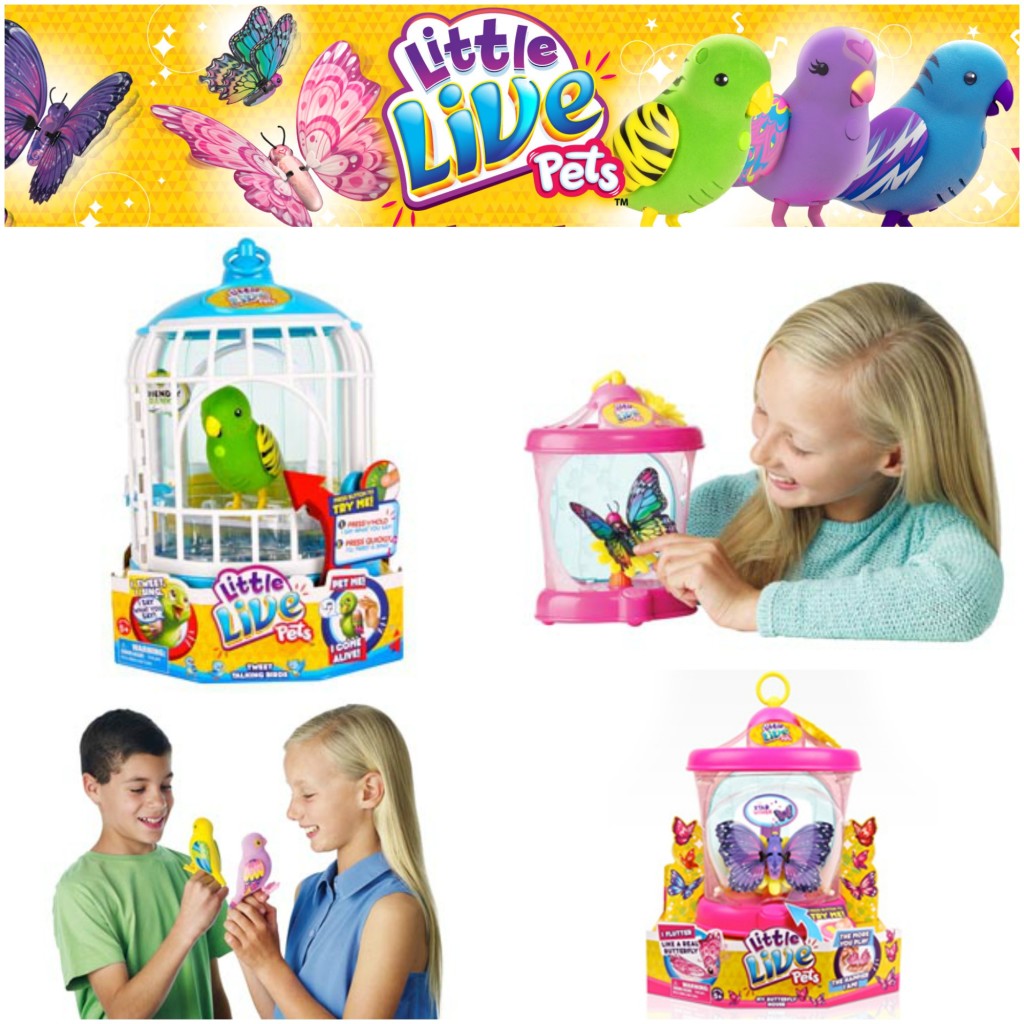 Disclosure:  I received these items in exchange for featuring them in my gift guide.  All thoughts and opinions are my own.
The vibrant colored Little Live Pets are such a neat toy.  They offer the fun and excitement of owning a real pet, without all the clean up.  You can choose either birds or butterflies, both of which are really fun and cute.  I received the Bird Cage as well as the Butterfly House.  The Little Live Pets can be purchased separately too.
The blue and white Bird Cage is the perfect place to house your Little Live Pet Bird.  It comes with a bird, and can even fit another if you decide to add to your collection.  The adorable pet bird fits perfectly in the cage where it can sit on display and swing the day away!  I found the Little Live Pets bird to be super cute.  It comes to life in your hands and will repeat what you say.  It responds to touch, so pet your little bird and it will tweet and sing.  It even knows 30 different birdcalls!  Kids are sure to love the Little live Pet Birds as they are just irresistibly cute!  The Bird Cage retails for around $19.99.  Birds can also be purchased separately for $9.99.
 If you like butterflies, you are sure to love the Little Live Pets Butterfly House!  This beautiful house keeps your butterfly safe when you're not playing with it, theres a little handle attached at the top so you can easily carry it along.  The pretty Little Live Pets Butterfly comes to life and flutters in your hands just like a real butterfly!  Place it back in it's house, on the flower to get "fed" and re-charged.  There's an additional flower at the top of the house.  The Butterfly House comes with a purple and pink butterfly named "Star Wings".  There are other butterflies sold separately if you'd like to add to your collection.  The Butterfly House can be purchased for approximately $29.99.  Prices vary depending on where they're purchased.
Little Live Pets are sure to be a "HOT TOY" this Holiday Season!
Check out Livin' The MOMMY Life's 2014 Holiday Gift Guide for more awesome gift ideas!