Toys that teach children in one way or another are always a great option when looking for the perfect gift for kids.  Magformers are an awesome product.  They offer a variety of "Intelligent Magnetic Construction Sets For Brain Development".  Founded with the Architects of the future in mind MAGFORMERS is one of the world's leading manufacturer of magnetic children's toys.
I received the Magformers R/C Cruisers Set.  It's an awesome product which will foster a child's creativity. Kids can design and build remote controlled vehicles of their very own with this set. It includes 52 pieces in various shapes including 6 triangles, 12 squares, 2 isosceles triangles, 2 arches, 4 mini rectangles, 4 sectors, 2 super arches, super rectangle, rectangle, 4 super sectors, girl square, boy square, 2 single wheels, 2 extension hinges, 4 insert squares, RC controller, RC front wheels, RC motor wheels, pair of extra wheels and 4 double-sided road sign cards.  It also includes 8 Traffic sign cards to extend driving play and create obstacles. With all the included pieces, there's so much to be made.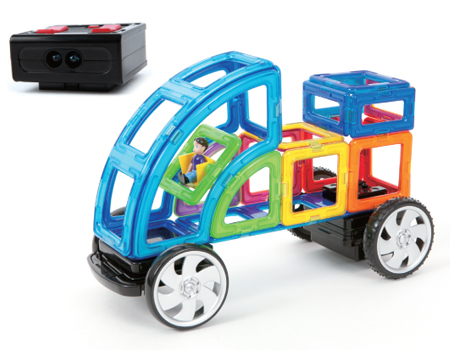 The great thing about these Magformers playsets is that they're all fully compatible with each other.  So, if you have a child who really enjoys these, you can easily add on other sets to increase their creativity and enhance play.  Building options are endless. You'd really be surprised at the unique things kids can come up with.
Magformers are very well made and of great quality. Each shape contains rotating Rare Earth Neodymium magnets, the strongest of their kind for guaranteed connectivity. Every magnet is kept safe and secure in Sonic welded, BPA free, HQABS plastic. This process of manufacturing ensures each magnet is encapsulated with the utmost security, providing a safe, long lasting play experience.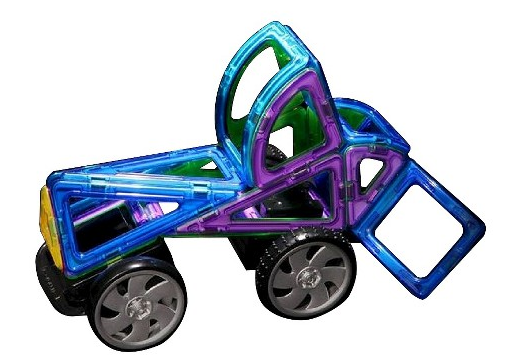 There's so much to be built and created when kids just use their imaginations. Magformers introduces kids to a unique constructional play experience that'll bring hours of fun and creativity. This set is recommended for children ages 6 and up, but I think it'll be great for kids as young as four depending on the child.  Because there are small pieces, it's not recommended for very young children.