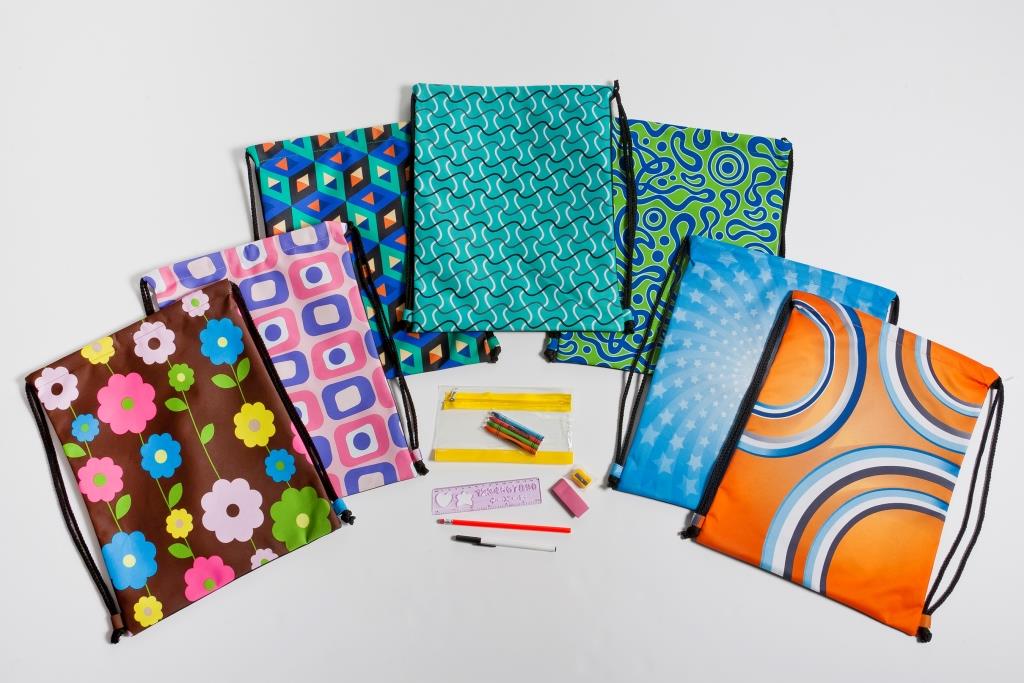 Disclosure: I received product in exchange for this post.  Livin' The MOMMY Life is not responsible for prize shipment.
The Office Depot Foundation Serves 3.3 Million Children through the National Backpack Program – Now in it's 14th Year!
As part of the National Backpack Program, the Office Depot Foundation is donating 350,000 school sackpacks in seven brand new, colorful designs to help children around the world succeed in school.
By the end of this year, Office Depot and the Office Depot Foundation will have donated more than 3.3 million backpacks and sackpacks to deserving children.  The backpack come in seven kid-friendly designs – two for boys, two for girls and three that are unisex.  Each sackpack holds a zippered pouch containing essential school supplies – a pen, a pencil, four crayons, a pencil sharpener, an eraser and a 6-inch ruler.
The sackpacks do not carry any Office Depot or Office Depot Foundation branding or logos.
The specially designed sackpacks are manufactured exclusively for the Foundation.  Highly contemporary in their design, they reflect and respond to changes in the ways that children are taking their materials to school.  Made from the same sturdy material as backpacks, they are water-resistant and lined to provide extra protection for their contents.  They feature strong ropes and have no metal parts.
Intended primarily for use by students in grades K-5, the sackpacks also are suitable for older children, who use them in a variety of ways.  The sackpack is compact and stores flat, yet still offers plenty of room for books and other school items.
The sackpacks are being donated throughout the summer as the Foundation carries out the 14th year of its National Backpack Program.  Every Office Depot and OfficeMax store in the United States has received approximately 50 sackpacks to give to nonprofit organizations and schools in their communities.
In addition, sackpacks are being donated through more than 35 Back-to-School Celebration events in key Office Depot markets during the summer, as well as in collaboration with nine national nonprofits serving children in the U.S. and around the world:
AARP Experience Corps
Community Anti-Drug Coalitions of America (CADCA)
National Court Appointed Special Advocates (CASA) Association
Feed The Children
Food For The Poor
Kids In Need Foundation
National Foundation for Women Legislators
Operation Homefront
Samaritan's Feet International
My Thoughts
I think it's wonderful what Office Depot and the Office Depot Foundation is doing.  The National Backpack Program is a great program that is sure to help many children in need.  Families who receive help from the National backpack Program can start the school year with one less worry.
Some people don't realize that there are a lot of children around the US, even in our own neighborhoods, who can't afford the basic necessities for school.  It really is sad.  My kids are fortunate that we are able to provide for them.  Unfortunately that is not true for all kids.  I want my daughters to realize just how lucky they are.  I want them to know that there are kids out there who don't have what they do.  I received two sackpacks from the Office Depot Foundation.  I am hoping to give them away to children who could really use them!
and now for the Giveaway……
Do you know a child in need?  Someone who could use a new backpack fro school?  The Office Depot Foundation is Giving Away 1 Sackpack to one Livin' The MOMMY life reader.  Enter using the Rafflecopter below.  Giveaway is open to US residents and ends 09/23