Disclosure:  I received a pair of leggings from Castle Corsetry in exchange for this post.  All thoughts and opinions are my own.
Costumes can be expensive.  Doesn't it feel like a bit of a waste to purchase a costume that's only used on Halloween?  I often make my girls costumes, or throw something together using pieces they already own, like my daughter's Lela (Teen Beach Movie) costume she used last year.  We combined pieces she already owned with a new leather jacket to get the look.
This year, I wanted to find some mermaid costumes for Mickey's Halloween Party at Disneyland.  I didn't want a traditional costume, as I preferred "costumes" that can be worn whenever you please.  I found an adorable custom made Ariel dress for my youngest, then, after searching etsy I came across Castle Corsetry.  She had the coolest mermaid pieces for adults, included a pair of leggings which matched my daughter's dress perfectly!
The mermaid leggings are super cute in person and of great quality.  They're made of a shiny spandex material printed with fish scales.   I love that not only can they be used as part of a costume, but they can also be worn as part of a daily outfit.  I paired them with a black top and it really makes a cute outfit!  For the mermaid look, I had a hard time finding the right top.  I ended up finding a purple off the shoulder top.  In the end the top really didn't matter as the leggings are what make the outfit!
My daughter's dress is from ISLAS_CLOSET on instagram.  You can also find her on etsy at Sophie and Isla.  She makes the cutest clothes for little girls.  It's of excellent quality and very well-made.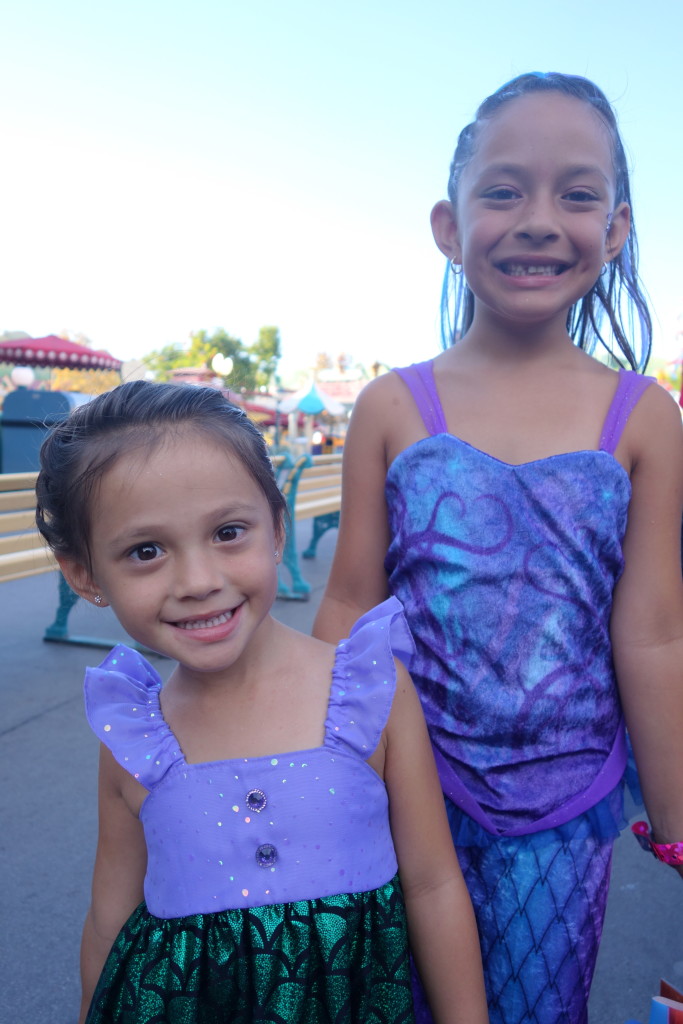 My oldest used her beautiful mermaid costume from Costume Discounters.  The colors are beautiful, it fits great, and is comfortable!  It went perfectly with her Cool As Ice hairstyle from Anna & Elsa's Boutique in Downtown Disney.  Though it is an actual costume, and not one that can be really worn while out and about like the other "costumes", it has been worn a lot around the house while playing dress-up.
Do you want to be a MERMAID this Halloween?  If you're looking for the perfect mermaid inspired costume, check these out!