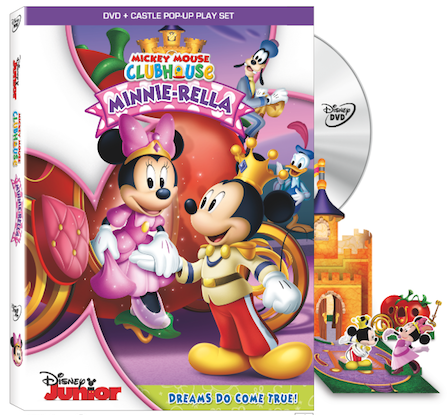 Disclosure:  I received this DVD as compensation for this post.  All thoughts and opinions are my own.
Mickey Mouse Clubhouse: Minnie-Rella has been available on DVD since February 1st, and first aired on the Disney Channel and Disney Junior on February 14th.  Have you seen it?  My 3 year old enjoyed it.  If you have a Minnie-Mouse or Cinderella fan, they'll love it for sure.
Minnie-Rella is such a cute cartoon inspired by the Disney movie Cinderella.  In the movie, Minnie falls asleep after a busy day of chores.  While asleep, she dreams she is Minnie-Rella!
"Poor Minnie-rella needs a lot of help to get ready for Prince Mickey's Grand Ball!  With a wave of her wand and some "Mouseke-doodle-lee-doo" magic, Minnie-rella's Fairy Godmother, Clarabelle, transforms an ordinary tomato into a magnificent carriage and Minnie-rella's raggedy dress into a beautiful gown that is perfect for a princess.  But Minnie-rella's enchanted dance with Prince Mickey at the ball must end when the spell is broken at midnight.  With our help, Prince Mickey finds the princess who fits into her lost glass slipper – Princess Minnie-rella!"
The Mickey Mouse Clubhouse: Minnie-rella DVD comes packaged with the full-length adventure, a FREE Castle Play Set, 3 additional Mickey Mouse Clubhouse episodes and 10 Minnie's Bow-Toons Shorts!
Here's a clip of the Handy Helper Song: