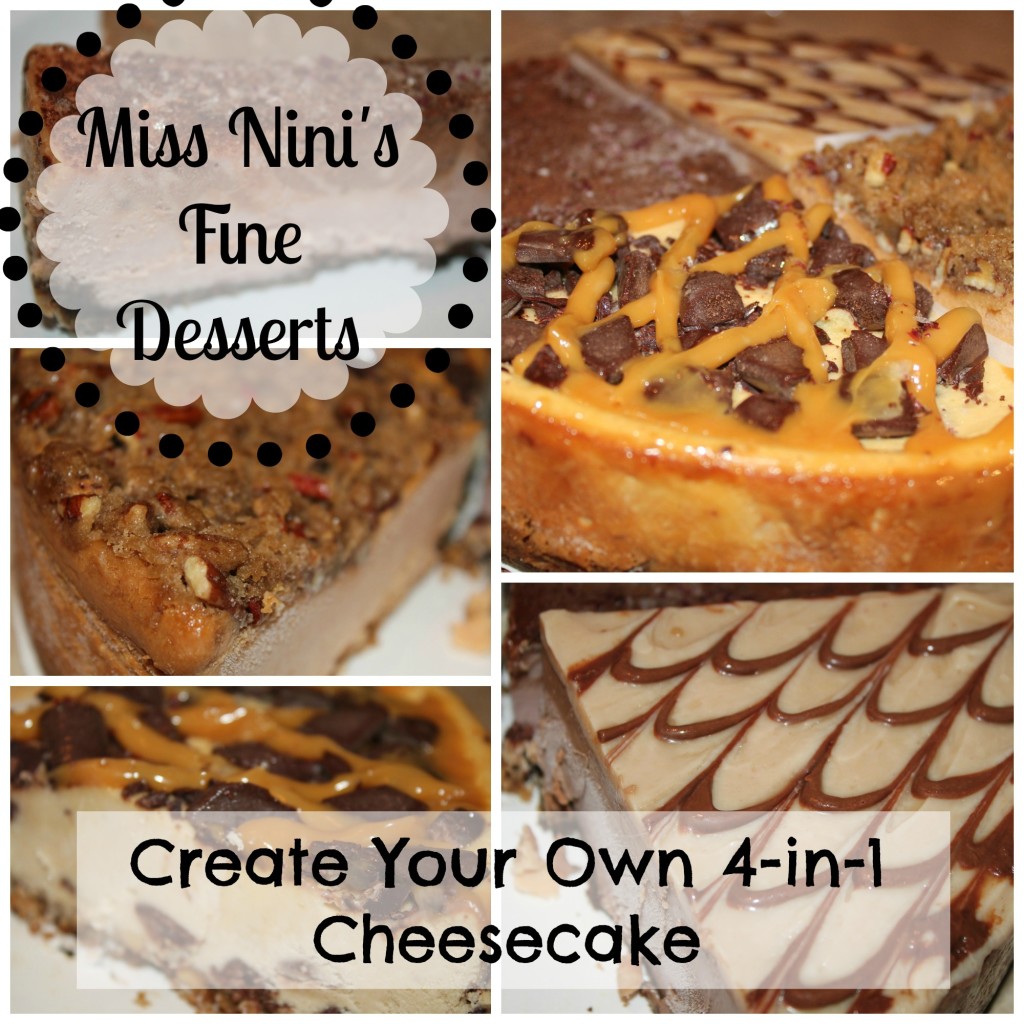 It's no surprise, I love desserts!  Sweets are my weakness.  When I heard about Miss Nini's Fine Desserts, I just knew I had to try them.  At Miss Nini's Fine desserts you will find Hand-Crafted Desserts from Original, Award-Winning Recipes.
 Each one of Miss NiNi's Fine Desserts has been perfected through decades of refining. A native of the upper midwest, Miss NiNi began to learn the tools of her trade at a very young age.
She has combined the knowledge and tradition passed down from her mother with a creativity and flair that has earned Miss NiNi a reputation for excellence.
Miss NiNi uses only the finest ingredients, including fresh creamery butter, golden brown sugar, and the purest of extracts. This guarantees each Miss NiNi creation delivers impeccable consistency and quality, morsel after morsel.
I was lucky enough to be able to try out a selection of Miss Nini's Cheesecakes.  I got the Create Your Own 4-in-1 Cheesecake.  There are ten varieties of cheesecakes to choose from and each one sounds and looks equally delicious, it was so hard to pick just four.  After much thought and deliberation I decided to choose the Peanut Butter Fudge, Caramel Chocolate Chunk, Pumpkin Praline, and Chocolate Raspberry Swirl Cheesecakes.
My box arrived as expected.  It was packed very well in a styrofoam cooler along with some dry ice to keep it cool.  I was surprised that it was actually still frozen after the long trip all the way to Hawaii.  If it made it here, I'm sure it will make it safely to all other states!  The company took great care it making sure the cheesecake would arrive in good condition, it was even bubble wrapped, which helped to keep it safe on it's journey here.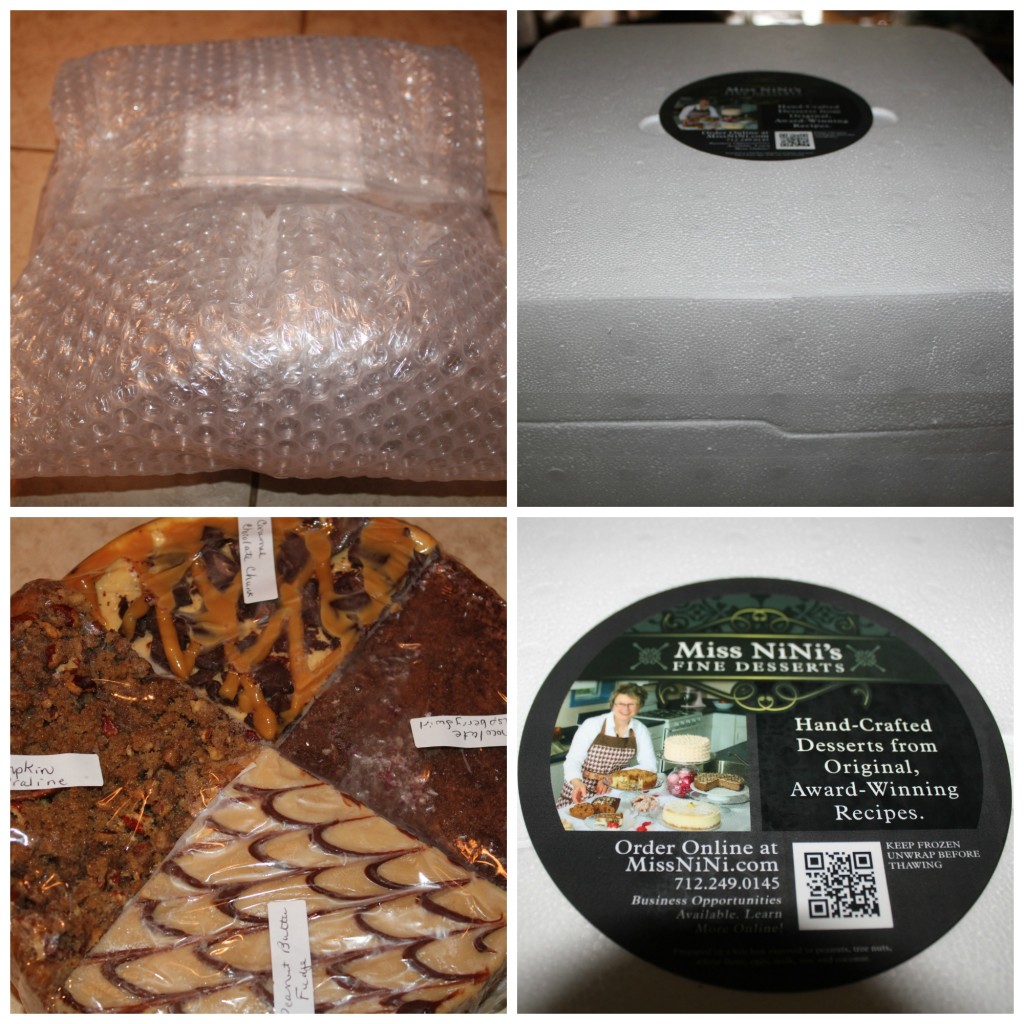 So, I was very excited to rip open the packaging to see this delicious Cheesecake in person, and when I did, I almost forgot to stop and take some pictures.  It looked absolutely divine.  Each flavor is beautifully decorated.  By the looks of it, a lot of time was put in to the making of this exquisite dessert.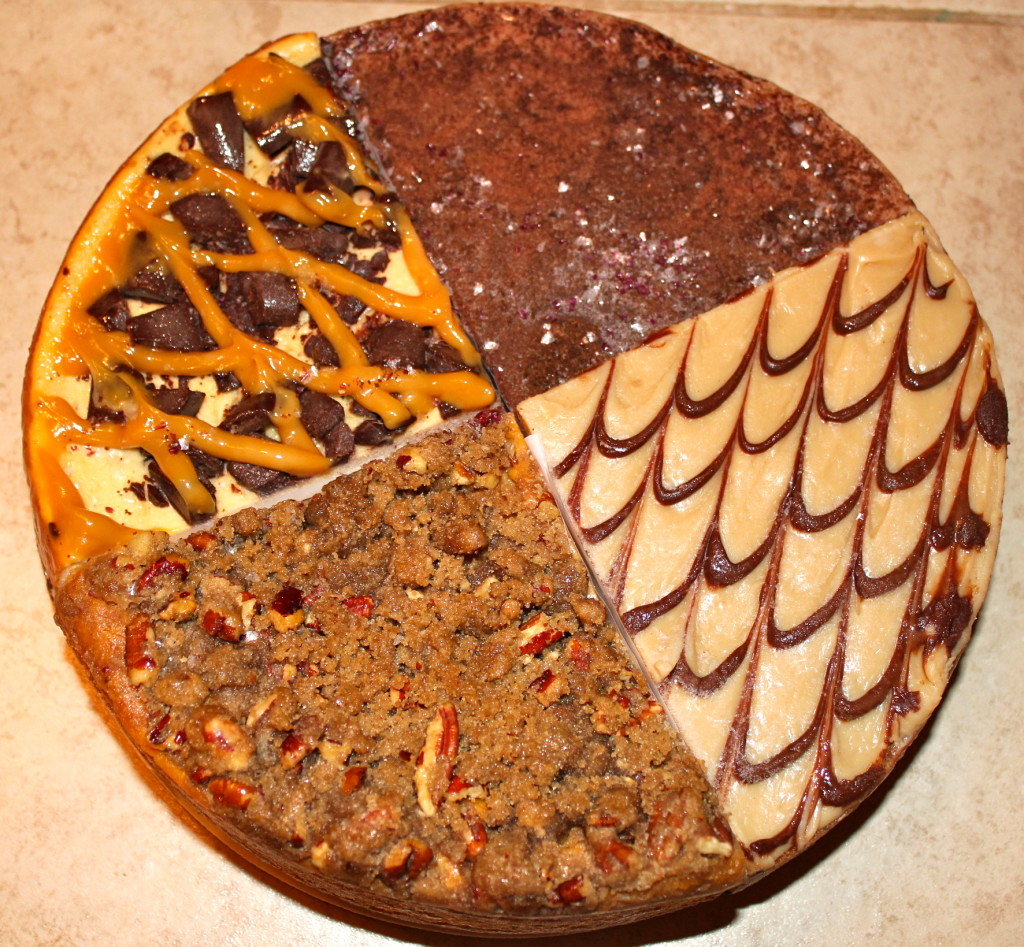 Now for the taste test.  I cut a sliver off each of the four flavors and tried a bite of each.  Each had it's own unique flavor which matched it's description well.  I am a huge fan of the Chocolate and Peanut Butter flavor combination, so the first one I tried was the Peanut Butter Fudge.  It was thick, creamy, and oh so heavenly.  If you like chocolate and peanut butter, you'll love it!
Next I tried the Chocolate Raspberry Swirl.  This was probably my second favorite of all four, even though I didn't expect it to be.  The sweet berry flavors combined with chocolate was a nice combination.  My husband liked this one the best.
The Pumpkin Praline is the perfect Cheesecake for Fall.  The outstanding pumpkin flavors along with the delicious praline topping make this a great Cheesecake.  It is the Pumpkin lovers dream.  It was the tallest cheesecake of all the others.  My whole family really enjoyed this one.
The last flavor we were able to sample was the Caramel Chocolate Chunk.  I actually expected this one to be one of my favorites, but I must say, it turned out to be my least favorite of all the others.  It was decorated the nicest though!  My daughters liked this one best, and my husband didn't care for it.  It's covered in big chunks of chocolate and caramel.  It didn't taste bad, it's just not a flavor I'd choose the second time around.
Altogether I was very impressed with the quality of these hand-made cheesecakes.  They would make a great dessert for upcoming Holiday Parties.  You can also purchase Layer Cakes and Coffee Cakes from Miss Nini's Fine Desserts.  The cheesecakes are a 9 in. diameter and serve 12-16 people.  It can be purchased online or picked-up or delivered locally.  A cheesecake costs $48.  It might seem pricy, but for a hand-crafted dessert that tastes this good, it's worth it!
Want more GIFT IDEAS for the upcoming Holidays?  Check out Livin' The MOMMY Life's 2013 Holiday Gift Guide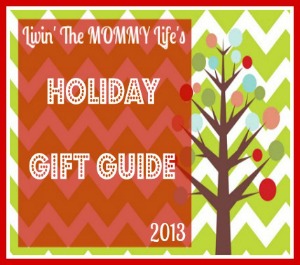 Disclosure:  I was provided with this product for review purposes.  All thoughts and opinions are my own.