Who doesn't love a good party?  I know I do, and so does my 6 year old!  She was very excited to get the chance to invite some friends over for a Mega Bloks Barbie party.  We had this awesome opportunity thanks to Mega Bloks, MommyParties and MomSelect.  They provided us with the Mega Bloks Barbie Build 'n Style Luxury Mansion, Mega Bloks Barbie Build 'n Style Pool Party, and 10Mega Bloks Build 'n Style Kiosks.
My daughter helped with the party planning.  We served fruit smoothies and a variety of tasty snacks.  As soon as the girls arrived they were ready to get to building!  Each child chose a Build 'n Style Kiosk.  There were two choices, a fashion stand and an ice cream cart.  They all wanted to open them up right away, so they did.  The pieces are tiny, and there are lots of pieces!  I found that it was a little difficult for some of the five and six year old girls to put the pieces together.  The step by step instructions are great and easy to follow.  With a little help all of the girls eventually got their sets together.  They enjoyed putting their dolls together as they come with different outfits and accessories.  They happily showed off their dolls and most came up with different looks.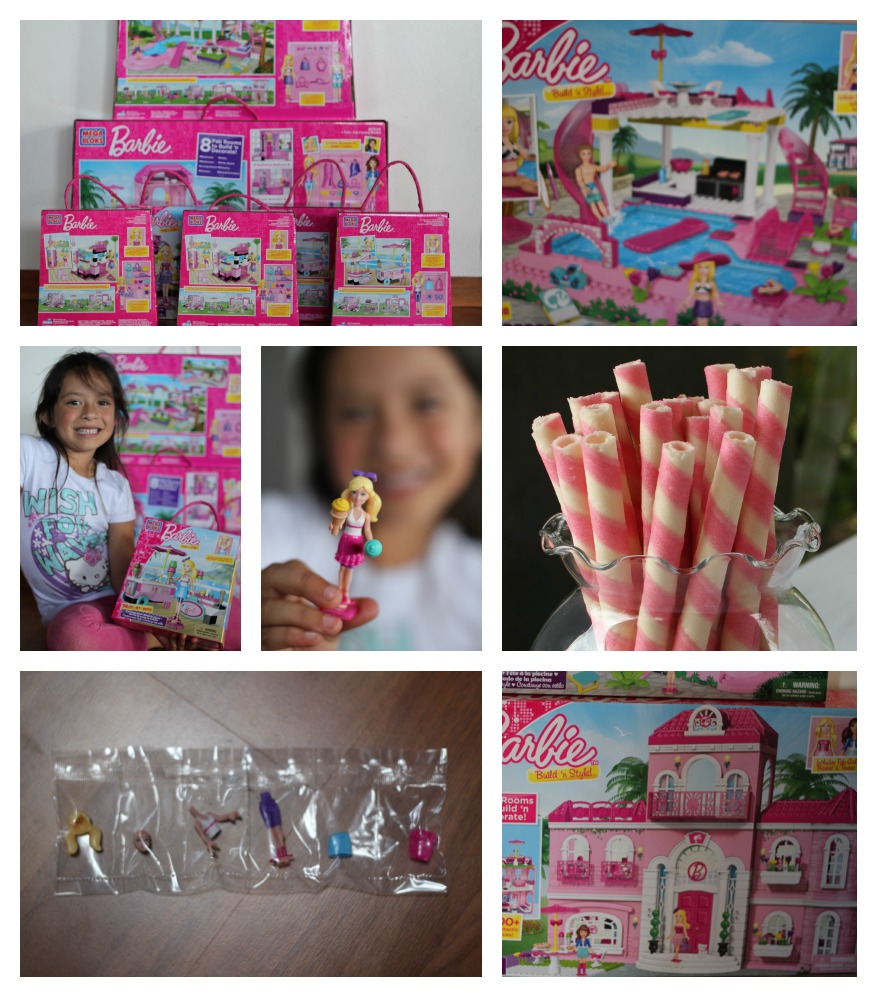 After putting the little sets together it was time for some smoothies and snacks.  Next we had planned to put the bigger sets together.  I had wished I had already put them together as it does take some time.  I had the girls choose one of the sets to play with and they all wanted the Mega Bloks Luxury Mansion.  I opened the box and was a bit overwhelmed by all the pieces.  There are 301 pieces!  The pieces are tiny, and definitely not recommended for those under 4.  My two year old tried desperately to get her hands on the pieces as they are very cute and appealing to little ones.  Some girls helped while other splayed with their sets.  Once the Luxury Mansion was done they all really enjoyed it!  They all wanted one for themselves as well.
I can definitely see the girls playing with the Mega Bloks Barbie toys often.  It's great for imaginative pretend play.  Although the box states these are for ages 4 and up, I think the older the better.  The younger girls will most likely need some help from adults to put everything together while older girls will probably be able to get it together on their own by following the simple directions..  Although my daughter tried her best, she still needed lots of help.  Once it's built, it's perfect for them though.  It's a great product and I know my daughter will be asking to add to her collection!  These types of toys seem to usually be geared towards boys which is why I love that Mega Bloks has made this Barbie collection available!
Disclosure:  I received these products from MomSelect for this review.  All thoughts and opinions are my own.