The Mosaic Glass Pineapple Fan from DecoBREEZE adds a hint of the tropics to your decor.  I love the tropical island look, so this fan is absolutely perfect for me.  It fits into my bedrooms decor perfectly.  I was more than happy to get rid of our ugly plastic table top fan and replace it with this lovely piece.
The table top fan is currently sitting on the nightstand beside our bed, and it's perfect.  Not only is this a great fan, it's also a beautiful display piece and a night light as well.  It features a 3 Speed Motor with Oscillation & Tilt Adjustment.  The motor is very strong and really helps to keep the room cool on hot days.  It works so much better than any other fan I've owned.  To use it as a night light, simply flip the switch at the base and the mosaic glass pineapple will illuminate from within.  It really is quite stunning.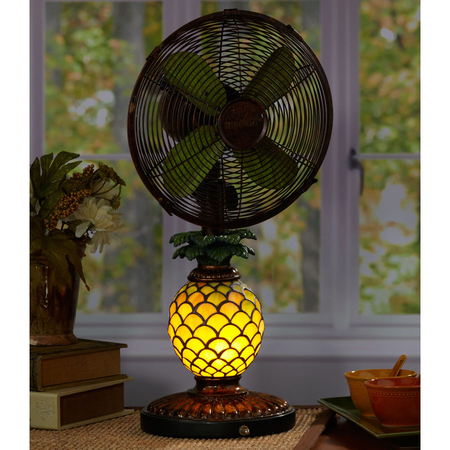 The Mosaic Glass Pineapple Fan measures 23″ Tall x 10″ Wide.  Some assembly is required, but I was able to put it all together on my own.  It took some time, but wasn't too difficult.  The fan is very well made, and I'm sure it'll last for years to come.  This beauty retails for $159.99.  I've also seen it on Amazon for $97.14, though Amazon prices do fluctuate.
Want a nice statement piece to add to your room?  One that's functional as well as stylish?  This fan is perfect for you!  If pineapples aren't quite your style, or you're looking for something a little different, be sure to check out the wide selection of DecoBREEZE products.  I'm sure you'll find something you love!